I challenged myself this week to remake a commercial product not only cheaper but oil-free. These Chipotle Chili Beans are legit!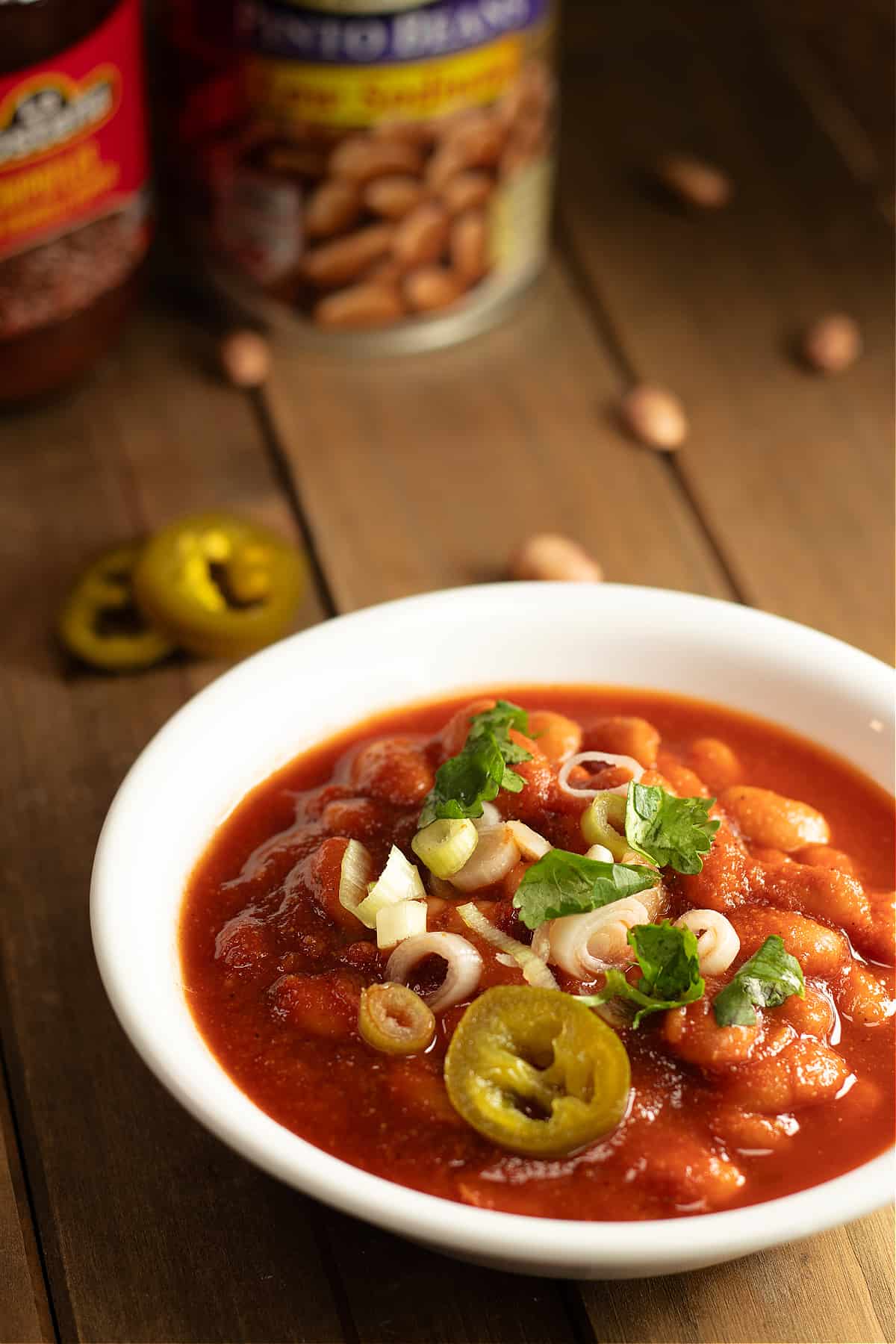 I reviewed a new (to me) commercial product earlier this week with my BNV Support Group, a product from a company called The Good Bean.
They have 4 convenient "heat and eat" pouches with titles like
Indian Coconut Curry
Low-Carb Classic Chili
Santa Fe Green Chile
Mexican Smoky Chipotle
The Santa Fe Green Chile caught my eye when I saw a label that said it was "pretty spicy". You know I had to try it 🤣 and no - it really wasn't that spicy.
I also tried the Smoky Chipotle and thought they were pretty good. And while I was happily surprised that they were mostly made from whole foods with no weird chemical preservatives, and they were SUPER convenient to cook and tasted pretty good....
There were 2 things I really wasn't happy about.
They contain soybean oil. Why does EVERY commercial product have to contain oil?
And they were expensive. I paid $6 for a single 10 oz. pouch.....of beans.
I really wanted to like this product. For the convenience factor alone I know a lot of people might try them.
But really? $6.00? For a serving of BEANS?!
Actually, the package said it contained 2 servings, which may be true as a side dish. But as the main component of a meal? I could easily eat the whole package.
I told my wife I bet I could do better, without the oil, and for a lot less money.
And so I did.
Ingredients for Chipotle Chili Beans
I tried to match their ingredient list but without the soybean oil, their proprietary "spices", and "natural flavors".
To make my version of Chipotle Chili Beans you will need:
1 (15 oz.) can of pinto beans
1 (8 oz.) can of tomato sauce
Some diced chipotle peppers (there are brands that are oil-free)
Brown sugar (or sweetener of choice)
And some common pantry spices (chili powder, onion powder, smoked paprika, garlic powder, cumin, coriander, oregano, apple cider vinegar)
I already had the spices in my pantry, so I bought the beans ($.98), the tomato sauce ($.60), and 2 teaspoons of chipotles ($.12) at my local WinCo and spent a whopping $1.70 for this recipe that made 12.5 oz.
Compare THAT to their $6 for a 10 oz. pouch. And if you use dried beans you could drive down the cost even more.
How To Make Chipotle Chili Beans
I'll admit, my recipe is nowhere near as convenient as microwaving a pouch for 90 seconds, but it IS easy.
Rinse and drain your beans, then set them aside.
Grab a saucepan and add your tomato sauce. I used a NO-SALT variety.
Turn on the heat to low and slowly, one by one, begin adding the remaining ingredients, stirring as you go.
I taste as I go too. Think 2 tsp. of chipotles is too much? Start with 1 teaspoon and adjust to YOUR taste.
In fact, adjust ANY of the ingredients to your own personal taste.
When the sauce (I call it gravy) is to your liking, stir in the beans.
Simmer to the consistency you like and enjoy!
It really is that easy and look at how much money you saved!
I made these during Saturday morning's LIVESTREAM so my BNV Support Group could see just how easy they were to make. This is something I am going to be doing more often, so if you like watching me cook - join us!!
Serve them as they are, or with rice, in a burrito, or even as a potato topper. They really have a good flavor, and as we know from studies of The Blue Zones, eating a cup of beans every day is something all of the zones have in common and for increased longevity.
Hope you enjoy the recipe and I'll see you next week!
Chuck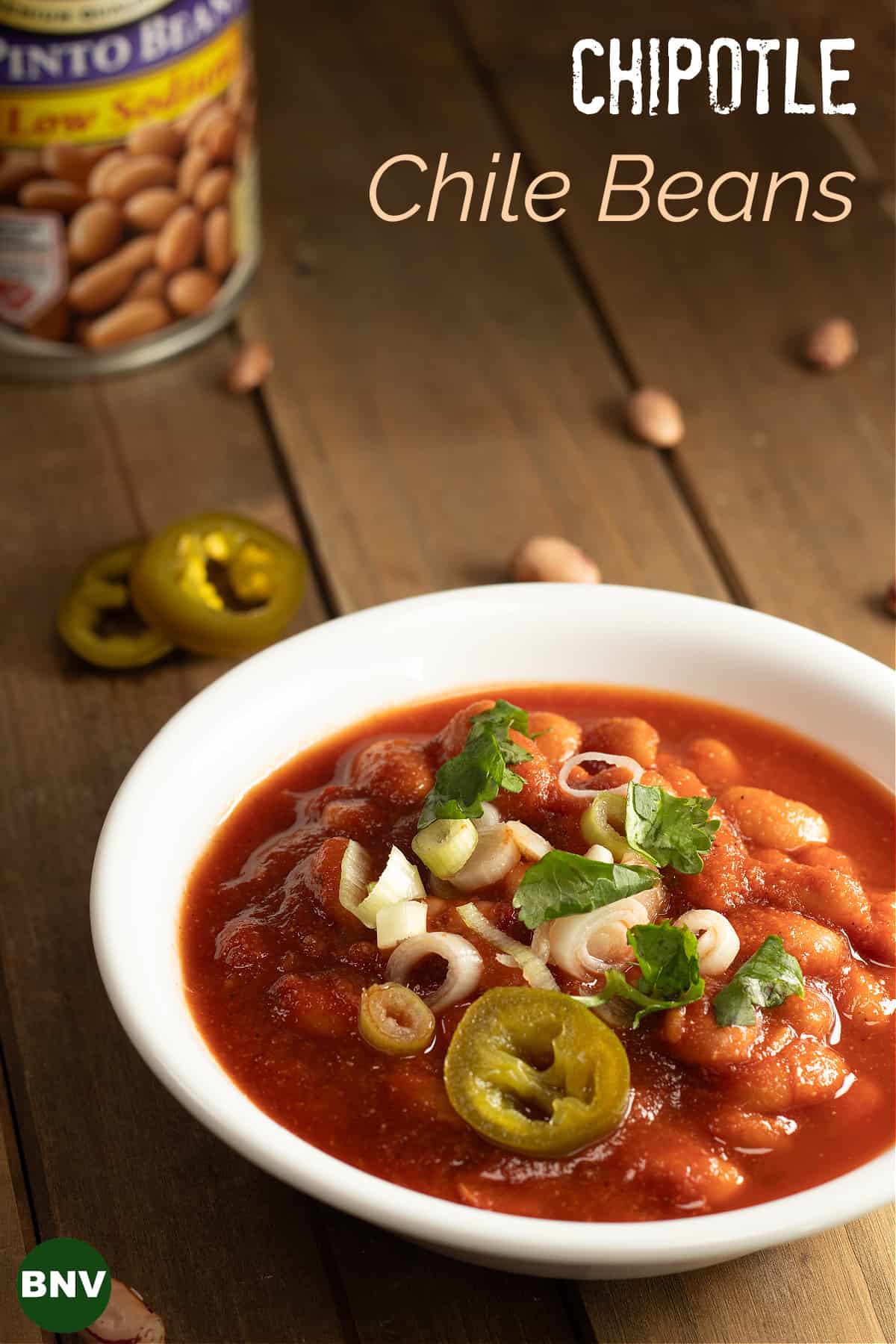 Print
Chipotle Chili Beans
Author:

Prep Time:

15 min

Cook Time:

15 min

Total Time:

30 minutes

Yield:

2

servings

1

x

Category:

Sides

Method:

Stovetop

Cuisine:

Mexican

Diet:

Vegan
---
Description
I challenged myself this week to remake a commercial product not only cheaper but oil-free. These Chipotle Chili Beans are legit!
---
1

(15 oz) can pinto beans)

½

c

. water

1

(8 oz) can tomato sauce

1

T. brown sugar

2 tsp

. chipotle peppers

1 tsp

. chili powder

1 tsp

. onion powder

1 tsp

. smoked paprika

1 tsp

. garlic powder

1 tsp

. cumin

½ tsp

. salt

½ tsp

. apple cider vinegar

¼ tsp

. coriander

¼ tsp

. oregano
---
Instructions
Rinse and drain beans, then set aside
In a small saucepan set over low heat, add the tomato sauce and water
One by one, add the remaining ingredients, mixing well after each one.
When all the ingredients have been mixed in, increase the heat to a low simmer and add the drained beans
Mix well
Simmer until slightly reduced and the sauce has thickened
Season to taste
---
Keywords: chipotle chili beans