Sometimes you just want a good burger, you know? You've got the grill all fired up, you got the ears of corn roasting, maybe a carrot dog or two..... but a good, tasty, burger would just REALLY hit the spot. Am I right?
Guys, I made these Spicy Southwestern Black Bean Burgers just for you.
Black Beans and Kidney Beans make up the 'meat' of the burger, a few spices, a little salsa, and some chipotle peppers provide that awesome, southwestern flavor, while oat flour and cornmeal bind it all together.
Mmm, it's a match made in flavor heaven!
Not only that, they're low-fat AND gluten free.... and the best part of all?
These burgers REALLY hold together on the grill !
Say goodbye to those other burgers that always seem to fall apart and drop through the grate.
What do you say? Ready to pop open a cool one and get that grill fired up?
Cool - let's head on back and get started....
Spicy Southwestern Black Bean Burgers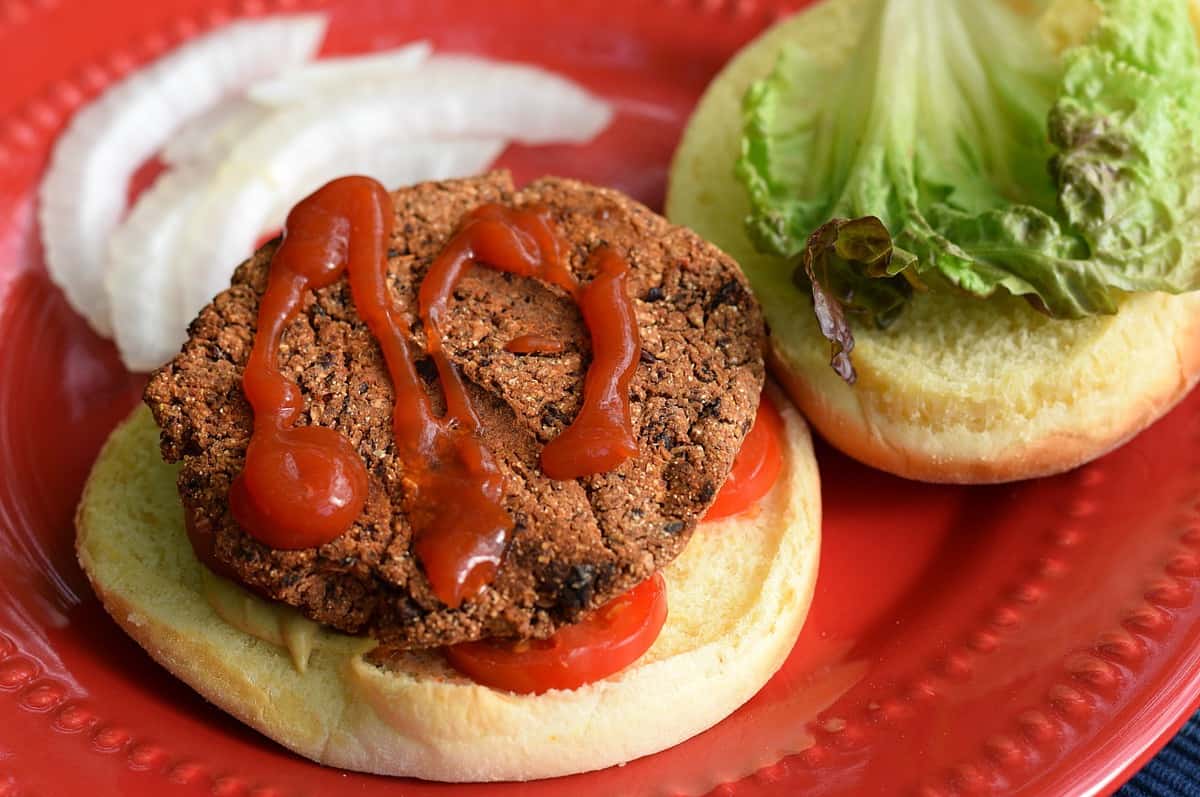 We're going to need TWO cans of beans, Kidney Beans AND Black Beans. Get the LOW SODIUM variety if you can. Dump both cans into a colander and rinse really well.
Now....spread the beans out onto a cookie sheet and DRY them the best you can. Go ahead and heat up your oven to 350° F too....we want to REALLY dry these beans. When the oven heats up to temp, pop the beans into the oven for about 20 minutes.
I think using dried beans like this is one of the secrets to these burgers grilling so well. Otherwise they would be too mushy and fall apart like many bean burgers do.
Meanwhile, if you have a food processor/chopper...... grind ½ cup of regular old-fashioned oats into a fine powder and set aside. You can also just use regular flour - OR just leave the oats intact if you want......they're just going to act as a binder....that's all.
When the beans have finished drying - add them to your food processor, along with the oats, and add ¼ cup cornmeal, ½ cup of your favorite salsa, 2 teaspoon cumin, ½ teaspoon garlic powder, ½ teaspoon onion powder, ¼ teaspoon salt, and a Chipotle Chile Pepper with about a teaspoon of the Adobo Sauce.
Process this until it's all mixed together and smooth. You'll probably have to stop a few times and scrape down the sides - just make sure it all gets mixed and you no longer see any dry flour or cornmeal.
This mixture will make about 5 good-sized burgers.
Go ahead and shape them into burgers now and layer them on parchment paper (or wax paper) and set them in the fridge to cool. We want to let these guys setup for at least an hour, preferably 2 or 3.
Afterwards, they're ready for the grill.
Brush with your favorite sauce, salsa, or marinade, and garnish with all your favorite burger fixins'.
Might I also recommend these homemade, oil-free French Fries to go along with?
Now THAT'S a picnic! Mmmm...happy grillin'......

Print
Spicy Southwestern Black Bean Burgers
Author:

Prep Time:

80 min

Cook Time:

10 min

Total Time:

1 hour 30 minutes

Yield:

5

burgers

1

x

Category:

Grill, BBQ, Picnic

Method:

Grill

Cuisine:

American

Diet:

Vegan
---
Description
These Black Bean Burgers are a spicy blend of black beans, kidney beans, chipotle chiles, and salsa that makes not only a tasty burger, but also one that won't fall apart on the grill.
---
1

can Black Beans ((low sodium))

1

can Kidney Beans ((low sodium))

½ cup

Old Fashioned Oats

¼ cup

Cornmeal

½ cup

Salsa

1

Chipotle Chile Pepper with Adobo

2 tsp

Ground Cumin

½ tsp

Onion Powder

½ tsp

Garlic Powder

¼ tsp

Salt
---
Instructions
Preheat oven to 350 degrees F.
Using a food processor, grind oatmeal into a powder (flour) if possible and set aside.
Drain beans into a colander and rinse well.  Spread beans onto a cookie sheet and dry them as best you can.  Bake in a 350 degree F oven for 20 minutes.
Add beans, oats, cornmeal, salsa, chipotle pepper, and all remaining spices together in a food processor and process until smooth., scraping down sides as necessary.
Form into 5 burger-shaped patties and allow to set in the refrigerator for at least 1 hour.
Grill burgers as usual and garnish with your favorite toppings.
These burgers can probably be baked or pan-fried if grilling is not an option (although I have not tried these methods myself).  A George Forman indoor grill would also work well.
---
Keywords: black bean burgers