Who doesn't love a piping hot, Vegan Buttermilk Biscuit, right out of the oven.
Maybe with a dab of jelly that oozes out the sides as you close it up for that first bite?
Or a smear of Corn Butter?    Mmmmm.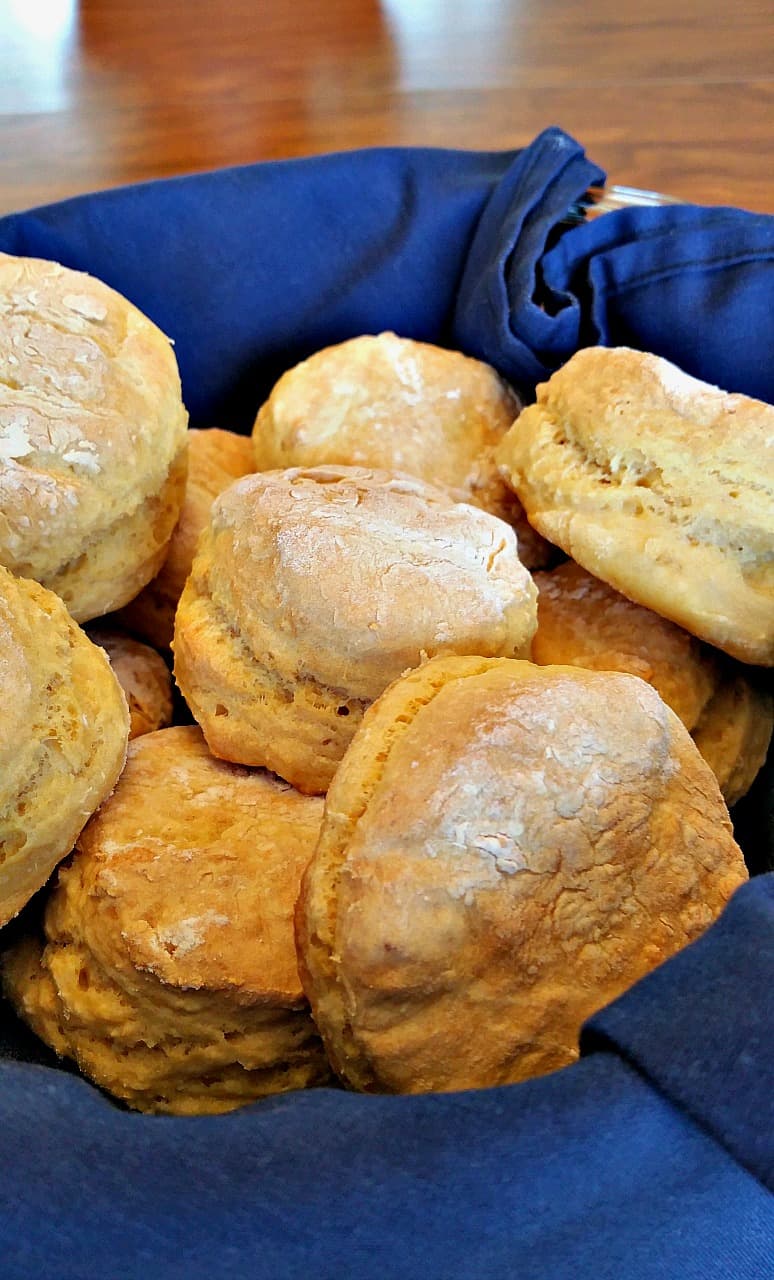 Or sometimes you just need something to sop up a bunch of gravy or stew.....
Yeah.... I said SOP.... it's a southern thing.  
It means using this hot, flaky biscuit to soak up as much gravy as possible so I can bring it all up to my mouth and devour it...  nom nom. 
But are biscuits vegan?
Well let me be perfectly honest, the recipe I used to make had vegan butter as an ingredient.  And although vegan butter technically IS still vegan - it's still nothing but fat.
Oh they tasted good, no doubt about it - but not quite as healthy as I would like, especially if I was going to post a recipe here for you to try.
No I needed something that would
Replace the butter
Still make tasty, fluffy biscuits and
Contain absolutely no fat at all
So I opened up my fridge and the answer was right in front of me.  I was a little hesitant it would even work at first but the results were…… well look at the photos…..
They were amazing!
Fluffy Vegan Buttermilk Biscuits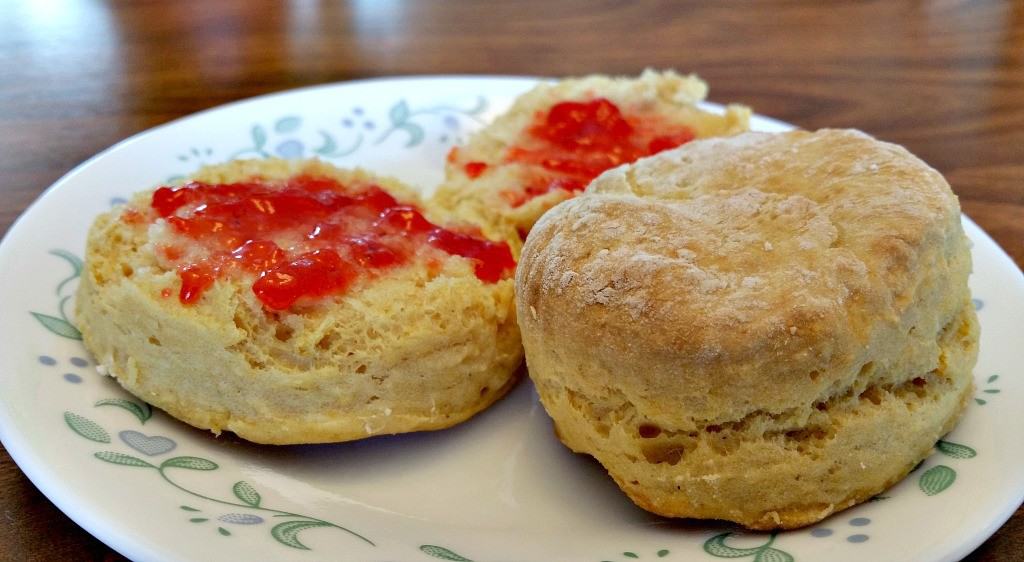 And what is this secret ingredient?
Why veggies of course, making these quite possibly the healthiest vegan buttermilk biscuits out there!
I've ranted and raved before about my Vegan Cheese Sauce, made out of potatoes and carrots.  If you haven't tried it yet you are really missing out.  This stuff is nothing short of amazing AND it makes the perfect filler for our vegan buttermilk biscuits.
Ready to bake some awesomeness?
If you don't already have some of this Amazing Cheese Sauce sitting in your fridge (shame on you), you are going to need about ½ cup, so go whip up a batch of this first.
Don't worry, it keeps and trust me your leftovers will not go wasted.
Ok, on to the biscuits.
Start by measuring all the dry ingredients into a large bowl.
Then add in ½ cup of the Cheese Sauce.   I used a dry ingredient measuring cup and made sure it was all squished in there tightly, so it was a full ½ cup.
As you stir this in with your fork, you'll see it will start to make crumbles, just like cutting in a stick of butter would do.
Meanwhile pour 1 cup of plain, unsweetened, Almond Milk into a Pyrex measuring cup and add 2 teaspoons of Apple Cider Vinegar and give that a whisk.  This is our Vegan Buttermilk.  Let it sit for a minute or two and it will thicken.
Now using a wooden spoon, slowly stir the buttermilk into the flour.
Only stir enough so the dry ingredients get moistened.  Don't go crazy stirring too much.   This is one of the secrets to fluffy biscuits….don't over mix!
At this point you can drop spoonfuls of biscuit dough onto your parchment lined cookie sheet for drop biscuits (just like grandma used to make) OR you can use a biscuit cutter to make those perfectly shaped biscuits I like so much.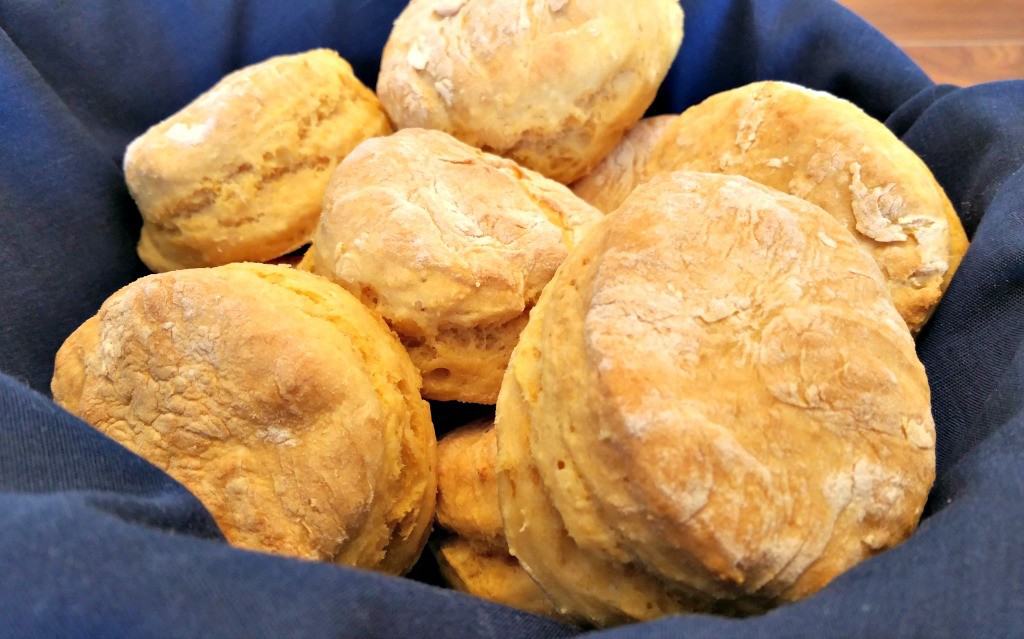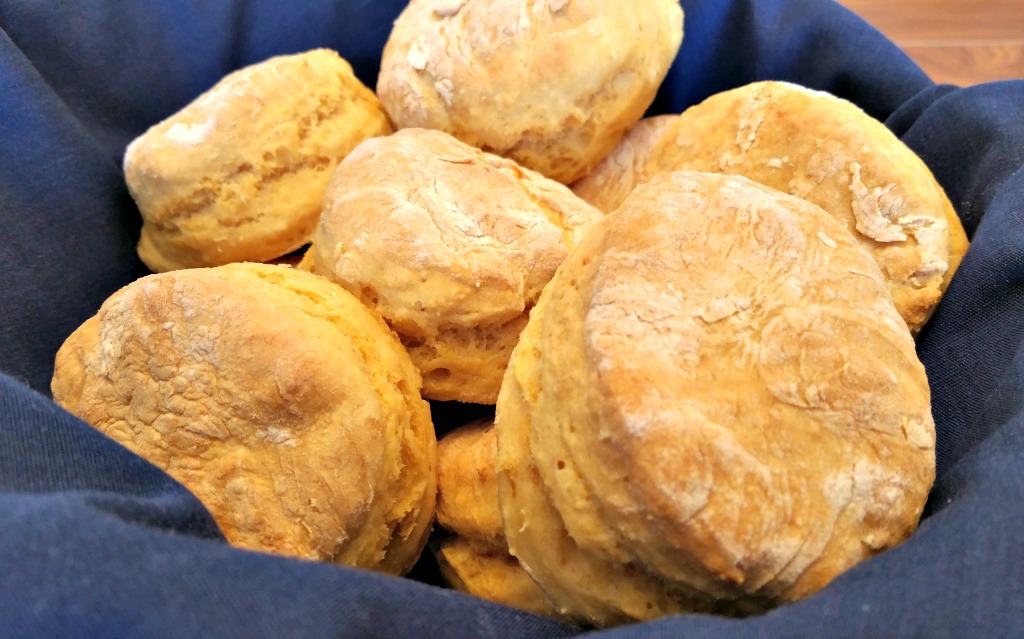 If you want to use a biscuit cutter, spoon your dough onto a well floured work surface and give it a quick knead, just a few times will do.  Now roll it out to about 1" thick and use your cutter (or any cup will work) to make perfectly round biscuits.
Place these on your parchment lined cookie sheet so they touch each other (another secret to fluffy biscuits).
Bake in a 450 degree oven for 15 minutes or until golden brown.
One batch of dough gave me about 12 biscuits.
Now enjoy those biscuits!
Spread on a little of that left over Cheese Sauce or homemade Jam.
One of my favorite dinners is to top off a couple of biscuits with some veggies and gravy.
Enjoy!

Print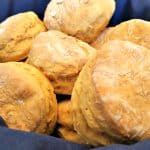 Fluffy Vegan Buttermilk Biscuits
Author:

Prep Time:

10 minutes

Cook Time:

15 minutes

Total Time:

25 minutes

Yield:

12

Biscuits

1

x

Category:

Bread

Cuisine:

American
---
Description
With no butter, eggs, milk, or oil these may quite possibly be the HEALTHIEST Vegan Buttermilk Biscuits around.
---
2 cups

flour ((King Arthur Bread Flour))

1

Tbls baking powder

½ tsp

baking soda

¾ tsp

salt

½ cup

Cheese Sauce ((see recipe link below))

1 cup

Almond Milk ((unsweetened))

2 tsp

Apple Cider Vinegar
---
Instructions
Preheat oven to 450 degrees
Whisk almond milk and vinegar together and set aside
Mix all dry ingredients in a large bowl
Add cheese sauce and stir in with a fork until it resembles large crumbsLink to Amazing Cheese Sauce Recipe
Slowly pour in buttermilk mixture and stir with a wooden spoon until just slightly combined
Spoon out onto a floured work surface and gently knead 2-3 times
Roll out dough to 1" thickness and cut circles with cup, glass, jar, or biscuit cutter.
Place biscuits on parchment lined cookie sheet so they touch each other
Bake for 15 minutes or until golden brown.
---