As I've mentioned before in an earlier post, I've been doing this 10-day mini diet called a Mary's Mini, and while it IS a great way to lose a few extra pounds ... it DOES get boring! Especially after 7 days of eating Mashed Potatoes, French Fries, Vegan Potato Soup, and Hash Browns.
Last night I DESPERATELY needed something CRUNCHY! Fat Free Potato Chips to the rescue! And OMG they were a LIFE saver!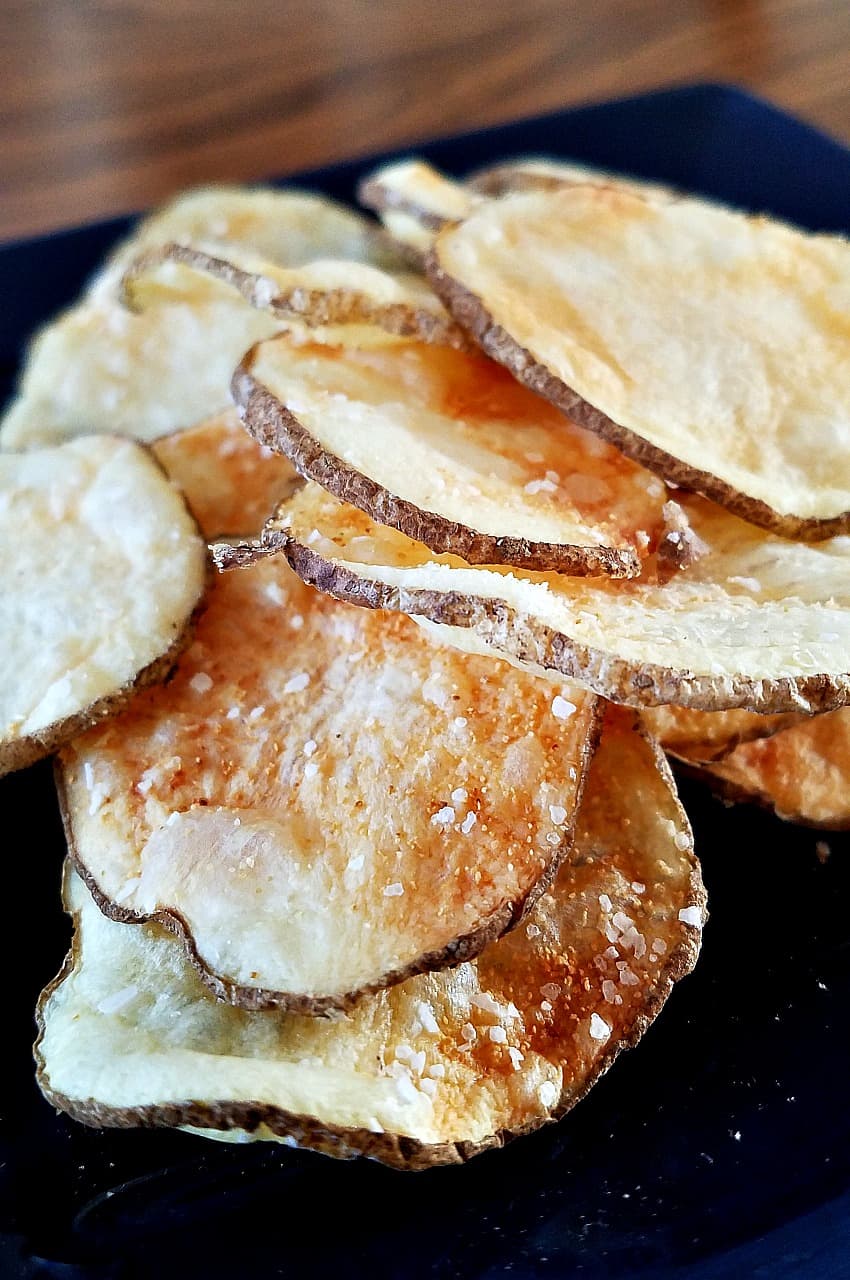 I know, I know, potato chips are NOT healthy. We all know that. So why is this post about Potato Chips?
The only reason potato chips are unhealthy, is they're deep fried in oil! (well, and they usually have tons of sodium and other chemicals too) . That's it! So take away the fat, and the salt and all you have left with are potatoes! And THEY are healthy!
So that's exactly what I did.
I used my mandoline slicer to thinly slice a few potatoes into chips.... and if you don't have a mandoline, here is a what they look like. Note: this is an affiliate link so if you buy one I will receive a small commission. Amazon Link for a Mandolin Slicer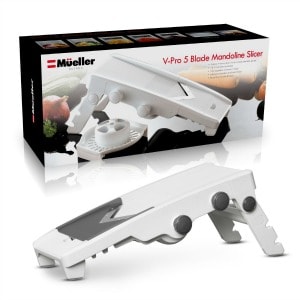 Ok let's stop for a minute... if you've never used a mandoline before there are a few things you need to know.
The blade is SHARP, like VERY sharp
Make sure it's secure on a flat surface
And always, ALWAYS, use the food guard. That's that little handle thing you use to push your food into the blade.
Why do I mention this? The first time I used mine I thought I had LOTS of potato left and didn't need to use the guard.....until I sliced the end of my thumb off. It was pretty messy. Don't say I didn't warn you. Ok end of PSA, now back to making potato chips.
Fat Free Potato Chips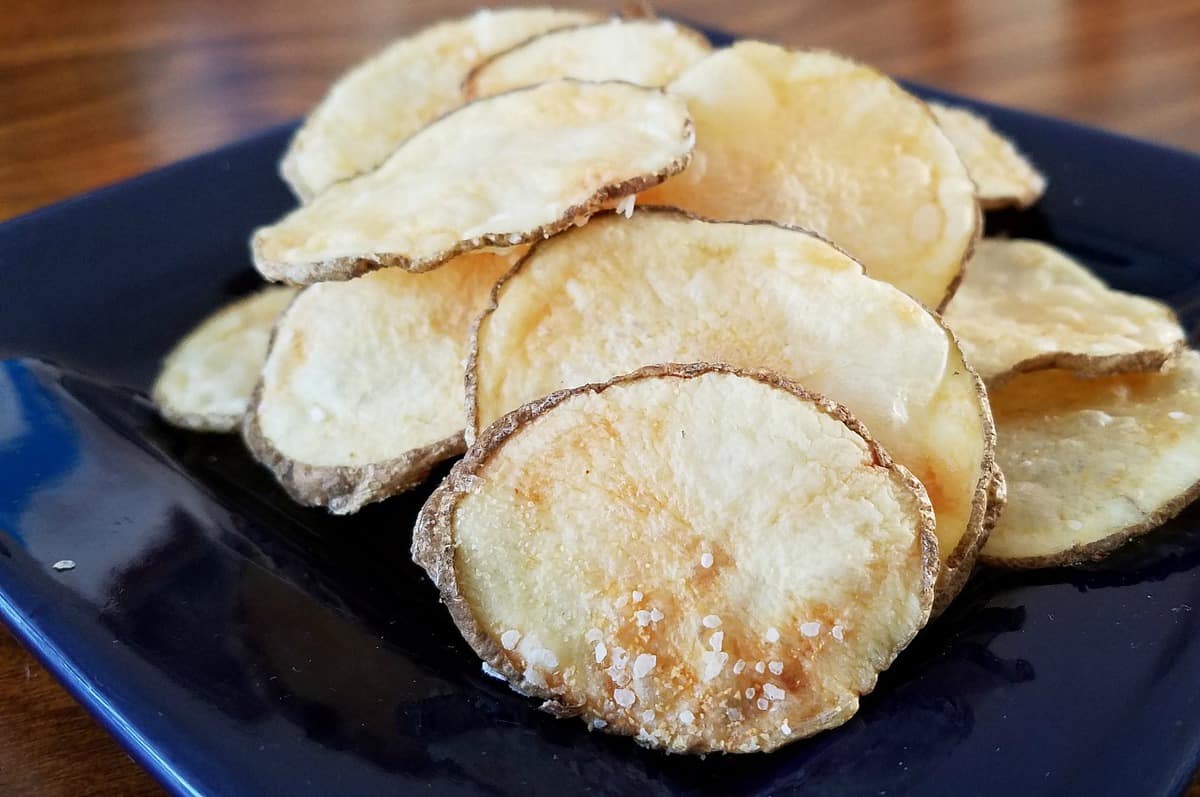 We start by selecting 1 or 2 Russet Potatoes. Yukons? Not sure. Try it! I left the peel on mine as 1) they are full of vitamins, minerals, and fiber and 2) I like the peel!
Now we slice. As I said above, a mandolin slicer works great as you want them pretty darn thin. If you have another device that will do the job for you, awesome. As you slice, lay the chips on a plate covered with parchment paper. Do not overlap the chips are they will stick together. My first attempt was without parchment paper and I literally had to chisel the chips off afterward.....use parchment.
Now we simply season them the way you like. I used a good pinch of garlic powder, onion powder, and kosher salt. Try whatever combination of seasoning you like? Maybe some cayenne? Smoked paprika? BBQ rub?
Now, all we have left to do is microwave them. I would say start with 5 minutes and then check them. You will know when they become crisp as they will turn a golden brown. You may have to microwave them another 1-2 minutes - just keep a close eye on them.
And that is all there is to homemade, fat free potato chips. The whole process is SO simple and only takes like 10 minutes total.
And remember, the whole idea of this recipe was NOT to invent a new vegan junk food, but simply to allow myself a healthy, crunchy snack while I was doing my 10-day mini diet. Sometimes it's not so much the taste of the food we crave, but it's the texture. And in this case the CRUNCH definitely satisfied my craving.

If you enjoy this recipe, don't forget to comment! See you next week.....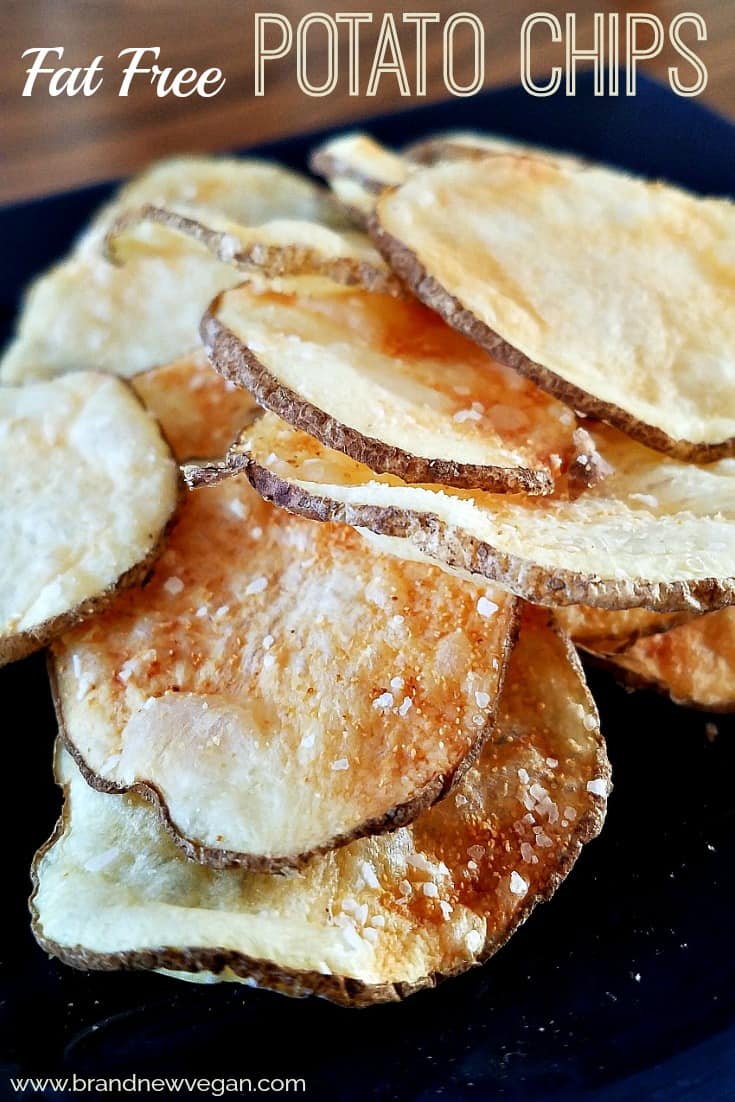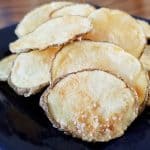 Fat Free Potato. Chips
Author:

Prep Time:

15 minutes

Cook Time:

7 minutes

Total Time:

7 minutes

Yield:

2

servings

1

x

Cuisine:

American
---
Description
A healthier way to eat Potato Chips!  NO OIL and completely FAT FREE.  Perfect for satisfying that craving for something CRUNCHY while doing a Mary's Mini!
---
1

-

2

Russet Potatoes
Pinch of Garlic Powder
Pinch of Onion Powder
Pinch of Kosher Salt
---
Instructions
Wash and scrub your potatoes before slicing if leaving the peel on.
Using a mandoline or whatever slicing device you may have, thinly slice the potatoes into chips.
Lay chips in a single layer on a sheet of parchment paper
Sprinkle seasonings evenly over chips
Microwave 5-7 minutes, watching closely.
Stop when they begin to turn a golden brown.
---
Notes