I recreated my wife's favorite meal, Vegan Cauliflower Steaks from Pelican Brewing on the Oregon Coast, and she said mine were actually better!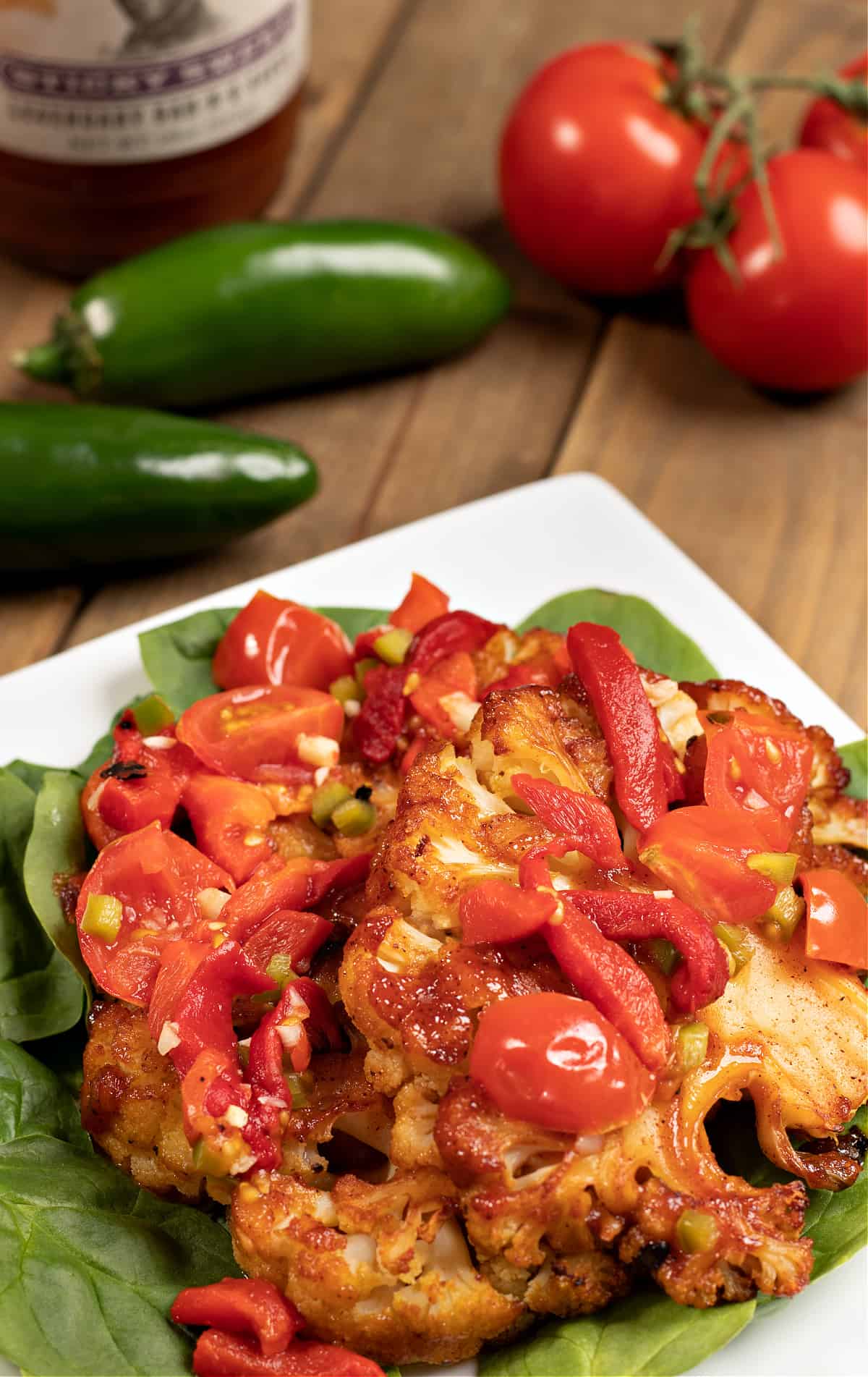 In the sleepy little tourist town of Cannon Beach, OR, there aren't that many vegan options to choose from in any of the local restaurants.
After all, it IS the Oregon Coast, where seafood reigns.
But at Pelican Brewing, you can usually find 1 or 2 entrees that are not only vegan - but a far cry better than the typical garden burger and fries offered at some of those other places.
They used to offer a Vegan Banh Mi Sandwich that I also recreated, but sadly, that is no longer on the menu.
Now, their main vegan entree is a lightly seasoned, pan-seared slab of cauliflower, served on a bed of arugula, and smothered in a tomato/red pepper salsa. My wife absolutely loves it and after our last visit, I told her I would try to recreate it for her.
Not only was she thrilled that I tried, she actually said mine tasted better!
So with THAT huge compliment, I give you this week's recipe, my oil-free version of Vegan Cauliflower Steaks from Pelican Brewing.
Vegan Cauliflower Steaks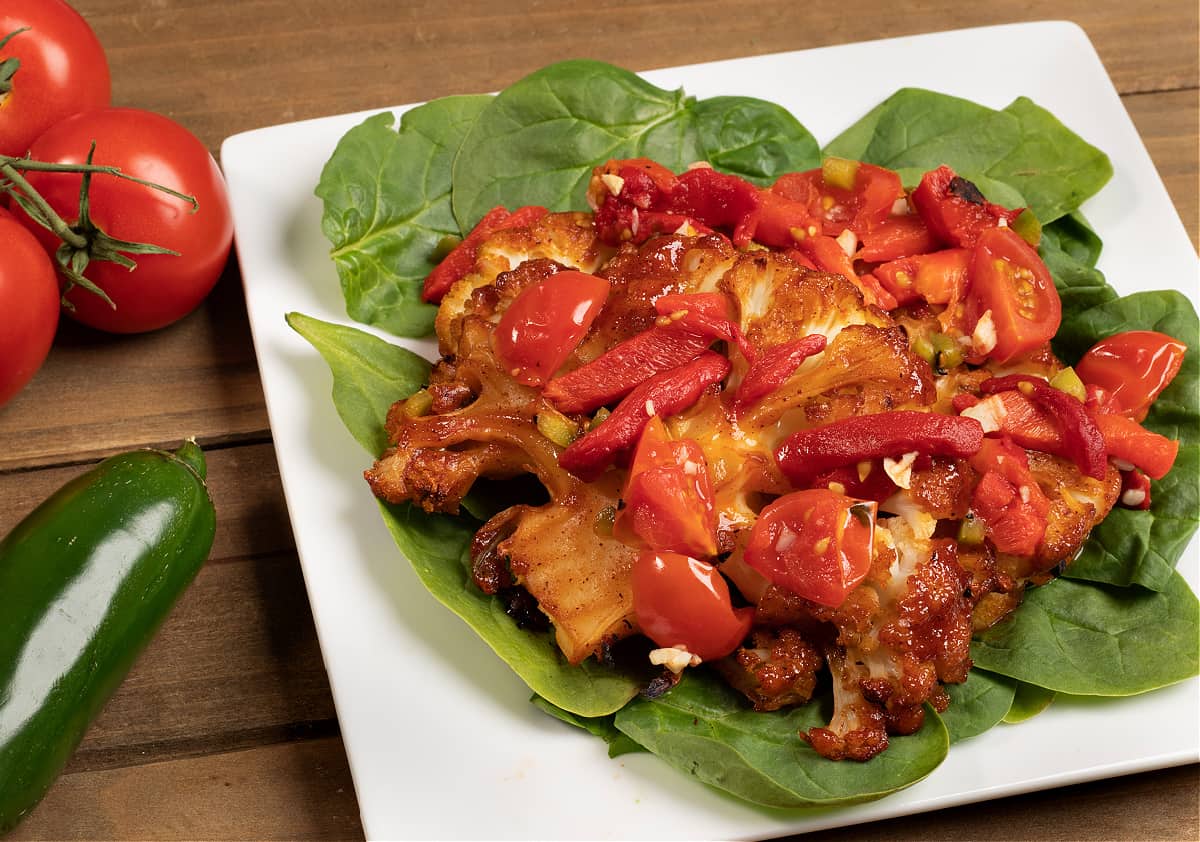 Let's Make the Salsa First
All we're going to do is roughly chop some cherry tomatoes, some roasted red bell peppers you buy in a jar, and mince some garlic and jalapeno. Add all that to a bowl and stir in a tablespoon of red wine vinegar and add a pinch of salt.
Cover and refrigerate for now, and right before the steaks are ready we'll place this in a small saucepan and heat on low, just enough to warm it up before we serve.
Cutting Your Cauliflower Steaks
To make the steaks, you are obviously going to need some cauliflower....duh.
One large head of cauliflower should give you at least two ¾" thick steaks, with some extra florets for soups, salads, cauliflower tacos, or whatever.
Remove all the outer leaves, being sure to leave most of the stem and core intact as this is what will hold your 'steaks' together. You can cut off some of the stem - but not all of it.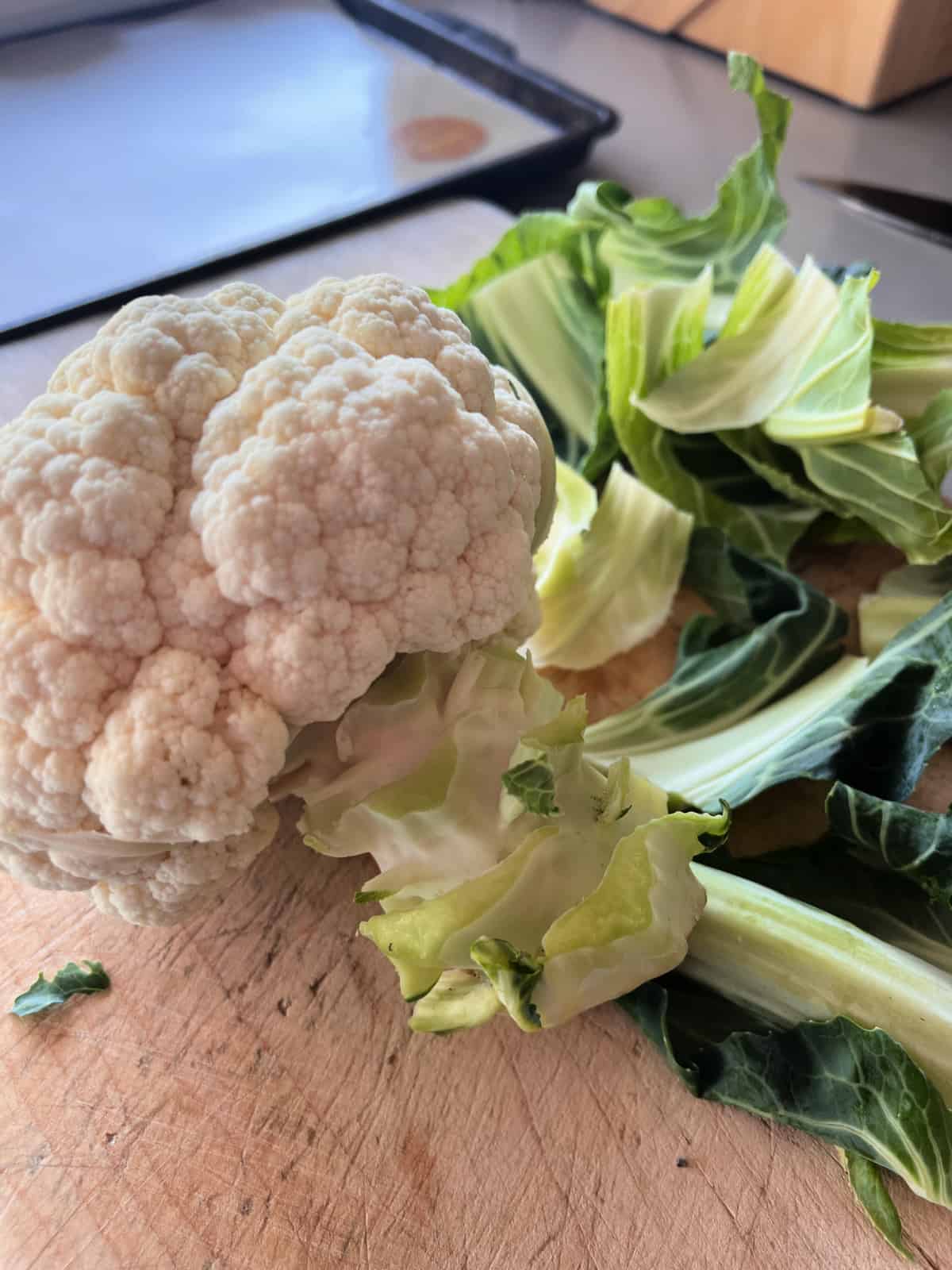 Your best steaks are going to come from the very center of the cauliflower, while the edges usually break apart and crumble immediately. So take your knife and cut just off from the middle to get your 2 steaks.
If you can get 3 or more, that's fine too, otherwise, store whatever is left for other recipes. Aim for steaks that are at least ¾" to 1 inch thick.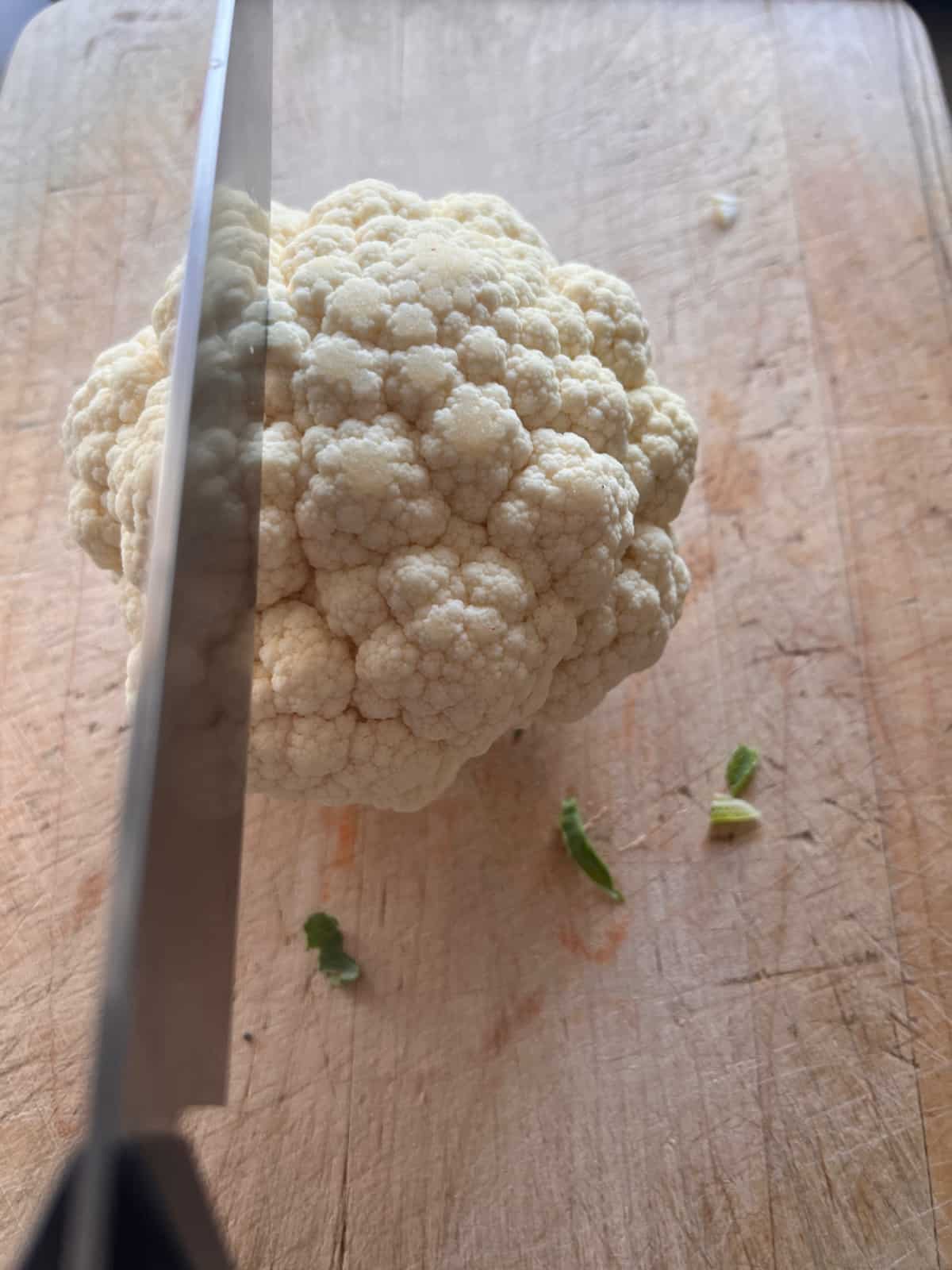 Cooking Your Cauliflower
Place your 2 steaks in a skillet that has a lid, and season each with a pinch of salt, pepper, onion powder, garlic powder, and even a little steak seasoning if you wish, then add ½ cup of low-sodium vegetable broth.
Cover and set your heat to medium. Lightly steam for 5 minutes.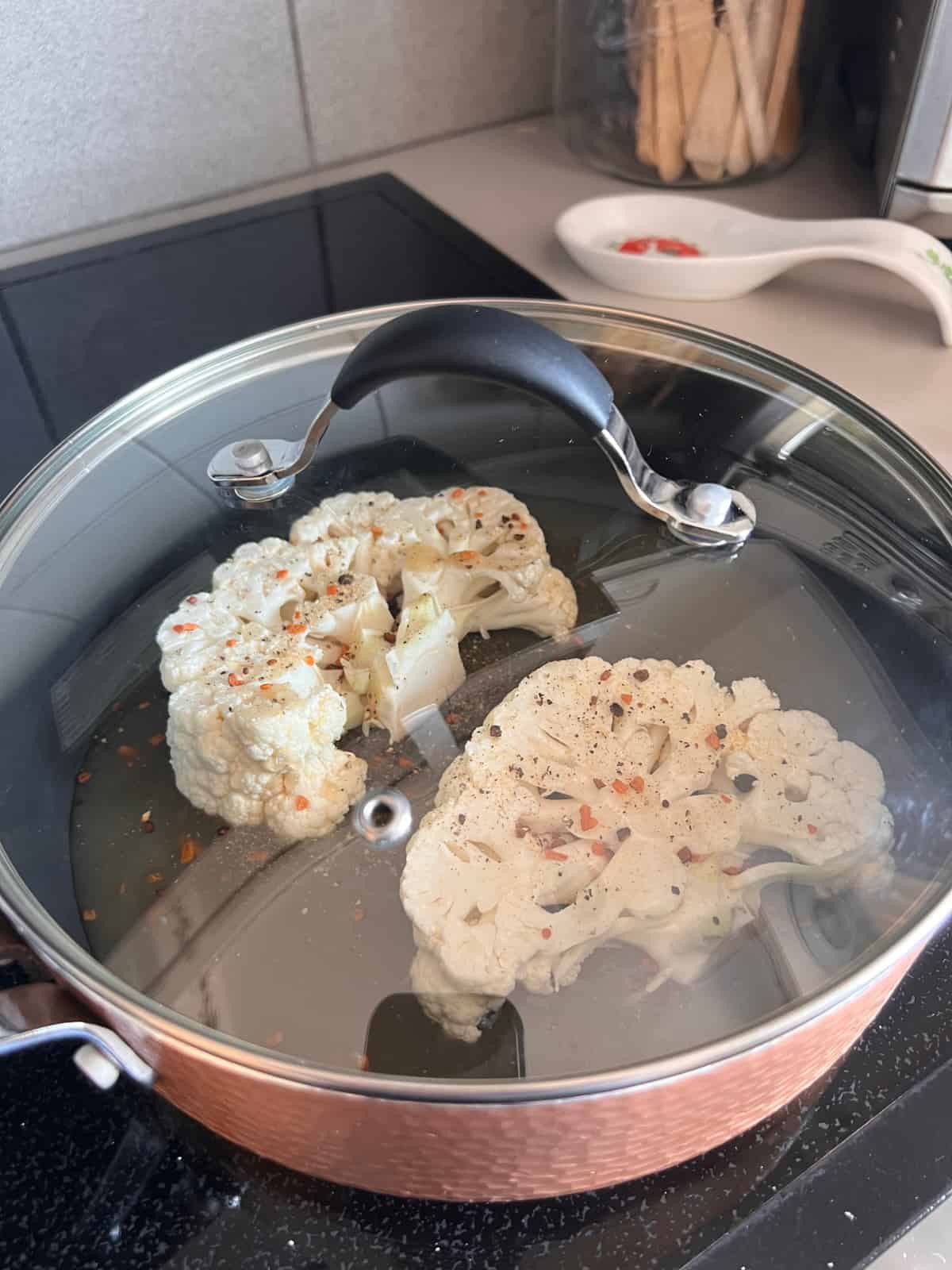 GENTLY remove the steaks and place them on a parchment-lined baking sheet or use a Silpat. Now is a good time to preheat your oven to 400° F.
Now grab your favorite BBQ sauce, and using a pastry brush, generously brush every nook and cranny with the sauce. Be VERY careful flipping the steaks as they WILL fall apart if you are not careful.
Now we bake for 20-25 minutes or until they are golden. While they are baking, grab that salsa and start warming it up.
Serve your vegan, oil-free, BBQ cauliflower steaks on a bed of arugula, spinach, rice, or whatever you like - and top with that delicious salsa.
And THAT my friends, according to my wife, is BETTER than the nearly $20 plate you would get at Pelican Brewing.
Enjoy!

Print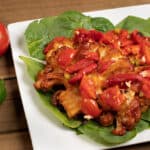 Vegan Cauliflower Steaks
Author:

Prep Time:

30 min

Cook Time:

30 min

Total Time:

1 hour

Yield:

2

servings

1

x

Category:

Main

Method:

Stovetop

Cuisine:

American

Diet:

Vegan
---
Description
I recreated my wife's favorite Vegan Cauliflower Steak from Pelican Brewing on the Oregon Coast, and she said mine was actually better!
---
1

large head or

2

small heads of cauliflower
pinch of salt, pepper, onion powder, and garlic powder

½

cup

low-sodium vegetable broth
your favorite BBQ sauce
Tomato/Red Pepper Salsa
4

oz

cherry tomatoes

8

oz

roasted red bell peppers

3

-

4

cloves garlic, minced

½

jalapeno, diced (optional)

1

Tbs red wine vinegar
pinch of salt
---
Instructions
Prepare the salsa by chopping the tomatoes and bell peppers and mincing the garlic and jalapeno.  Add everything to a bowl and stir in the red wine vinegar.  Salt to taste and set aside. 
Prepare the cauliflower by removing the outer leaves being careful to leave the core stem.  This is what is holding all the florets together. 
Cut two ¾" steaks from the center of the head and place in a shallow skillet with a lid
The florets that crumble and any remaining cauliflower can be stored for soups, tacos, etc. 
Season each steak with a pinch of the seasonings and add the veggie broth to the pan
Cover and lightly steam the steaks for 5 min
Preheat oven to 400° F
GENTLY transfer the steaks to a parchment-lined baking sheet
Generously apply your favorite BBQ sauce to both sides of your cauliflower
Roast for 25-30 minutes or until golden
Transfer salsa to a small saucepan and warm
Serve your steaks on a bed of spinach, arugula, rice, or whatever you like, and top with the warmed salsa.
---
Keywords: vegan cauliflower steaks, oil-free