I used just a handful of ingredients to make this super easy, and incredibly TASTY Vegan Tinga, the perfect filling for tacos, burritos, or even tostadas!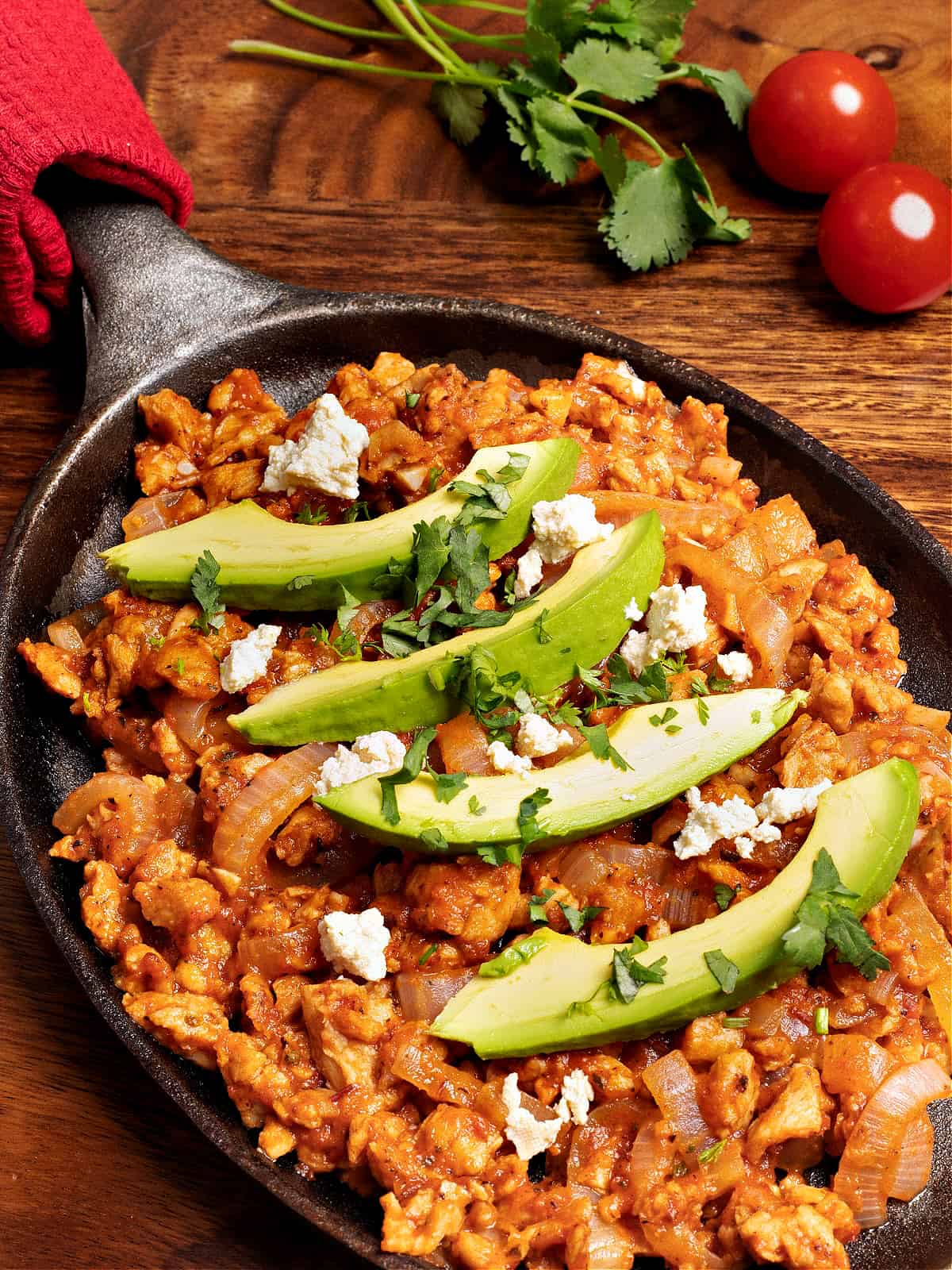 If you look carefully on the menu of many Mexican Restaurants, you will see something called "tinga" and you may wonder, "what in the heck is THAT"?
Tinga is simply shredded chicken (Tinga de Pollo) cooked in a spicy chipotle tomato sauce and used as a filling for tacos, tortillas, etc. It originates from the Puebla area of Mexico and it is DELICIOUS.
The main "spice" in this recipe is chipotle peppers which can easily be found in most grocery stores. Chipotle isn't really a variety of pepper, it's just a ripe jalapeno that has been smoked and dried. They usually come rehydrated in a tangy adobo sauce and their sweet, smoky flavor is a tasty addition to any Mexican recipe.
I chose tinga for my recipe this week as it is very easy to make vegan by simply replacing the chicken, and also because of the simplicity, as there are only 5 or 6 main ingredients.
Plus, it's super tasty on tostadas, one of MY favorite foods!
Ingredients for Tinga Tostadas
As you can see, this has a very simple list of ingredients.
1 white onion
3 cloves garlic
4 oz (½ bag) of Butler Soy Curls
15oz can fire-roasted tomatoes
7 oz can chipotle peppers in adobo sauce
Mexican oregano, poultry seasoning, maple syrup, and salt
Everything else you see is for garnish, cilantro, avocado, tortillas, etc.
Oh, and by the way, the white crumbly stuff is my vegan queso fresco - optional but delish. I'd start by making the queso fresco first, that is if you want to use it, to give it time for the flavors to meld. My wife absolutely loves it!
Cooking The Soy Curls
Let's start with the soy curls.
Soy curls are dried, shredded strips of non-gmo soybeans and have to be rehydrated first. I usually toss them into a small saucepan with enough water to cover, and then ½ teaspoon or so of poultry seasoning to flavor them. No, poultry seasoning doesn't actually contain real poultry - it IS vegan.
Soy curls can be found at Whole Foods, on the Butler Foods website, or on my Amazon Storefront. If you're not into soy, I might try shredded mushrooms instead or possibly even shredded carrot and cabbage.
I usually heat the soy curls in the saucepan gently just until they are fully rehydrated, then drain and squeeze out as much moisture as possible. You can then either leave them as is or chop them up into smaller pieces.
Next, slice the onion into rings and place them into a large skillet with a little veggie broth or water. We want to cook these over medium heat until they soften and just start to caramelize. Add more broth or water as needed to keep them from sticking. When you start to see a little color, add the soy curls too, and keep sauteing and stirring until they too start to get a little color.
The Sauce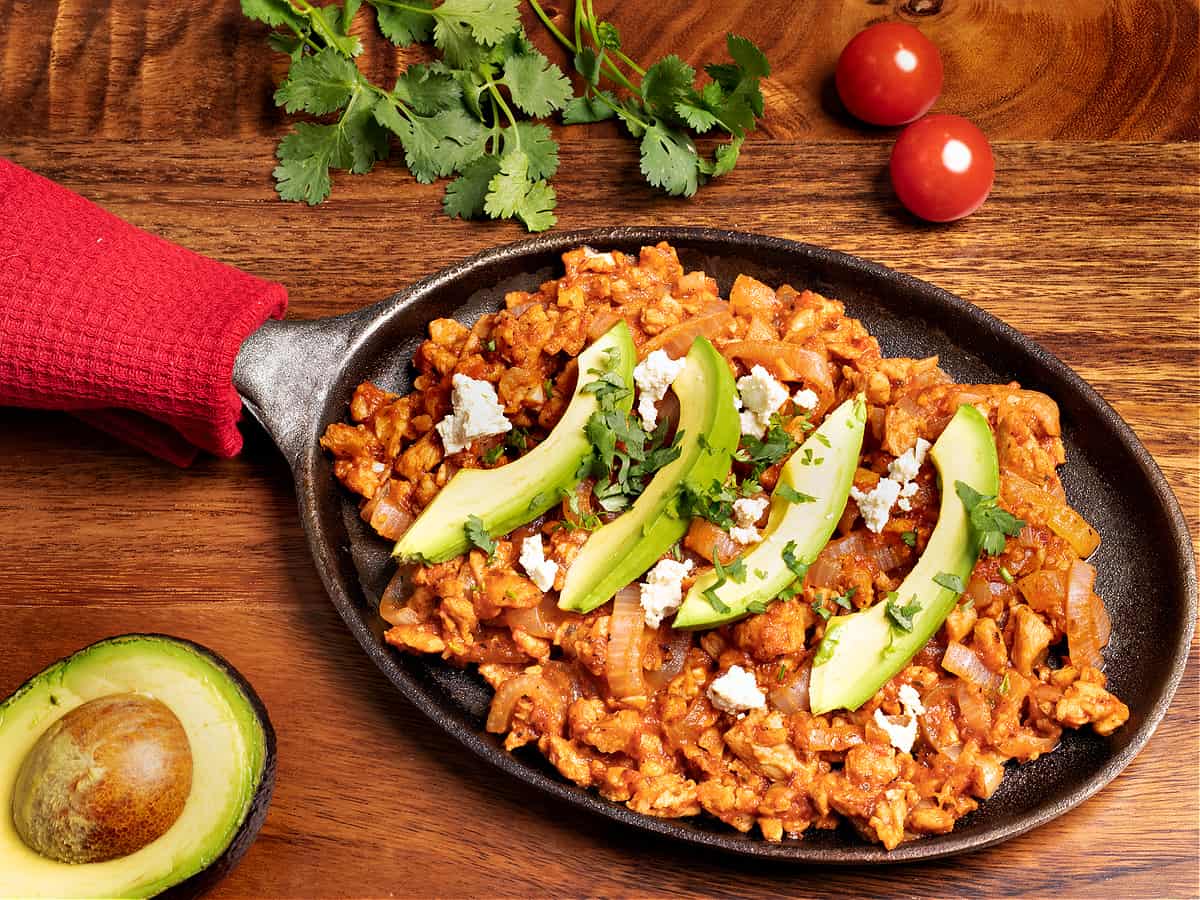 If you know me at all, you know I LOVE spicy food, but unfortunately for me, my wife does not. So I used 2 chipotle peppers in this recipe, and although she said it was just a tad bit too hot for her, she LOVED it and gobbled it down anyway. If I was making it for just myself - I would use 3, maybe 4.
Course chop the peppers and add them to your blender along with the can of tomatoes. You can use fresh tomatoes, but the fire-roasted ones add that bit of extra flavor. Pulse the tomato/peppers a few times until you have a coarse puree and let's get back to the skillet.
Finely mince the garlic and add to the soy curls for 1 minute, then add the tomato mixture and reduce the heat to med-low. Stir well then add the Mexican oregano.
Taste for seasoning and add ½ teaspoon salt or to taste.
Note: If the sauce seems too tart, or too spicy, add 2-4 teaspoon of Maple Syrup to bring down the acidity. This is optional but I personally liked the 'sweet and spicy' flavor it adds.
The Garnishes
Traditionally, tinga is garnished with avocado slices but you can use whatever you like. Here are some of my favorites:
Avocado slices
Radish
Cherry Tomatoes
Cilantro
Hope you enjoy the recipe!

Print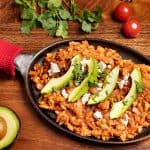 Vegan Tinga Recipe
Author:

Prep Time:

15 min

Cook Time:

20 min

Total Time:

35 minutes

Yield:

4

-

6

servings

1

x

Category:

Main

Method:

Stovetop

Cuisine:

Mexican

Diet:

Vegan
---
Description
I used just a handful of ingredients to make this super easy, and incredibly TASTY Vegan Tinga, the perfect filling for tacos, burritos, or even tostadas! 
---
1

large white onion, cut into rings

4

oz

Butler Soy Curls

½ tsp

poultry seasoning

3

cloves minced garlic

14.5 oz

can fire roasted tomatoes

2

-

4

chipotle peppers in adobo sauce

1 tsp

Mexican oregano

½ tsp

salt

2

-

4

teaspoon maple syrup (optional)
Garnishes
corn tortillas
avocado slices
cilantro
---
Instructions
Prepare Queso Fresco first, if using, to allow the flavors to meld
Heat a saucepan of water until it's hot, then add poultry seasoning and soy curls and stir
When soy curls have fully rehydrated, drain and squeeze out excess moisture and set aside
Slice onion into rings and saute over medium heat until softened
Add water or veg broth to keep from sticking
Add soy curls and continue sauteing and stirring until slightly browned
Add minced garlic and stir 1 minute
Meanwhile, chop 1-4 chipotle peppers in adobo and add to blender
Add tomatoes to blender and pulse several times until you have a coarse puree
Add sauce to soy curls and reduce heat
Stir in oregano and salt
Add maple syrup if needed and adjust any seasonings
Simmer until thickened and serve with your choice of garnishes
---
Keywords: tinga, vegan tinga, soy curls,