Pizza Muffins!
What do you get when you combine a freshly baked Muffin - with homemade Pizza?  The Perfect Party Pleaser!
And let me tell you - these little morsels are gosh, darn tasty.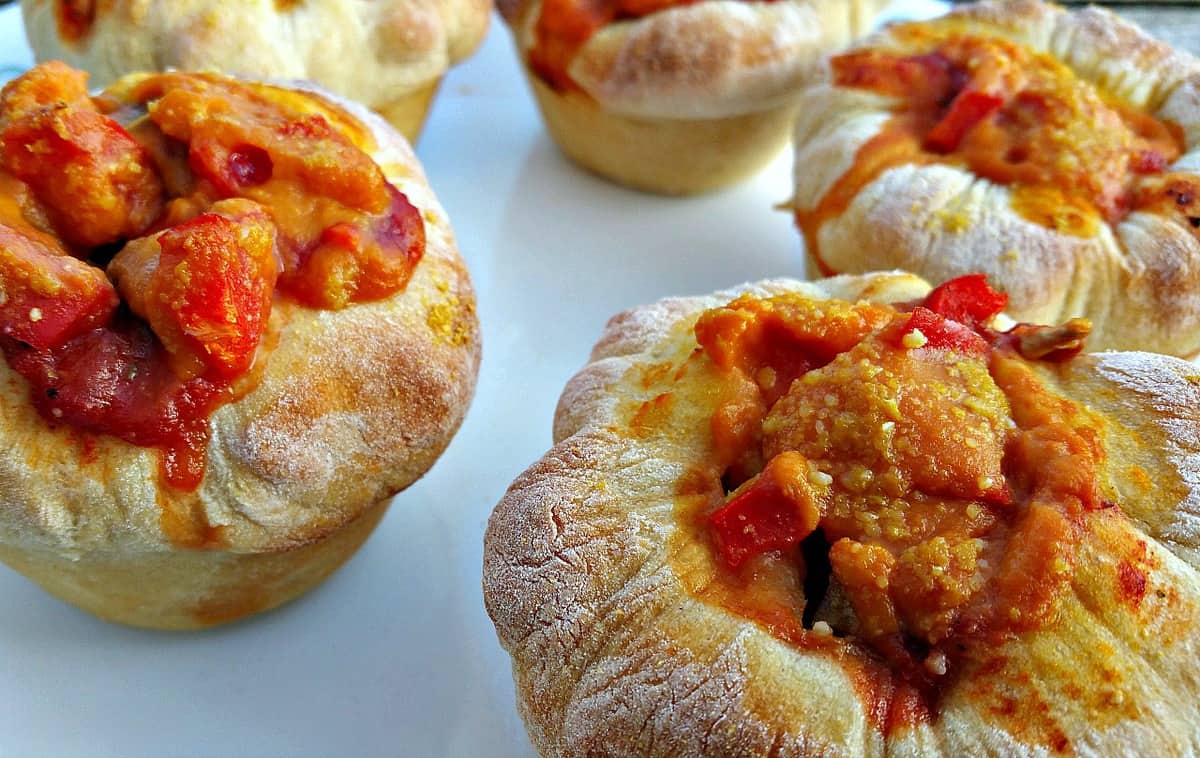 Remember when we used the Rice Cooker to make Spanish Rice?  Pretty nifty idea to get the most use out of an appliance, right?   We even did it again with our Waffle Maker and Hash Browns.  
Now we're going to use our Muffin Tin to make something incredibly tasty.
Pizza Muffins!
Why on earth would you make muffins out of Pizza you ask?  Well I'll tell you Pizza Muffins are incredibly easy to make, and fit perfectly in the palm of your (or little ones) hands.
I mean these Pizza Muffins are like the ultimate finger food!  Perfect for school lunches, picnics, or party snacks.
And you only need
Pizza Dough
Pizza Sauce
Veggies
Vegan Cheese Sauce (optional)
And a Muffin Tin
Pizza Muffins
The Dough
First we're going to need some pizza dough.
1 cup of warm water
2¼ teaspoon active dry yeast
1 Tbs sugar
¾ teaspoon salt
½ tsp garlic powder
½ teaspoon Italian seasoning
1½ cups Bread Flour
1 cup White Whole Wheat Flour
Mix well and place somewhere warm for an hour to rise.  A stand mixer will make this very easy using a dough hook.
We covered this in my Pull Apart Rolls Recipe located here.  
Next we'll need some sauce.
The Sauce
You can use fresh tomatoes, you can use Marinara Sauce, but I like to make my own Homemade Pizza Sauce.  And it's real easy to do while the dough is rising.
Mix the ingredients up in a bowl and you've got homemade pizza sauce that will rival any take-out.
The Fixings
Now all we need to do is chop up some pizza veggies.  What are your favorites?
Red Bell Peppers
Onion
Mushrooms
Black Olives
Pineapple
Artichoke Hearts
You name it.  Be as creative as you like.  Again, I usually have plenty of time to whip up the sauce and chop some veggies while the dough is rising.
The Muffin Tin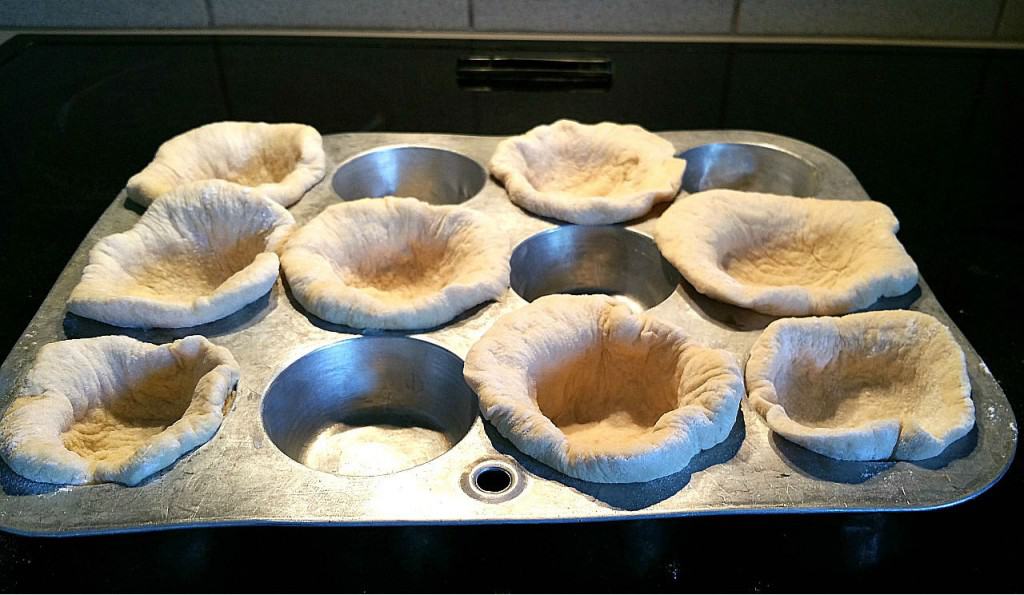 Once the dough has risen, punch it down and separate it into 8 individual dough balls.
Flatten each one out and place it into a cup of the muffin tin.  The dough should not be sticky at all, but very soft and pliable.  I had no trouble with sticking, but you can take a sheet of parchment papers, and cut individual squares to fit into the muffin tin cups if you like.
Now just add a tablespoon of the sauce to each cup, top with your favorite veggies, AND......if you happen to have some of my Cheese Sauce in the fridge - spoon on a bit of that too!
Totally optional, but I took the floppy outside edges of the dough and kind of sealed the whole muffin in dough.  It wasn't enough to completely seal each one, (see photos), but enough to make them look pretty.
Bake in a 500° oven for 10 minutes.
Allow to cool for a few minutes and enjoy!
Print
Perfect Party Pizza Muffins
Author:

Prep Time:

1 hour

Cook Time:

10 minutes

Total Time:

1 hour 10 minutes

Yield:

8

Muffins

1

x

Category:

Main

Cuisine:

American
---
Description
What do you get when you combine a freshly baked Muffin - with homemade Pizza? Pizza Muffins! The perfect party pleaser!
---
1 cup

warm water

1

Tbs sugar

2 ¼ tsp

Active Dry Yeast

¾ tsp

Salt

½ tsp

Garlic Powder

½ tsp

Italian Seasoning

1 ½ cups

Bread Flour

1 cup

White Whole Wheat Flour
Marinara Sauce ((see link below))
or Homemade Pizza Sauce ((see link below))
Pizza Veggies (your choice)
Amazing Vegan Cheese Sauce ((see link below))
---
Instructions
Add sugar and yeast to warm water and stir well.
Allow to proof for 10 minutes.
Add salt and other seasonings and mix.
Add flour and mix well using the dough hook attachment of a stand mixer.
Allow the mixer to knead the dough until it forms a ball and pulls away from the sides of the bowl.
Cover and let rise in a warm place for 60 minutes.
Prepare sauce by mixing all sauce ingredients and stirring well.

Recipe link to Marinara Sauce
Recipe Link to Pizza Sauce
Chop veggies finely and place in bowls to have ready for assembly.
Once dough is risen, separate into 8 individual dough balls.
Flatten each ball, using extra flour as necessary to prevent sticking
Drape 8 muffin cups with flattened dough balls forming cups.
Spoon 1 Tbs of sauce into each cup
Top with veggies of choice
Bring outside edges of dough up and over top to enclose
Bake in 500 degree F oven for 10 minutes
---