My Cauliflower Crumble mixture resembles ground beef so much, I thought I try it out on another comfort-food favorite......like these Sloppy Cauliflower Joes.
If you have finicky omni eaters who detest anything "veggie" or "Vegan" ... sneak in one of these babies..... they may never know the difference!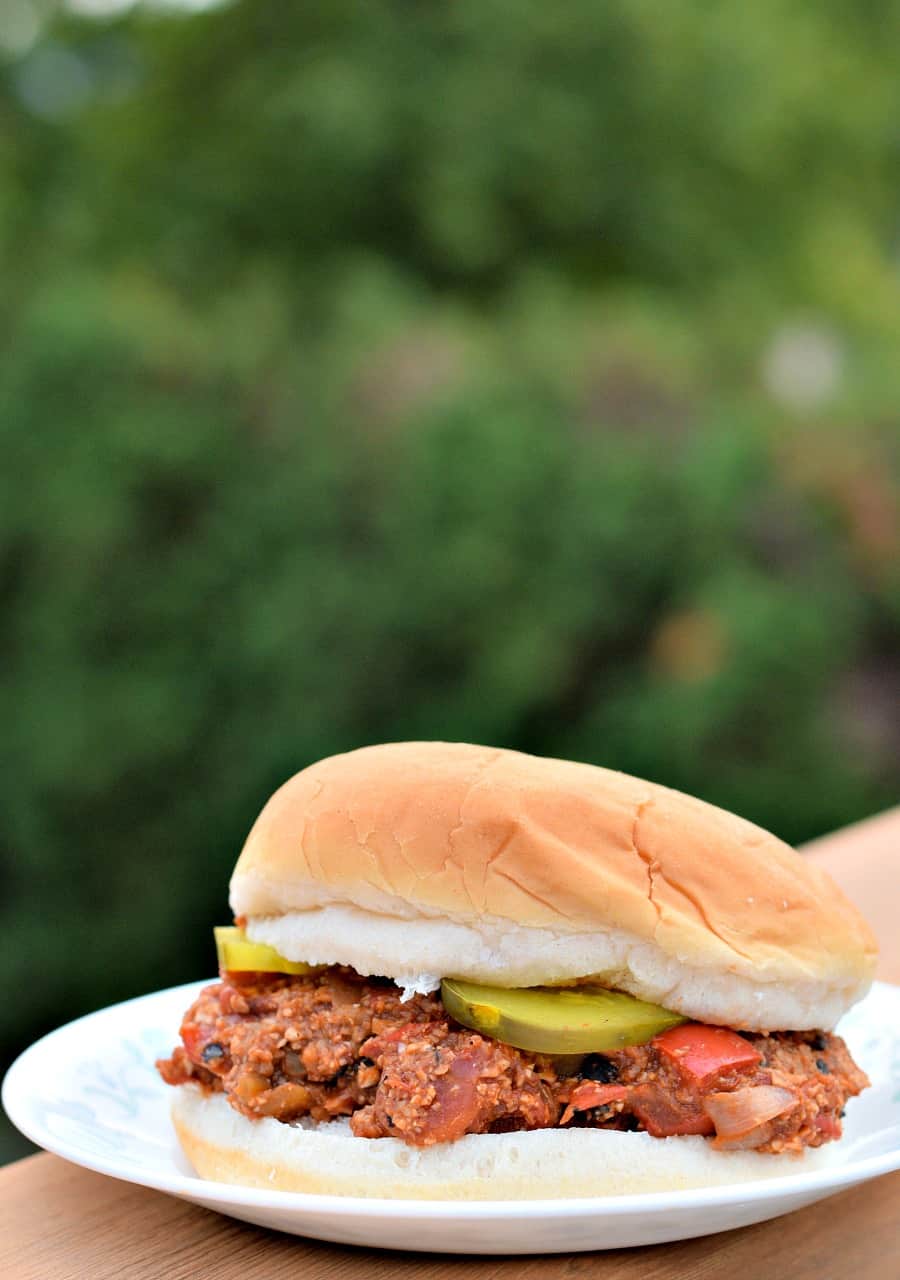 I know, Cauliflower right?
But I'm serious! Other than the texture being a tiny bit different....and that may be because I pulsed the Cauliflower a little too long in my Food Processor - the taste is SPOT ON Sloppy Joe goodness.
Yes, I know I have several Sloppy Joe recipes already.
Like these Black Bean Sloppy Joes right out of the McDougall Quick and Easy Cookbook. And while these are good..... smashed beans is not the typical Sloppy Joe texture that I'm used to.
I also have my Healthy Lentil Manwiches recipe - which is really good, but we're using lentils as the filling, so again... the texture is a bit different. Picky eaters will probably be able to see these are not "real" Sloppy Joes and turn away... even though they taste AMAZING.
Plus there's the fact I was beaten up several times for using the name "Manwich" in the recipe name AND that I used Corn Syrup.....doh!
But THESE Sloppy Cauliflower Joes.... they DO have a texture that's REALLY CLOSE to ground beef. AND there's no Corn Syrup in the recipe!
I'm just thinking these may be my go-to Sloppy Joes from now on.....because they REALLY ARE THAT GOOD!
And why is the texture so important you might ask?
Because WE all know how incredibly GOOD our food tastes!
Especially if it comes from Brand New Vegan.....heh 🙂
BUT.....those picky omnivores we all have in our family....whether they be husband, children, or whatever..... sometimes won't even TRY our food, no matter how amazing it may taste.
So MAYBE..... Just MAYBE....... If they can't TELL they're eating something healthy.....like my Tacos or these Sloppy Joes....we can at least get them to TASTE it! And usually, once they DO taste it they realize........ "Hey - this rabbit food ain't half bad".
Right?
So THAT'S why I've been on the Cauliflower Sloppy Joes, Cauliflower Tacos, etc kick these last few posts. Making OUR food, look like THEIR food, so they'll at least taste it.
Besides - the recipes are incredibly easy to make, they are INSANELY yummy, and Cauliflower just happens to be VERY healthy and good for us.
Win-win.
So let's make some Sloppy Cauliflower Joes.....
Sloppy Cauliflower Joes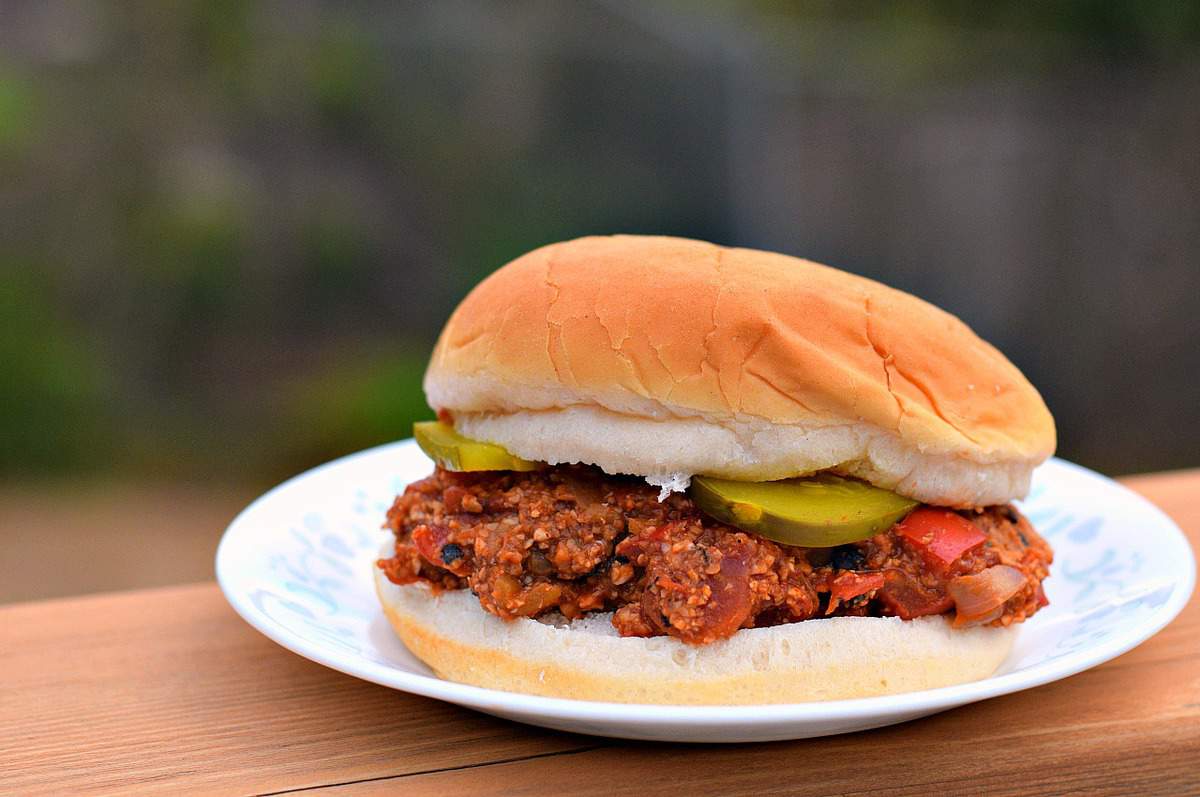 Start by sautéing half of a diced Yellow Onion, a diced Red Bell Pepper, and toss in a 4oz can of Green Chiles (or add a few fresh Hatch Green Chiles, finely chopped, if you have them) Add a splash of Veggie Broth or water to keep things from sticking and let that soften over low heat.
Meanwhile, add 4oz of White Button Mushrooms to your food processor. (That's half of an 8oz package you buy in the store). If you don't have a Food Processor - you'll have to chop by hand. The idea is chop so finely that they resemble rice granules or ground beef.
Once the mushrooms are processed, dump them in a large bowl and add ¼ cup of Walnuts to the Food Processor. Chop them to the same consistency and add them to the bowl with the mushrooms. If you're trying to lose weight you can reduce the number of Walnuts or eliminate them completely, but they do add to the texture.
Finally, clean and chop a ½ head of Cauliflower and pulse in your Processor to the same consistency as the mushrooms and walnuts. If you pulse too long you'll end up with a rice-like texture (like in my photos). It tastes the same, but the more it resembles the texture of hamburger the easier it will be to pass these off to a picky eater....just saying)
Add 2 Tbls of Soy Sauce to the Cauliflower mixture and mix well. Add 2 cups of this mixture to your pan with the sautéed onions and stir well. Store the remainder Cauliflower Mixture for another recipe.
Slowly stir in a 15oz can of drained, Fire Roasted Tomatoes.
Last but not least, add the Ketchup, the spices, and all the remaining ingredients and stir well. You can use Organic Ketchup, Low Sodium Ketchup, whatever kind you like - but keep in mind that Heinz and many cheaper brands use a lot of High Fructose Corn Syrup. I personally use Organic, or Hunts, or make my own.
As the Cauliflower and Mushroom cook down they'll release a lot of their own liquid - so simmer on med-low heat until most of that liquid evaporates off and the mixture begins to thicken, stirring occasionally.
Serve up on the bun or bread of your choice and serve.
Now don't tell them it's cauliflower if they have problems with healthy food!
Let them taste it first and see if they like it! Chances are - they'll never know the difference!
Good luck!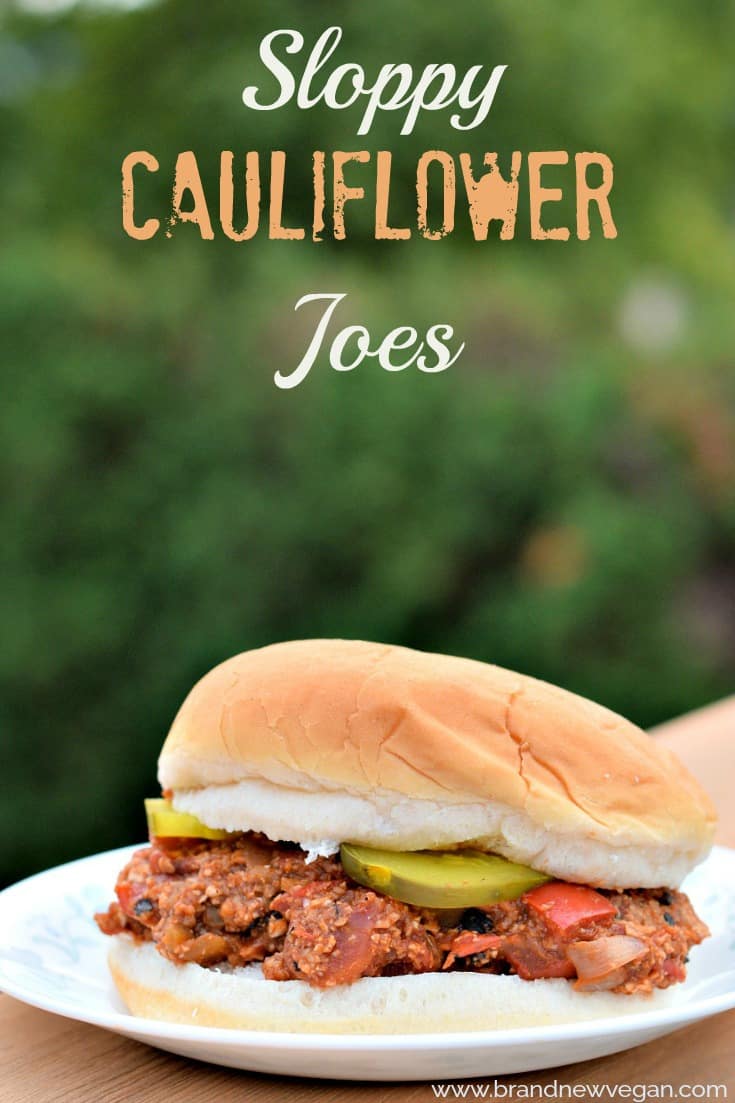 Print
Sloppy Cauliflower Joes
Author:

Prep Time:

15 minutes

Cook Time:

30 minutes

Total Time:

45 minutes

Yield:

6

1

x

Category:

Main

Cuisine:

American
---
Description
Picky eaters? Sneak in one of these insanely yummy Sloppy Cauliflower Joes - they'll never know they're eating veggies!
---
Cauliflower 'Meat'
½

head Cauliflower ((about

1 ½ cups

))

4 oz

Mushrooms ((chopped))

¼ cup

Walnuts ((chopped))

2

Tbs Soy Sauce ((low sodium))
Sloppy Joes
½

Onion ((diced))

1

Red Bell Pepper ((diced))

4 oz

Green Chiles ((diced))

2 cups

"Cauliflower Meat Mixture" ((see above))

1

can Fire Roasted Tomatoes ((

15oz

, drained))

¾ cup

Ketchup

3

Tbs Brown Sugar

1 tsp

Yellow Mustard

1 tsp

Paprika

½ tsp

Garlic Powder

½ tsp

Chili Powder

½ tsp

Red Wine Vinegar
---
Instructions
Saute onion, bell pepper, and green chilis until softened.
Using a Food Processor, pulse mushrooms until finely chopped.
Add chopped mushrooms to a large bowl.
Repeat with the Walnuts, and then the Cauliflower
Mix all 'meat' ingredients together and stir in the Soy Sauce
Add 2 cups of this mixture to your sautéed veggies and stir well.
Store remaining Cauliflower mixture for another recipe.
Add in Tomatoes, Ketchup, Brown Sugar, and all the spices and stir well
Heat until thickened and serve
---
SaveSave