This recipe for Stuffed Vegan Cabbage Rolls was by reader request. Hundreds of you asked for it, so here is my version. Is it authentic? Not even close, but it IS healthy, and it IS tasty.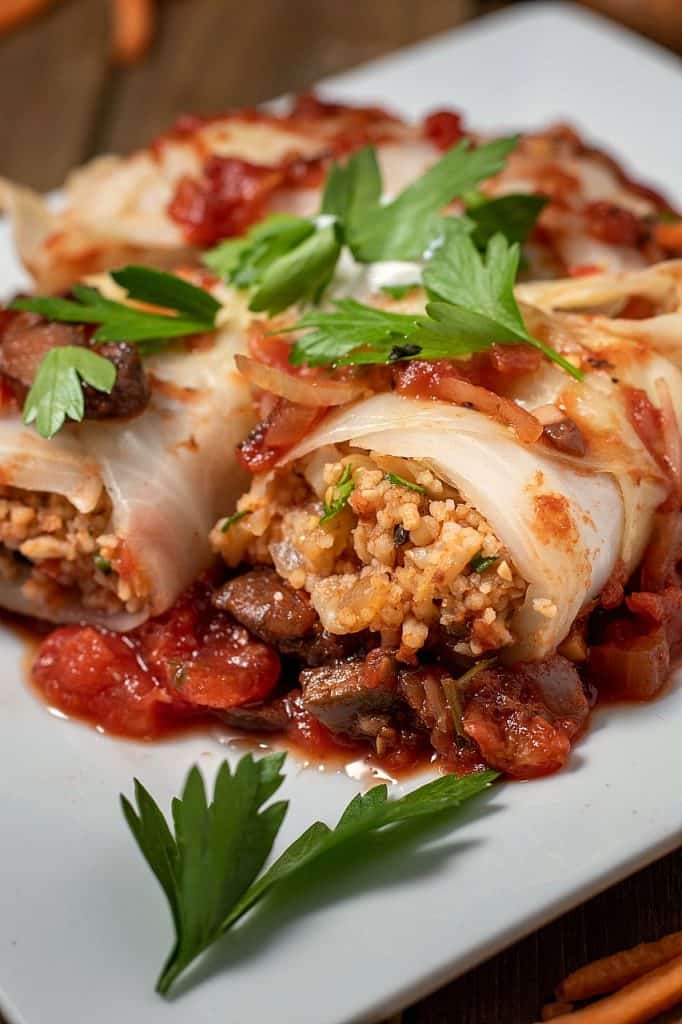 Just so you know, I was really looking forward to veganizing a Chipped Beef on Toast Recipe, as that was one of my Father-in-law's favorites, and it's something I've had before so I have some kind of reference.
Chipped Beef on Toast is one of those war-time recipes that became a staple during the great depression, and yes it also goes by that other name ... aka SOS - s%it on a shingle.
But Cabbage Rolls? No clue. No reference. Never had 'em before.
So I really went out on a limb here to make it the way I think it's supposed to be made. I know traditionally, hamburger was used in the filling, so I simply substituted a mix of cauliflower & mushrooms like I use in my Cauliflower Tacos.
But the rest was simply by guess and by gosh.
I think they came out wonderful, which is a good thing because during my first attempt I completely left out a key ingredient, the rice. Oops. So now I have TWO batches of these in the fridge. Anybody want some Cabbage Rolls?
Anyway - hope you like it and thanks for all the suggestions.
Let's get to it.
Stuffed Vegan Cabbage Rolls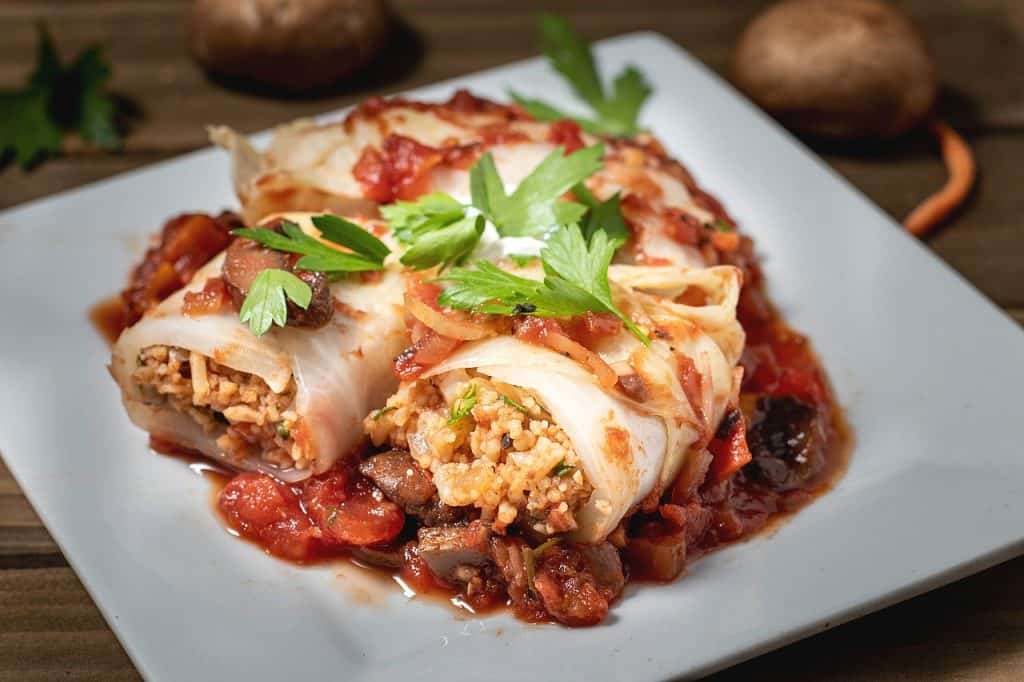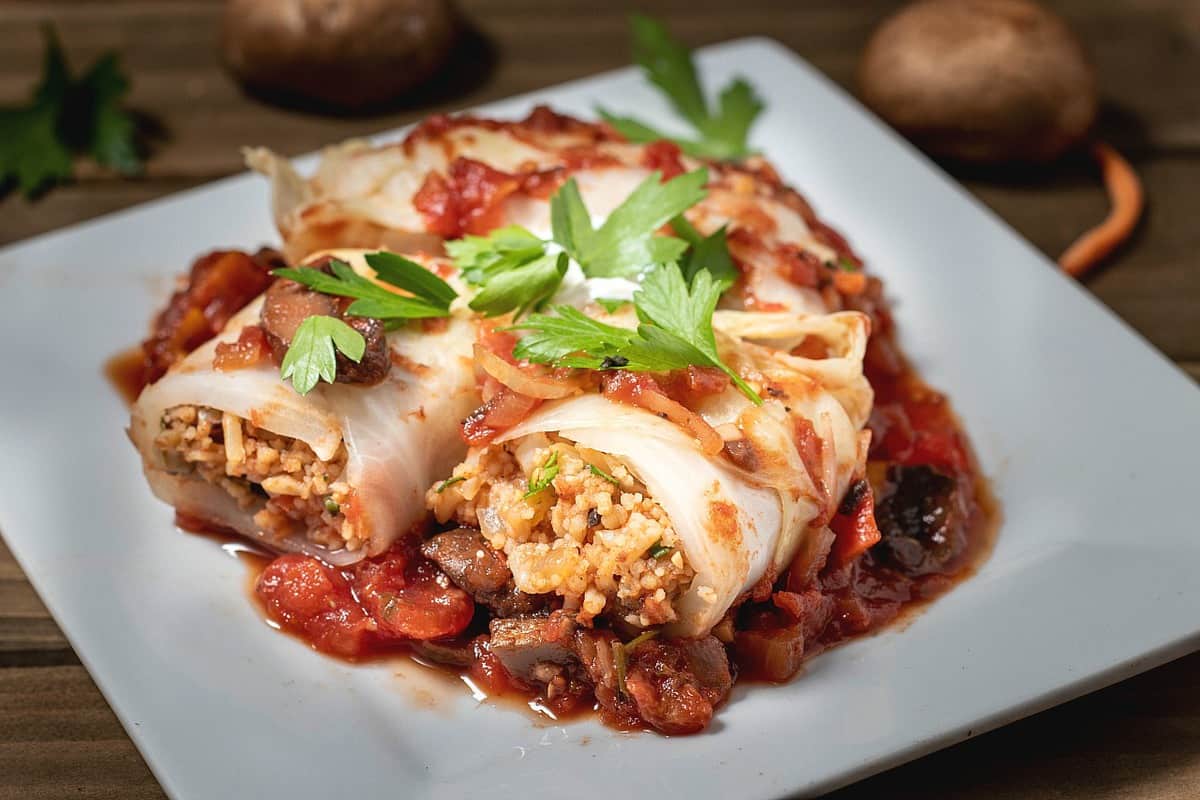 Since these are Cabbage Rolls, obviously you are going to need a head of cabbage. I chose a smallish head of green cabbage. You want to remove the stem and as much of that hard, fibrous core as you can. A sharp paring knive and 45 degree cuts do the job. See the video for a visual if you need help.
Then we simply drop the cabbage into a large pot of salted, boiling water and cover. Reduce the heat and let that steam for at least 5 -10 minutes. We're not looking to cook the cabbage here, just soften the leaves so they fall apart.
The Sauce
Before we move on to the filling, let's take a minute to talk about the sauce.
The first time I made this recipe, I used my own homemade, oil-free Marinara Sauce. Since I forgot the rice, I had to make it again the next day, and feeling too lazy to make more Marinara, I simply used a 28oz can of Organic Diced Tomatoes.
My advice? Make the Marinara. The tomatoes are good, but man that Marinara is the bomb and really makes these rolls an incredible dish. More work yes, but it really makes this dish.
The Filling
Start the filling with about a cup of diced onions sauteed in a little broth until softened. I then add a little shredded carrot, some mushrooms, and some riced cauliflower, followed by a couple of heaping teaspoons of minced garlic.
For flavoring I added a tablespoon each of low sodium soy sauce and vegan worcestershire sauce.
After everything has cooked down and softened nicely, remove from heat and allow to cool.
Once the filling has cooled to about room temp, add a cup of rice (I used brown), 2 tablespoons of tomato paste (it comes in a tube now), a little seasoning (see recipe box below), a big handful of freshly chopped parsley, ¼ cup of panko bread crumbs (yes, you can find oil-free panko), and a flax egg.
Tip: To make a flax egg, mix 1 tablespoon of ground flaxseed meal with 2 tablespoons of hot water and allow to sit for 1-2 minutes. It will start to turn gelatinous, like an egg white.
Mix well using your utensil of choice, or if you're feeling frisky - get your hands in there and go to town.
The Assemble
The first outer leaves of the cabbage should be nice and soft by now, so we'll use these to line the bottom of a 9x13 lasagna dish. Then you can spread a thin, even layer of either the tomatoes or Marinara on top. I also added some sliced white onion for even more flavor - yum.
Before you start rolling your cabbage, you'll notice at the bottom (stem) end of every leaf is this thick, white, fibrous vein. I cut this out, making a V shape in the bottom of the leaf. They roll better without it. Or you could just shave down the thickness a little bit too.
Then we simply add 2 tablespoons of filling to the bottom of each leaf and roll it up like a burrito, tucking in the sides as we go. Place your cabbage roll, seam side down, in your lasagna dish and repeat.
My dish held 12 cabbage rolls, with just enough cabbage left over to layer over the top, followed by more marinara sauce. I did have a bit of filling left over, but it does taste amazing just the way it is so don't waste it.
Cover the whole dish with aluminum foil and bake in a 350° F oven for about 45 minutes.
Serve with fresh parsley for garnish, and/or a dollop of either some Vegan Sour Cream or fresh sauerkraut (love my Bubbies).
So there you have it. My version of Stuffed Vegan Cabbage Rolls. Hope you like it and be sure and let me know how badly I butchered this in the comments below lol. I think it tastes good? But like I said - I have no reference to the original. So.....
Looks like SOS is on the menu for next week, so have an awesome plant-based week and we'll see you back here next weekend.

Print
Stuffed Vegan Cabbage Rolls
Author:

Prep Time:

45 min

Cook Time:

45 min

Total Time:

1 hour 30 minutes

Yield:

12

rolls

1

x

Category:

Main Entree

Method:

Oven, stovetop

Cuisine:

Italian, Vegan
---
Description
Hundreds of you asked for them, so here is my version of Stuffed Vegan Cabbage Rolls. Are they authentic? Not even close, but they ARE healthy AND tasty.
---
1

small head of green Cabbage
Either: 28oz can diced tomatoes OR 3-4 cups Marinara
Filling:
1 cup

onion, diced

½ cup

shredded carrot

1 cup

chopped mushrooms

1 cup

riced cauliflower

1

-

2

tsp minced garlic

1

Tbs low sodium soy sauce

1

Tbs vegan worcestershire

1 cup

cooked rice

2

Tbs tomato paste

¾ cup

chopped parsely

1 tsp

 italian seasoning

½ tsp

 onion powder

½ tsp

 garlic powder

½ tsp

 kosher salt

¼ tsp

 ground pepper

¼ cup

panko bread crumbs

1

Tbs ground Flaxseed

2

Tbs water
Garnish (optional)
½

sliced onion to layer in baking dish 
additional parsley 
sauerkraut
vegan sour cream
---
Instructions
Clean and core cabbage, place in pot of boiling, salted water to steam for 5-10 min
Remove and drain - leaves should remove easily.  If not, additional steaming will help
Meanwhile, saute the 1 cup of onion until softened
Add carrot and saute an additional 1-2 minutes
Add mushrooms and cauliflower, saute to soften
Add garlic and saute 30 seconds
Stir in soy sauce and worcestershire.  
Remove from heat and allow to cool
When the filling has cooled, add in remaining filling ingredients and mix well
Make the flax egg by mixing the flaxseed meal with 2 tbs water then stir into filling
Remove the first few cabbage leaves and line the bottom of a 9x13 baking dish
Layer on 1-2 cups of marinara or tomatoes - add sliced onion if desired
Remove the tough rib at the bottom of each cabbage leaf - making a V shaped cut
Add 2 tablespoons of filling and roll like you would a burrito.
Place the cabbage roll in the baking dish and repeat
Cover with any remaining cabbage leaves and an additional 1-2 cups of tomatoes or marinara
Cover with foil and bake at 350° F for 45 minutes
Garnish if desired and serve
---
Notes
Keywords: stuffed vegan cabbage rolls