Are you brand new to eating plant based and having a hard time finding a compliant salad dressing that you like? Then try my Vegan Caesar Dressing, oil-free of course.

A creamy, cauliflower based dressing with all the same delicious flavor as your favorite Caesar Dressing.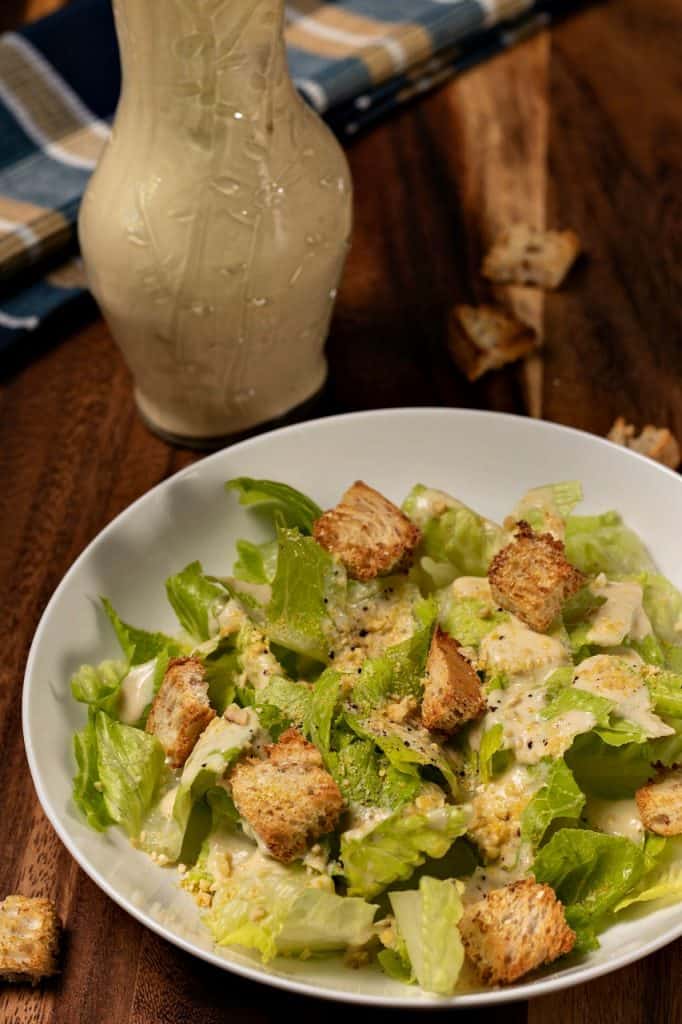 I don't know about you, but I personally have a hard time getting my daily dose of greens (let alone 6x a day, i.e. Esselstyn, yikes!).
It's not that I don't like salad, I do.
In fact I REALLY miss Sweet Tomatoes, our local go-to restaurant for awesome salads, which had to close due to the pandemic.
And it's not that I can't find a good dressing either. There are lots of good Vegan options for salad dressing these days. A company called Maple Grove Farms even has a couple of fat-free dressings that I really like, not to mention my own Ranch, Thousand Island, or Greek Dressing that you can find right here on my blog.
There's always the infamous Esslestyn 321 Dressing that you can easily find online, or even just a splash of plain Balsamic Vinegar is good too.
No, there are plenty of dressings available so that's not the reason either.
I just don't.
So in an effort TO eat more salads, AND to give you yet another fast, simple, and oil-free recipe, I give you my version of a Vegan Caesar Dressing.
It's creamy, it's tangy, and yes there is lots of lemon and garlic.
But there are a few cashews too.... so while this dressing IS oil-free - it's not completely fat-free.
I did cut way back on the cashews though - compared to a few other online recipes I saw - and in place, I used a few ingredients that I think might surprise you.... like cauliflower!
So I hope you give it a try, and I hope you enjoy it as much as we did. If so, don't forget to leave those comments down below, and with that all said and out of the way.....
Let's get into this week's recipe.
Vegan Caesar Dressing (Oil-Free)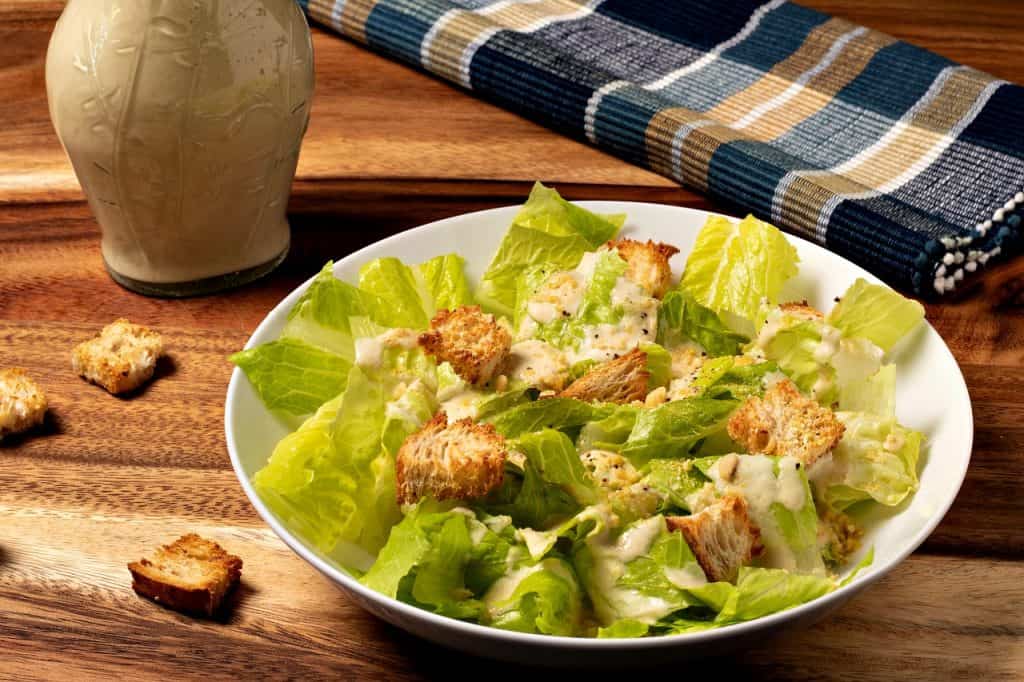 To make this recipe all you need is a few simple ingredients and a blender.
I personally have a high-speed Vitamix - which can pulverize an avocado pit in nothing flat. But you don't have to use a Vitamix as any blender should do.
I've leave my Amazon Affiliate Link if you do ever consider purchasing a Vitamix. I cannot recommend this blender enough as I use mine almost daily. Remember that as an affiliate I do earn from all qualified purchases but at no extra cost to you.
I'll also leave the link for the glass cruet I use as well as my toaster oven which doubles as an air fryer. You can probably find the cruet in your grocery store along with the packages of dressing mix. I don't use the mixes - but I bought them just to have the glass cruet for my dresssing.
Products I Used
All the ingredients are in the recipe box below. You can find capers in most grocery stores. Look in the area near the olives, pickles, condiments, etc.
The cauliflower I used was Kroger's "Cailflower Pearls" which is usually located in the cooler with all the pre-packaged salads. I 'think' it is just chopped, raw cauliflower. I did not cook it. Just dump it into your blender as is.
Start by soaking ¼ cup of raw, unroasted, unsalted cashews in hot water for at least 20 minutes. The longer you soak them the easier they will be to blend. Even though I own a Vitamix - I still soaked mine too. Just be sure to drain them before adding them to your blender.
Simply add all the ingredients to your blender and process until smooth and creamy. Stop and scrape down the sides a few times as needed.
That's it. That's the whole recipe. Super easy, fast, and delicious.
Feel free to tweak the amounts of any of the ingredients. The amounts given are what worked for me, but don't be afraid to experiment.
I poured my finished dressing into my glass cruet and stored it in the refrigerator until I was ready to make my salad. It only makes about 1 cup so depending on how much you use per salad, you should have enough for 4 salads (give or take).
As for the salad - I made mine using traditional Caesar Salad ingredients. I chopped up some Romain Lettuce, sprinkled a little Vegan Parmesan on top, and added some homemade oil-free croutons.
To make the croutons, I toasted a couple of slices of my favorite oil-free sourdough bread from Portland French Bakery (Costco) - using my Cuisinart Toaster Oven/Air Fryer until brown and crispy.
Super easy, super quick, HEALTHY, and delicious. The dressing should keep in your refrigerator for 3-5 days.
Again, hope you like it and be sure and comment below if I can answer any questions.
I have a few exciting things I am planning for the blog, so stay tuned.
See you soon

Print
Vegan Caesar Dressing (Oil-Free)
Author:

Prep Time:

20 min

Total Time:

20 min

Yield:

4

servings

1

x

Category:

Salad Dressings

Method:

Blender

Cuisine:

American

Diet:

Vegan
---
Description
A creamy, cauliflower based dressing with all the same delicious flavor as your favorite Caesar Dressing.
---
¼ cup

raw cashews

¾ cup

riced cauliflower

¾ cup

water

3

Tbs lemon juice

2

Tbs nutritional yeast

3 tsp

minced garlic

3 tsp

dijon mustard

2 tsp

capers

1 tsp

vegan worchestershire sauce

1 tsp

white miso
ground pepper to taste
---
Instructions
Soak the cashews in hot water for at least 20 min (1-2 hours if not using a high speed blender)
Drain and add to blender along with all the remaining ingredients
Process until smooth and creamy, scraping down the sides as needed
Store in a glass cruet or jar in the refrigerator for 3-5 days. 
---
Keywords: vegan caesar dressing, oil-free