How many of you remember SOS? Yes, that funny little recipe us older folks affectionately remember as "Sh*t on a Shingle". Well, this week my readers asked me to recreate that comfort food favorite, so without further ado, I give you my Vegan Chipped Beef on Toast.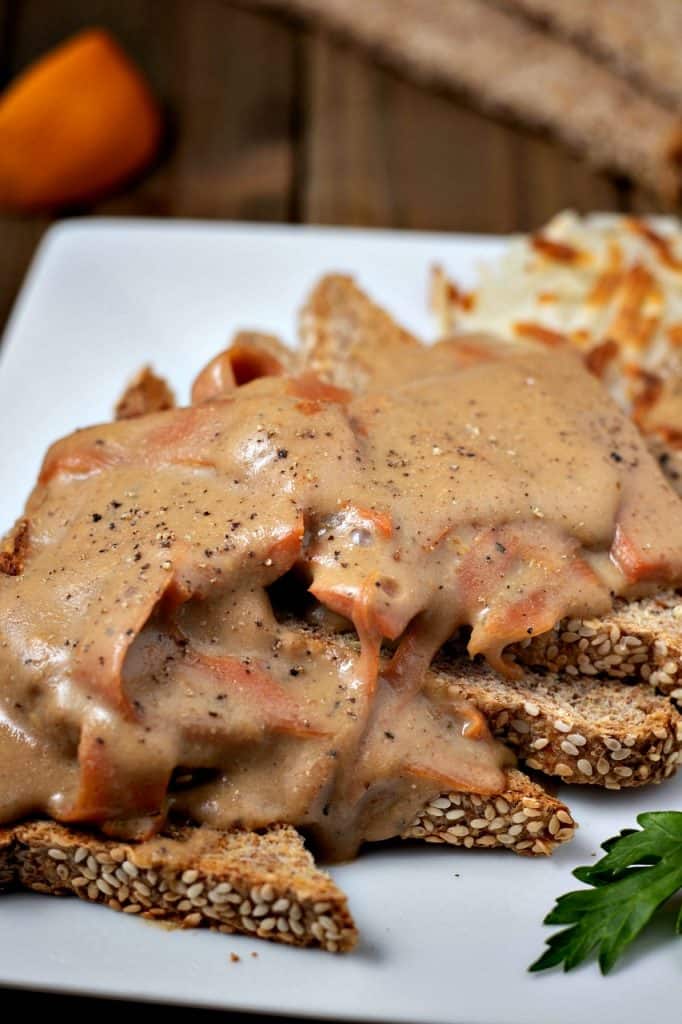 This is one of those iconic recipes that has been around a very long time. In fact, it actually appears in the Manual of Army Cooks, from 1910.
I can remember my late father-in-law always making jokes as it was commonly served across all branches of the Armed Forces during the various wars.
It's basically dried, salted beef that had been reconstituted with water, mixed with a milk gravy (they even used powdered milk), and served on bread.
It was quick, it was cheap, and they could make a lot of it. I won't say it was particularly healthy, but it filled soldiers bellies and that was the main point.
It's not the most photogenic recipe to look at either. You may even say it looks like sh-t, and with toast resembling a roofing shingle, well, you can see where the slang name came from.
Ahhh good old SOS.
The surprising thing to me was just how many people actually asked me to veganize this. I was looking for recipe ideas a few weeks ago and I polled my BNV Community Group on Facebook, and it was almost a tie between last week's Vegan Cabbage Rolls and this.
So I made the Cabbage Rolls last weekend and this Vegan Chipped Beef on Toast this weekend. (and believe me, my fridge is full!)
So I hope it brings back fond memories and I hope you enjoy it. I tried to make it as simple as I could, but still 'kind of' resembling the original.
Obviously, I don't use real beef so I had to get creative with my choice of ingredients so I tried mushrooms and even potatoes but neither gave me that mouth-feel I was looking for.
So I went with something else that I think comes remarkably close.
Vegan Chipped Beef on Toast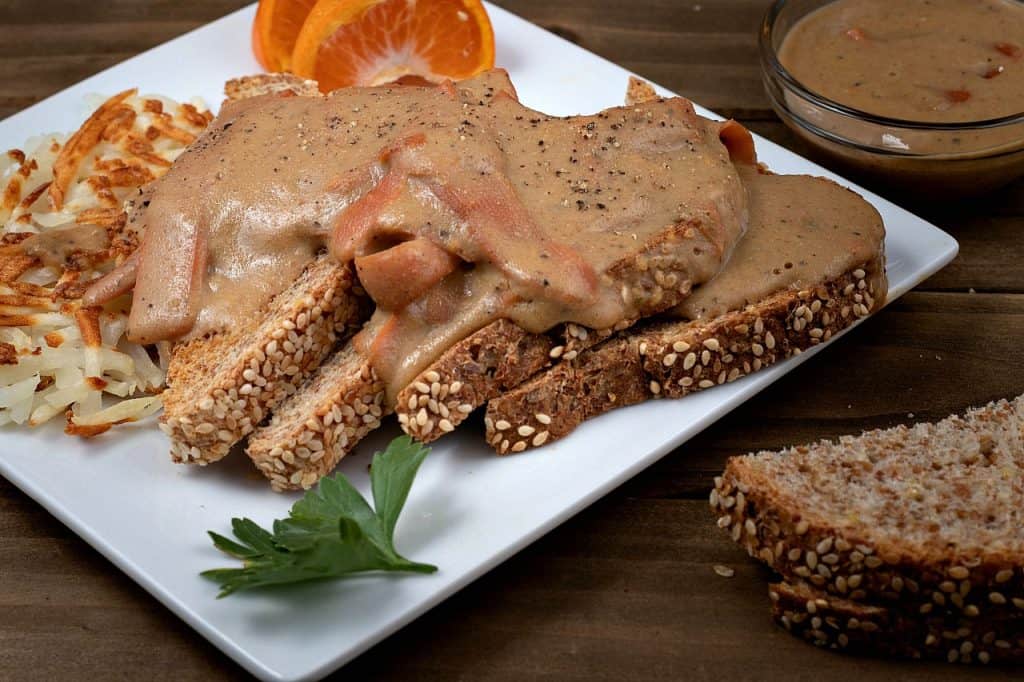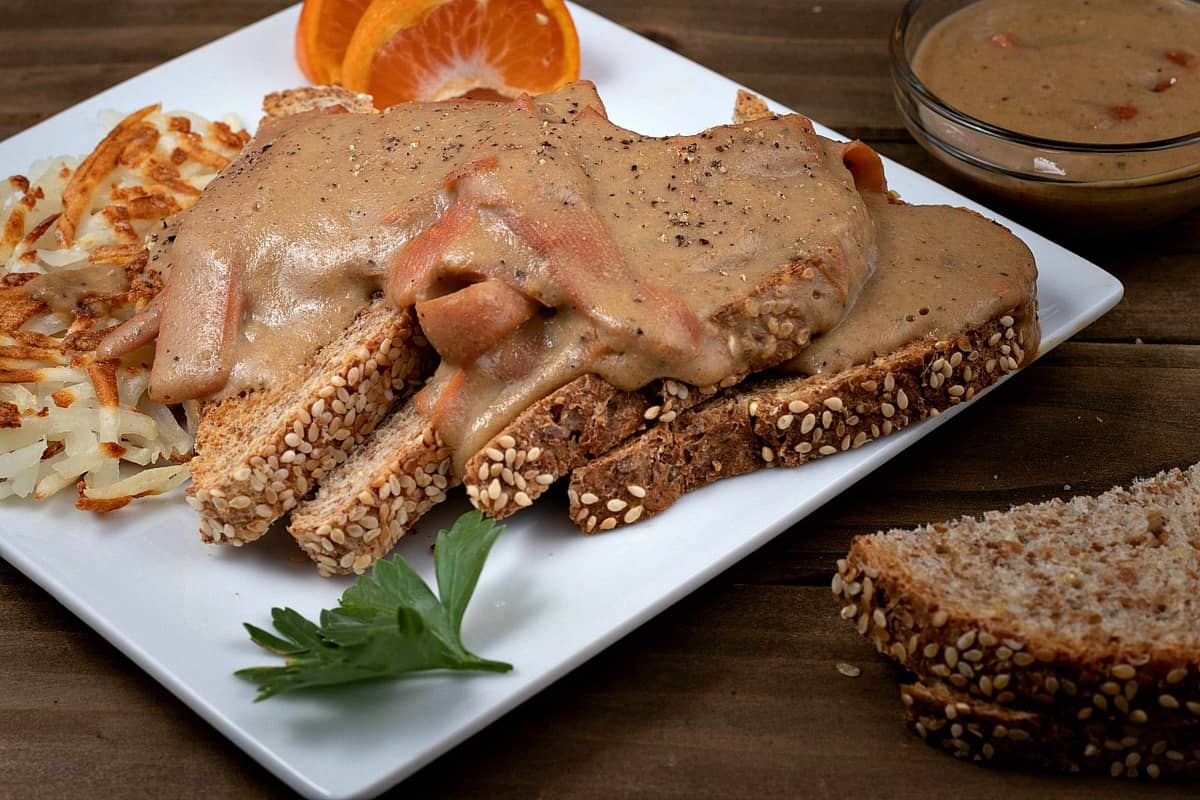 Chipped Beef
So we're going to need some Carrots.
Surprisingly enough, thinly shaved carrots look and feel just like little bits of shaved beef when added to the gravy. No worries, they don't taste like carrots because were gonna marinate them first.
Start with 2 large carrots and trim each end. Then using either a mandoline slicer or a vegetable peeler, cut the carrots lengthwise into thin strips.
If your mandoline has a thickness adjustment, set it to as thin a slice as you can.
NOTE: Please be careful using a Mandoline! ALWAYS use the protective food guard and/or wear a Cut-Resistant Glove if you have one.
I have both the food chopper/slicer I use and the cut-resistant gloves available in my Amazon Store for purchase if you want to take a look. The gloves are pretty inexpensive and will save your fingers. The food chopper comes with it's own. Very handy gadget to have around your kitchen.
When the carrots got too small to run through my mandoline, I just used my old-fashioned vegetable peeler to make thin strips. I used as much of the carrot as I safely could, but don't be a hero if they get so small it becomes dangerous. Toss the rest into a salad or something.
So now that you have a cup or so of shaved carrots (and really you can use as little or as much as you want), we make the marinade.

All the marinade ingredients are listed below in the recipe box. Just mix together, pour into the carrots, and stir. The longer they marinate - the more flavor they will have but I'd give them at least 5 minutes, stirring occasionally.
Then we simply pour the carrots and marinade into a skillet and gently saute them over medium-low heat until most of the liquid has reduced. Set them aside for now and let's move on to the gravy.
The Gravy
We're basically going to make my Vegan Sausage Gravy, but tweak it a little. It's really that easy.
Note: I used whole wheat flour but I know many of my readers have subbed other flours to make this Gluten Free.
We mix the dry ingredients together, toast them lightly in a dry pan, then pour in 1 cup of the unsweetened Almond Milk. Take the time to mix this well so there's no clumps, then pour in the remaining Almond Milk and stir.
This is the point where I also add my marinated carrots. The soy sauce in the marinade will turn the gravy slightly brown but there's no getting around that. It still tastes good.
Heat gently and stir until it thickens.
The Bread
I'll leave the bread up to you but I used Ezekiel Bread as it's oil-free. Costco also has an oil-free whole wheat Sourdough and I have seen it at Whole Foods too.
Toast up your favorite bread and slather on some of that gravy and you have Vegan Chipped Beef on Toast - who would have thought?
It's probably not the healthiest recipe I have, but at least there's some nutrition from the carrots. Anyway, hope you enjoy and please leave those comments below.
I think next week I'm going to take an older recipe of mine and give it a makeover with new photos and video. If you have a favorite - please let me know!
Until then, enjoy your Vegan SOS 🙂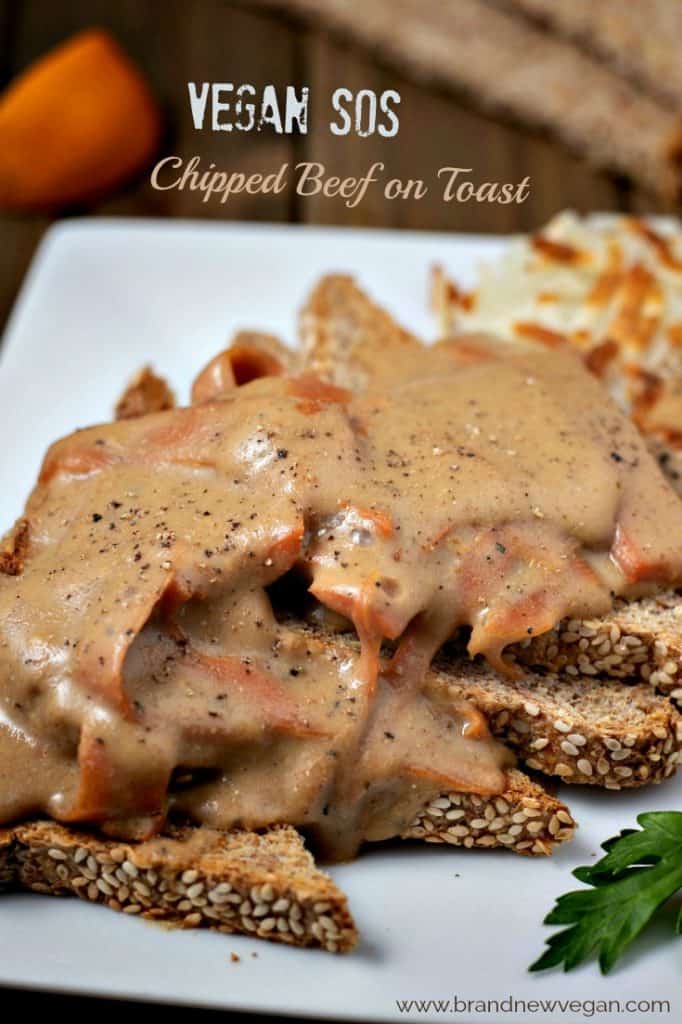 Print
Vegan Chipped Beef on Toast (SOS)
Author:

Prep Time:

10 min

Cook Time:

20 min

Total Time:

30 minutes

Yield:

2

servings

1

x

Category:

Gravy, Sauce

Method:

Stovetop

Cuisine:

American, Vegan
---
Description
This week my readers asked me to recreate an old comfort food favorite, so without further ado, I give you my Vegan Chipped Beef on Toast (aka SOS)
---
Vegan Chipped Beef
2

-

3

carrots, thinly shaved into long strips

¼ cup

low-sodium soy sauce

1

Tbs maple syrup

2 tsp

liquid smoke

1

Tbs nutritional yeast

1 tsp

onion powder

½ tsp

garlic powder
Cream Gravy
¼ cup

whole wheat flour

1

Tbs nutritional yeast

½ tsp

rubbed sage

¼ tsp

salt

¼ tsp

ground pepper

⅛ tsp

ground thyme

2 ½ cups

unsweetened almond milk
Toast
2

slices of your favorite bread
---
Instructions
Remove both ends of carrots and scrub clean
Carefully shave carrots into very thin strips (use a mandoline or veg peeler)
Make the marinade and stir into the carrots - allow to sit at least 5 minutes
Pour carrots and marinade into a large skillet and saute until liquid has evaporated.  Set aside.
Mix all dry gravy ingredients together and toast lightly in a dry pan - 2-3 minutes
Slowly pour in 1 cup of the almond milk and whisk to remove any clumps
Add remaining almond milk and the marinated carrots and stir
Heat gently until thickened, stirring frequently
Spoon over toast and enjoy!
---
Notes
Keywords: vegan chipped beef on toast, vegan sos