So many people think eating this way is hard. They are not that good in a kitchen, or have a hard time following recipes, or don't want to spend a lot of money on fancy ingredients.
Well this recipe is here mainly to show you how EASY it can be to eat all our favorite foods in a much healthier way. And nothing could be easier than making these Vegan Nachos Supreme.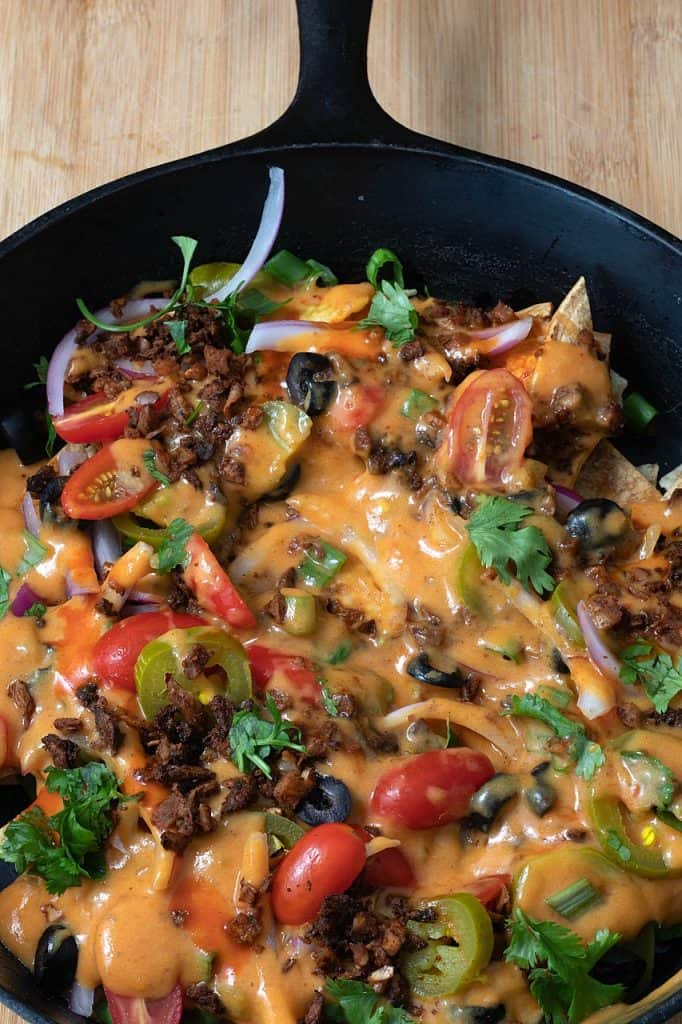 Nachos are one of our favorite snacky, big-game foods and are really nothing more than chips, cheese, and toppings.
So in this recipe, I want to show you how to make your own oil-free Tortilla Chips, how to make my fantastic Vegan Cheese Sauce taste even better, and show you all the different toppings I like on my Vegan Nachos Supreme.
Sound good?
Not a lot of blah, blah, blah. No backstory to when I used to walk 5 miles to school every day, barefoot in the snow (I didn't really), no dark and stormy night stories either.
Let's just get right to it, because I know you want to hear more about this gooey, cheesy, nacho goodness (and yes, there are chips in that photo - they're just buried under that ocean of vegan cheese).
Note to self: Show more chips next time.
Vegan Nachos Supreme
Let's talk chips
It is SO easy guys, to make your own Tortilla Chips. I mean really, you simply cut corn tortillas into whatever shape you like, maybe sprinkle on some spices, and you bake them until they're crispy. Easy right?
So why not just pick up a bag of chips at the grocery store? Mainly because those are deep fried in a ton of oil. And if you learn nothing else here, I want you to realize how bad all that processed oil is for you.
Chances are they use either corn oil or soybean oil, which just happens to be the 2 most abundantly grown GMO crops here in the US. And oil is nothing more than fat. They strip away all the good stuff we could actually use and leave us with just the fat.
Oil is liquid fat. And that fat not only accumulates around our middles, bottoms, and thighs, but also inside our arteries, putting us at risk for heart disease later on in life.
It's just not worth it.
Plain corn tortillas are usually oil-free and pretty cheap too. And by making the chips yourself, you also control the amount of salt, something else they go crazy with in all the prepackaged versions.
Makes my blood pressure go up just thinking about it.
Now the Cheese
Vegan cheese used to be nasty, I will totally admit that. But today you can actually find some pretty tasty stuff out there in the market. Of course it will usually have some kind of oil too, so that's why I just make my own.
The cheese sauce I make is made from nothing more than potatoes, carrots, nutritional yeast, and some spices. That's it. I steam my veggies in my Instant Pot for about 7 minutes and then let the pressure naturally release for 10. Super quick and simple.
Then everything goes into a blender and a few minutes later you have this velvety, gooey, cheese sauce that reminds me of melted Velveeta.
I'll link to my cheese recipe in the Main Recipe Box below, and yes, you can totally make it without an Instant Pot too. It will just take a bit longer to steam on the stove.
So here's the secret to making my already awesome cheese sauce even better. (For all of you who already have some waiting in the fridge.)
Add some salsa.
I know! So simple right? I added 1 full cup of my wife's favorite mild salsa to an entire batch of my cheese sauce and blended. And now we have nacho cheese sauce. Or you could add a can of RoTel Tomatoes with Green Chiles too. That would work too.
BTW if it was just me - I would have added HOT salsa, maybe with some Hatch Green Chiles, cause I'm a chile addict and love spicy salsa...but that's just me.
Finally, the toppings
And this is the part where you get to be creative and customize these Nachos however you like.
I added some of my Cauliflower Taco Meat, some red and green onions, some black olives, jalapenos of course, tomatoes, and cilantro. But you can add whatever you like!
Fire roasted corn would be good. Maybe add some black beans or refried. Roasted red peppers would be good, as well as some chopped green chiles (or my Green Chile Sour Cream!)
These are your Vegan Nachos Supreme. So go to town and make them your own.
Simple, easy, inexpensive, and oh so good.
Like I said, not much of a recipe this week but hopefully I inspired you to try mixing and matching ingredients you may already have in the fridge into something altogether new and exciting.
Have an awesome week and I'll see you back here next weekend!

Print
Vegan Nachos Supreme
Author:

Prep Time:

15 min

Cook Time:

15 min

Total Time:

30 minutes

Yield:

Serves 2

Category:

Appetizer, Snack

Method:

Oven or Air Fryer

Cuisine:

Mexican, Vegan
---
Description
So many people think eating this way is hard. Well, nothing could be easier than making these fully loaded Vegan Nachos Supreme, and OMG are they good!
---
Oil-Free Corn Tortillas

1

batch of my Vegan Cheese Sauce

1 cup

of your favorite salsa
Any or all of your favorite garnishes

Cherry Tomatoes
Green Onions, chopped
Red Onion, sliced thinly
Black Olives
Jalapenos
Cilantro
Lime
---
Instructions
Preheat oven to 350° F.
Cut tortillas into equal-sized chips
Arrange chips on a baking sheet and flavor with squeezed lime and kosher salt
Bake for 10 minutes initially, then check every 3-4 minutes until crisp
Add salsa to cheese sauce and blend
Arrange chips on a plate or pan
Cover with some cheese sauce
Add any or all of your favorite toppings
Repeat the cheese and topping to as many layers as you like
Top with fresh cilantro and vegan sour cream if desired (or more cheese)
---
Notes
Keywords: vegan nachos supreme