I will be the first to admit I have never tried Poutine before, but have heard about it for a long time. I mean it's like pure Canadian comfort food, right? I gotta say, I can only imagine what the real thing tastes like because this Vegan Poutine I made is something else!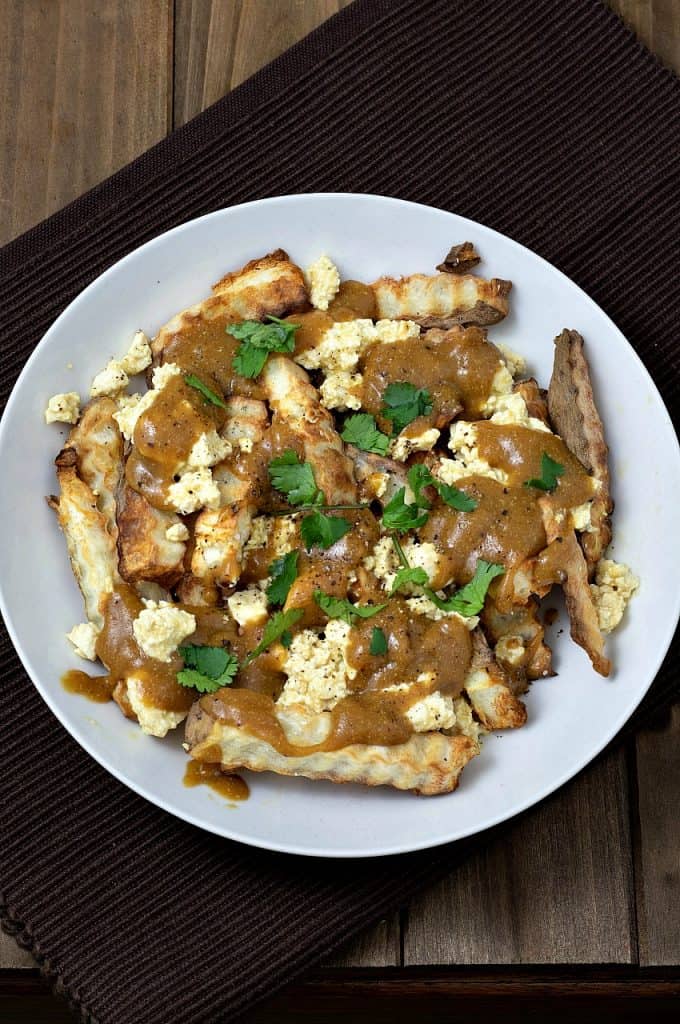 So for all of us down here in the lower 48, Poutine is a Canadian recipe made of 3 ingredients.
French Fries
Gravy
And Cheese curds
Sounds simple enough right? And I thought to myself last night, I already HAVE the recipes..... so why haven't I made this yet?
I have my original Oven-Baked French Fry Recipe AND my Cottage Fries I posted earlier this week. And of course, I have my killer Fat-Free Gravy Recipe everyone loves so much.
All I needed was a recipe for cheese curds - and honestly, I already had THAT too. I had made a Queso Fresco for a Mexican Chilaquiles recipe and texture-wise it was very close to cheese curds. All I had to do was tweak the ingredients a little to make it fit this recipe and voilà....
Vegan Poutine!
With my blogging schedule thrown off by last week's blogging class, birthday party, and Mother's Day I thought what better way to get back on track AND give my Canadian friends a treat than by making a Vegan Poutine for them.
Does it taste like Poutine? I can't answer that because I've never had it. But I will tell you that "I" like it, and my wife absolutely LOVED the cheese curds, so I'm hoping it's close.
So without further ado, let's make some Vegan Poutine.
Vegan Poutine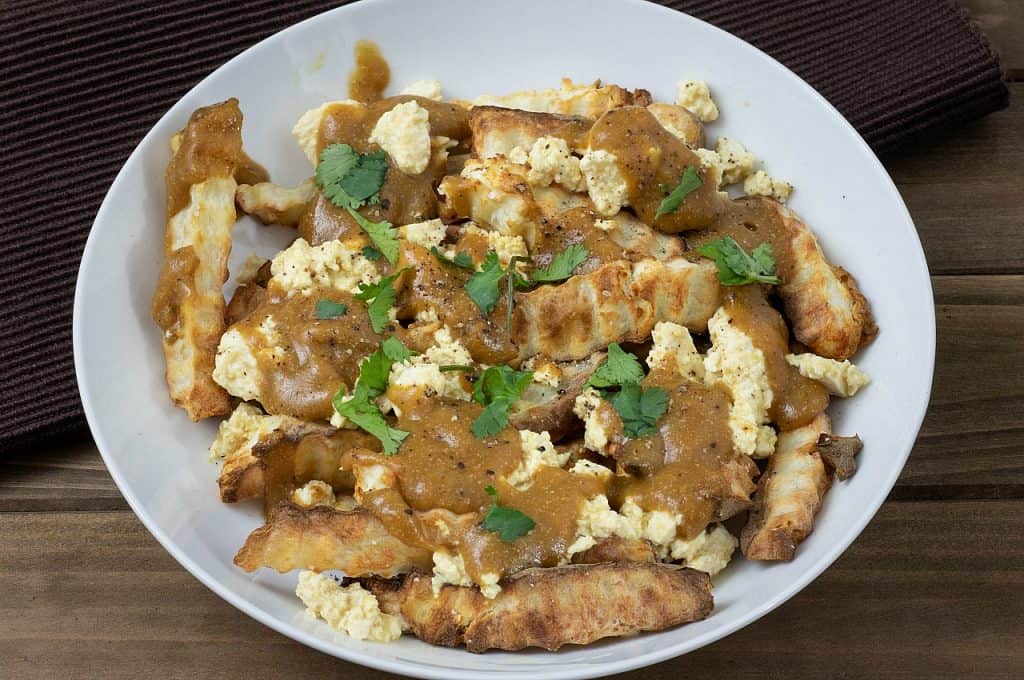 Cheese Curds:
Start by making the cheese curds. I used a 14oz block of extra-firm tofu and pressed it to get as much moisture out of it as I could. You want your Tofu to be super-duper firm.
A tofu press would work here but you can always just use 2 cutting boards like I do and some paper towels. Just weigh the top board down with something heavy and let it press for 15-20 minutes. Change the paper towels out as necessary.
Once the Tofu is pressed, simply crumple it up with your fingers into a bowl. Aim for cheese curd size pieces. Then just add the seasoning mix listed below in the recipe box and stir. Cover and place in the refrigerator to let those flavors get absorbed while we make the gravy and fries.
The Gravy
The gravy I used is none other than my Best Ever Fat-Free Gravy Recipe. I'll just link to it here and also down in the recipe box below.
It literally takes just minutes to whip up a batch and then you can set it aside while we make the fries.
The Fries
And now we make the fries.
I used 2 large Russet Potatoes this time and after giving them a good scrub I cut them into ½" thick crinkle fries with my new Crinkle Cut Knife that I reviewed in my previous Cottage Fries recipe.
It's not necessary - but it does add that traditional crinkle cut shape and honestly, it's kind of fun! (and they are inexpensive).
I'll add that affiliate link here with the same disclosure as above.
If you cut your fries by hand, I went kind of thick, like ⅜" to ½" thick and placed them in a large bowl of cold water to prevent them from browning.
Meanwhile have a large pot of water coming to a boil on the stove. Add 1 Tbs of salt and 1 Tbs Apple Cider Vinegar to the water and let it come to a full rolling boil before draining your fries from the cold water bath and carefully placing them into the boiling water. Boil for 10 minutes.
If you're interested in why I use the vinegar - see my previous post for Fat-Free Cottage Fries.
Once your potatoes are done, carefully drain them and give them a gentle rinse with cold water to cool them down a bit so you can safely handle them. Place your fries onto your Air Fryer basket or parchment lined cookie sheet and set your oven to 425 deg F.
With my Air Fryer, I cooked them for 10 minutes or until they were beginning to brown and then flipped them once and cooked them another 5 minutes. If you use your oven, use the convection feature if you have one but either way, just keep an eye on them and flip them once during baking to ensure even browning.
When they look brown and crispy - they're done.
Vegan Poutine
To assemble your poutine, simply add a layer of fries to the bottom of a shallow bowl or plate, sprinkle on a generous amount of those cheese curds, and then smother the whole thing in the gravy. Add a little salt and pepper to taste.
As I said, I've never had authentic Poutine before but judging from the way THIS tastes - I bet it's incredible.
Enjoy and if you're a true Poutine fan, let me know how close I got in the comments below.
If you are NOT a Tofu fan or are allergic to Soy.......
I would say the gravy and fries alone is still good. Or maybe you could shake on some of my Vegan Parmesan. And of course there are many kinds of Vegan Cheese on the market now - but if weight-loss or health issues are a factor - remember they are usually made with lots of oil. In that case I would just leave it out completely.
Let me know how it turns out and we'll see you next week!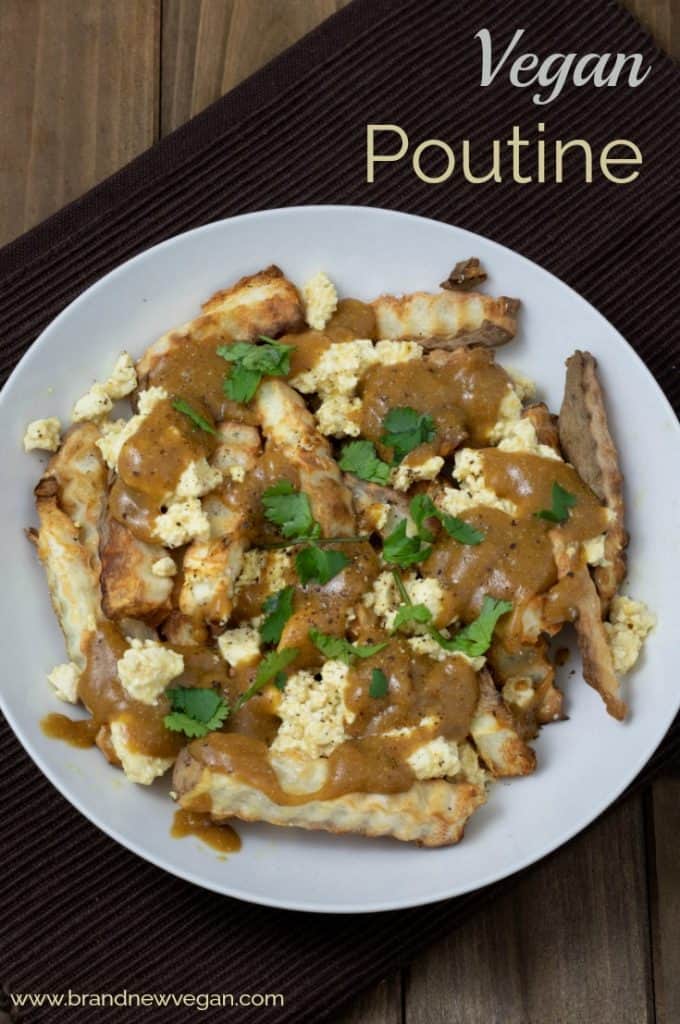 Print
Vegan Poutine
Author:

Yield:

2

servings

1

x

Category:

Potato, Snack

Method:

Oven, Air Fryer

Cuisine:

Canadian, American, Vegan
---
Description
I'll admit I've never tried Poutine before so can only imagine what the real thing tastes like - because this Vegan Poutine I made is off the chart!
---
Cheese Curds
14 oz

package Tofu, extra firm

2

Tbs Nutritional Yeast

2

Tbs Lemon Juice

1

Tbs Apple Cider Vinegar

¾ tsp

Salt

¼ tsp

 Garlic Powder
Gravy
Fries
2

large Russet Potatoes

1

Tbs Salt

1

Tbs Apple Cider Vinegar
---
Instructions
Press the tofu to remove as much moisture as you can
Then crumble it up into a bowl and add the cheese curd seasonings
Mix well, cover, and refrigerate until needed
Prepare the gravy according to the recipe link included and set aside
Wash potatoes and cut into ⅜" to ½" thick fries adding them to a bowl of cold water while cutting
Boil about 3qts of water in a large pot and add salt and vinegar
Drain potatoes and add to boiling water and cook 10 min
Drain, rinse and bake in a 425 oven/air fryer until browned, flipping once
Layer fries in a bowl and add cheese curds and gravy
Garnish with fresh parsley if desired
---
Notes