It's wet and chilly here in the Pacific Northwest, perfect for a big steaming bowl of chili. But on spaghetti?! It's a big deal in Cincinnati, Ohio, and they serve it up several different ways, so if you're ready for your first 3-way..... you GOTTA try this Vegan Cincinnati Chili.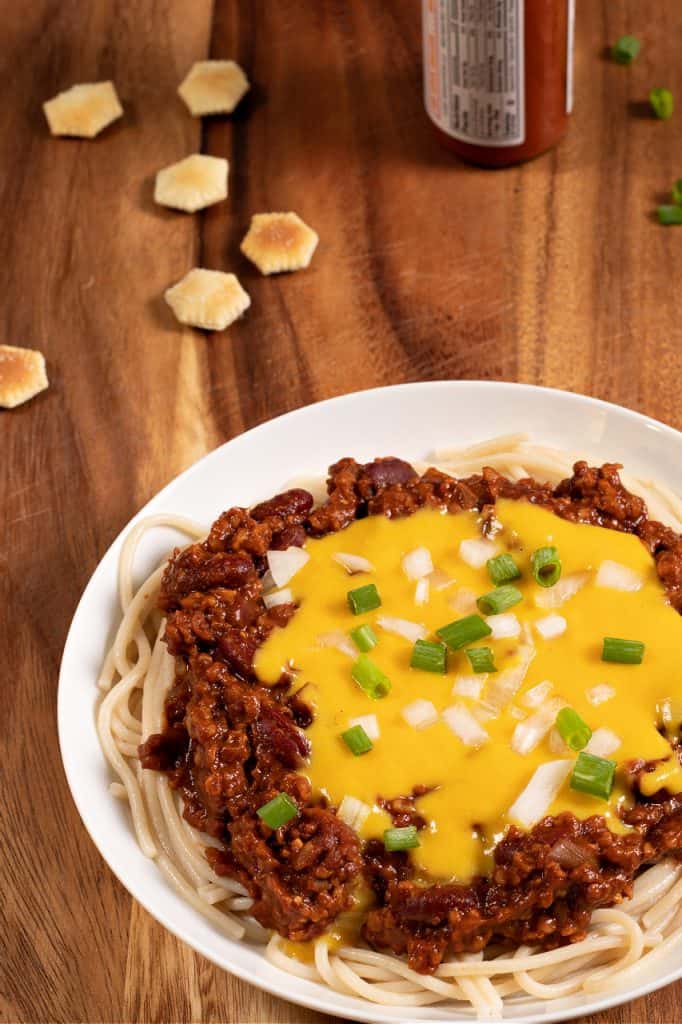 If you know me, you know I LOVE chili.
I have my award-winning Texas Chili, my Steak n Shake Chili, I even have a Sweet Potato Chili. But truth be told, I'm not sure I ever TRIED Cincinnati Chili, until today that is, which is precisely why I had to make it.
Maybe it's because of the ingredients? I mean Chocolate? Cloves? Allspice? Who in the world adds THAT to chili? Apparently, 2 Macedonian brothers did in the early 1920's when they opened a little Greek Restaurant in Cincy. They added their traditional spices to an American dish, and the rest is history.
Cincinnati Chili has become as famous as its Texas cousin, and it's THE unofficial grub of Cincinnati with 100's of "chili parlors" dotted throughout the city, with Skyline and Gold Star being two of the most popular.
It's served up several WAYS. You can have it
Regular - chili on spaghetti
3 Way - chili spaghetti, cheese
4 Way - chili, spaghetti, cheese, with beans OR onions
5 Way - chili, spaghetti, cheese, beans AND onions
I made my recipe with beans in the recipe, so my apologies to true Cincinnatians. And of course, I used bulgar instead of hamburger. And for the cheese, I simply used my own Vegan Cheese Sauce but you could use your favorite Vegan Shredded Cheese as well (but it won't be fat-free).
So what was the final verdict? It WAS different, I'll say that for sure. The flavors are totally different than any chili I have ever tried before, but it was GOOD. The addition of spaghetti, the cheese, and the onions on top....made for a very filling meal that I totally enjoyed.
Reminded me of my dad, who always used to get a 5-way at Steak n Shake. Miss you dad, I think you would've enjoyed this.
Vegan Cincinnati Chili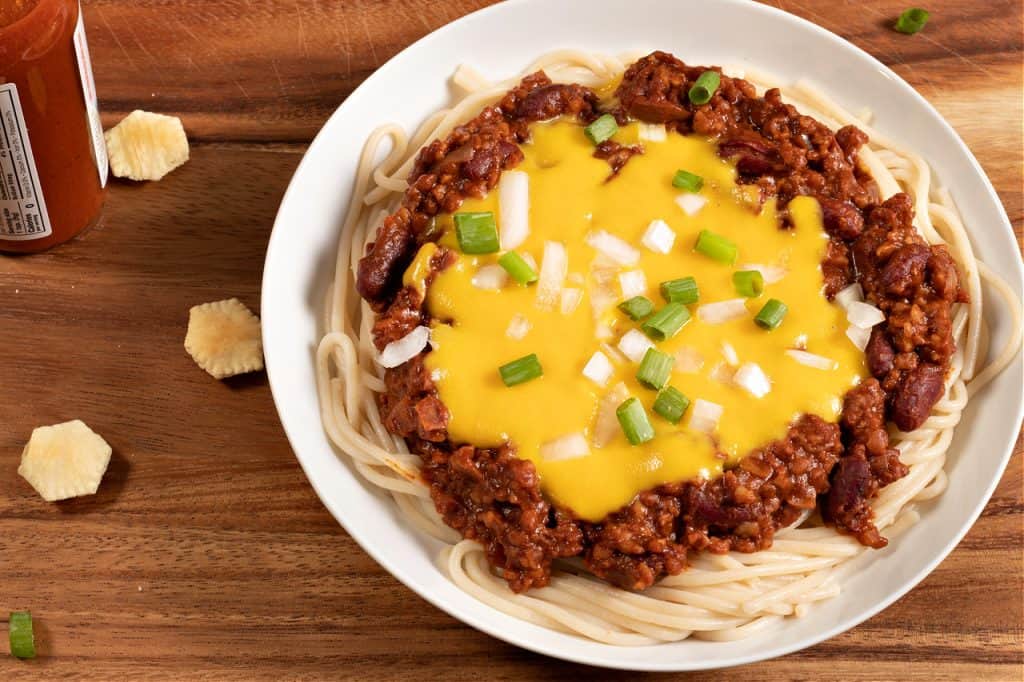 The beauty of this recipe is you just add everything to a pot and let it go for an hour. I did saute my onions first, just to get a little color, then I tossed in the garlic and gave it a stir for a few seconds.
I guess we should talk about the different components of this chili...
The 'Meat'
I chose to use Bulgar as it makes a very nice hamburger-like texture. BTW - brilliant suggestion FB Group - I love it. But if you are gluten-free I suppose you can use something else. If you opt for any of those pre-packaged fake meat crumbles on the market, that's up to you, but I like the bulgar as it is fat-free. Whatever you use, you'll need something to imitate about a pound of hamburger. Soy curls or tempeh are two I might try, but as I said, it's up to you.
The Chocolate
I used 1 square of unsweetened Baker's Chocolate. They are available in the baking aisle of just about every grocery store, but you can use unsweetened Cocoa Powder too if you choose...see the recipe notes for details.
The Pasta
I chose my favorite Brown Rice Spaghetti as it is definitely healthier than our traditional, refined spaghetti. Whole wheat pasta would be another good alternative. Choose whatever pasta you like, we just happen to like Brown Rice.
The Cheese
This is another one of those, choose whatever you want but I went with the healthier version. There are many brands of shredded Vegan Cheese now but I chose my own Vegan Cheese Sauce because it's fat-free. You do need to make it beforehand though, so it is a bit more work.
The Broth
As far as the liquids go, both apple cider vinegar and Worcestershire sauce are traditional. Thankfully, there are several brands of vegan Worcestershire on the market now, sans the anchovies of course. As far as the broth, you could go with all water, or all veg broth, although that will add a bit more salt. I did half and half and it came out perfect.
The Crackers
And before I get spanked for using oyster crackers (which are processed and have oil), I used them in the picture because they are a traditional garnish to true Cincinnati Chili (along with Tabasco Sauce.)
I stopped by a Wendy's and asked if I could have a tiny package of oyster crackers and they laughed at me and gave me a few.
So now that you know the options, saute those onions and then simply follow the recipe. It's pretty straightforward and easy. One pot, little mess. If you want to use my cheese sauce, make it first and have it standing by.
Here's one tip: Mix all the spices beforehand in a little cup or bowl. Makes for a more uniform flavor.
Then we assemble: Spaghetti goes down on the plate first, topped by this wonderful chili, then a good covering of cheese, then some chopped onions go on top for garnish. And don't forget the hot sauce - it adds just the right finish to this wonderful dish.
Enjoy

Print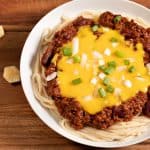 Vegan Cincinnati Chili
Author:

Prep Time:

30 minutes

Cook Time:

45 minutes

Total Time:

1 hour 15 minutes

Yield:

8

servings

1

x

Category:

Soups, Stews, Chili

Cuisine:

American
---
Description
Chili is a BIG deal in Cincinnati, Ohio, and they serve it up several different ways, so if you're ready for your first 3-way..... you GOTTA try this Vegan Cincinnati Chili.
---
2 cups

chopped yellow onion (plus extra for garnish)

2 tsp

garlic

2 cups

low sodium vegetable broth

2 cups

water

6 oz

can tomato paste

2 Tablespoons

apple cider vinegar

2 teaspoons

vegan worcestershire sauce

½ oz

unsweetened baker's chocolate (

1

square)

3 Tablespoons

chili powder

1 Tablespoon

brown sugar (or maple syrup)

1 teaspoon

ground cumin

1 teaspoon

ground cinnamon

1 teaspoon

garlic powder

¼ teaspoon

black pepper

¼ teaspoon

allspice

¼ teaspoon

ground cloves

1

bay leaf

1 cup

bulgar

15 oz

can kidney beans

1

package of your favorite spaghetti (I use brown rice spaghetti)
Your favorite vegan shredded cheese ([or use my cheese sauce here])
---
Instructions
If using my cheese sauce - make it first
Otherwise, add diced onion to a 6qt dutch oven
Saute onion in a few tbs of water or veg broth until softened & slightly browned
Stir in garlic
Add water and veg broth
Stir in tomato paste, vinegar, and worcestershire sauce, mix well
Add chocolate and stir
In a small bowl, whisk all remaining spices together, then stir them into the chili
Add bay leaf
Add bulgar, mix well, and increase heat to a low boil
Reduce heat to low and let it simmer 30-45 minutes, stirring often
During the last 15 minutes, add the rinsed beans
Serve on top of spaghetti (see notes)
---
Notes
2 Way - chili on spaghetti
3 Way - chili, spaghetti, cheese
4 Way - chili, spaghetti, cheese, beans, OR diced onion
5 Way - chili, spaghetti, cheese, beans, AND diced onion
Traditional garnishes are hot sauce and oyster crackers
Keywords: vegan cincinnati chili