Nothing screams comfort food more than a bowl of homemade Mushroom Ravioli, especially with a guilt-free Alfredo Sauce you can drizzle over the top! Feeling deprived yet?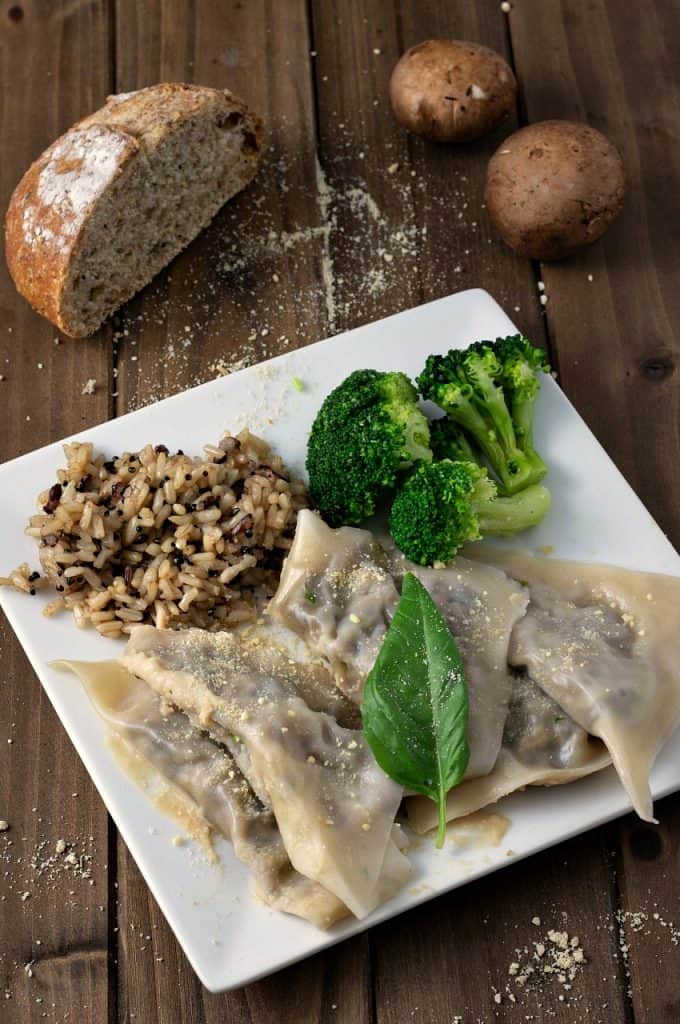 So quick (I promise) back story before I move on to the recipe.
I've been doing a lot of studying on making videos this week, as I know I am going to have to up my video game sooner or later. They say by the year 2021, 80% of all Internet traffic will be video..... yikes!
So as I was watching some videos from one of my original blogging mentors, Lindsay from Pinch of Yum, I watched her explain some concepts using one of her recipes for making ravioli out of won ton wrappers.
And I had to stop right there because - what a great idea! I had never thought of that. So off to the store I went to find a package of Won Ton Wrappers.
I found some at my local Fred Meyer's (Kroger) and the ingredients were: (enriched wheat flour, water, vital wheat gluten, salt, potato starch, citric acid, and a light dusting of cornstarch.
Perfect!
Now I just needed a filling and with a brand new package of mushrooms in the fridge, this recipe was beginning to come together nicely. Some chopped mushrooms, a little onion, a little garlic, maybe a little fresh parsley, some of my Vegan Parmesan.... yum!
Now for the sauce.
Originally I was going to go with my Marinara Sauce but at the insistence of my two FB group admins..... I decided to use my Garlic Alfredo Sauce, which actually did work out perfectly.
My Garlic Alfredo is completely soy free, nut free, and low-fat as I use White Beans as the base of the sauce with a little Nutritional Yeast and Miso for flavoring.
So there's the story of how this week's recipe came to be. People often ask me how I come up with all my recipes... well here is one example. I see something that inspires me and I try and make it plant-based and oil-free. Sometimes it works out, other times it don't.
Fortunately for you - this time it did!
Enjoy.
Mushroom Ravioli with Vegan Garlic Alfredo
I won't go into details on how to make the Vegan Parmesan as you can check out that recipe here.
Same with the Vegan Garlic Alfredo. Make these two ahead of time and have them standing by.
For the Filling:
Finely mince one shallot (or small onion) and add it to a skillet. Saute with a little veg broth to prevent sticking until it just begins to soften.
Next, finely chop 8 oz of Portobello Mushrooms and add them to the pan. Cook on med-low heat until they begin to shrink and release their own liquid.
Finely mince 2 cloves of garlic along with 1-2 Tbs of fresh Parsley and stir that into the pan. If at any time your pan begins to look a little dry - add a tablespoon of water or broth.
Add ¼ cup of the Vegan Parmesan you made and stir that in along with the seasoning listed in the recipe box below.
Simmer until most of the liquid has evaporated and the mushrooms have the consistency of cooked oatmeal.
Set aside and allow to cool.
For the Ravioli:
Start by bringing a large pot of salted water to a full, rolling boil.
Depending on the size of won ton wraps you found, you may need to cut them down to size. The ones I bought were 3 ½ inches square.
Place a wrapper down on a clean, dry surface, and carefully spoon about 1 tablespoon of the filling onto the wrap. Now with a wetted finger (I had a cup of water just for this) wet the left and bottom edges of the square and then carefully fold the opposite corner of the wrap down to make a triangle, pressing down on the edges to seal.
Repeat until all of the filling has been used - which for me was about 15 tringle-shaped raviolis.
Drop 5-6 of the raviolis at a time into the boiling water and watch for them to float. They cook fast so keep an eye on them. Once they begin to float to the surface, remove them with a strainer and place them in your serving bowl.
I bought this cute little dumpling strainer at my local Bi-Mart but I'll include an Amazon Link here if you'd like to see what they look like. Remember this is an affiliate link meaning I will make a small commission if you buy one at no additional cost to you.
Now you simply ladle on the sauce you made and garnish with additional Vegan Parm and maybe some fresh Basil.
Hope you enjoy the recipe and please be sure and comment down below if you do. Have a great weekend and we'l see you next week!

Print
Mushroom Ravioli with Vegan Garlic Alfredo
Author:

Prep Time:

30 min

Cook Time:

3 min

Total Time:

33 minutes

Yield:

15

-

20

Raviolis

1

x

Category:

Pasta

Method:

Stovetop

Cuisine:

American, Vegan
---
Description
Nothing screams comfort food more than Mushroom Ravioli, especially with a guilt-free Alfredo Sauce you can drizzle over the top! Feeling deprived yet?
---
1

shallot (or small onion), finely minced

8 oz

portobello mushrooms, finely chopped

2

cloves garlic, minced

1

-

2

Tbs fresh parsley, finely chopped

¼ cup

vegan parmesan

⅛ tsp

salt

⅛ tsp

black pepper

⅛ tsp

nutmeg

15

-

20

won ton wrappers (3.5" square)
---
Instructions
Finely mince the onion and add to a skillet. Saute in a little water or veg broth until softened
Add chopped mushroom and cook until reduced and they have released their liquid
Stir in garlic and parsley and simmer 30 seconds
Add vegan parm and seasonings and cook until liquid has evaporated
Remove from heat and allow to cool
Bring a pot of salted water to a boil (about 1 teaspoon of salt to 3 qts of water)
Next, place a won ton wrap on a clean dry surface
Spoon 1 Tbs of the filling into the center
Wet the left and bottom edge of the wrapper with water and then carefullythe fold opposite corner down to form a triangle.  Press down on edges to seal.
Repeat until all the filling has been used
Carefully drop 5-6 ravioli at a time into the boiling water
Remove when the ravioli begin to float (about 1-2 min)
Serve with sauce, fresh basil, and vegan parm
---
Keywords: mushroom ravioli