If you love a thick, cheesy, Alfredo Sauce, then you have GOT to try my Vegan Garlic Alfredo with Sun-Dried Tomatoes.
Thick, cheesy, decadent Alfredo - with absolutely NO added fat of any kind. That's right.....NO cashews in THIS sauce. Read on to discover my secret ingredient.
This recipe really should never have happened. Seriously.
I had JUST published my Vegan Portabella French Dip recipe and had absolutely NO plans on even COOKING that night, let alone releasing a new recipe.
But, the girls had been gone all day, and I knew they'd be hungry.....and 'I' was hungry, so I literally just started grabbing ingredients and threw this together at the last minute.
They say that's where some of our best recipes come from.....and I think my family would agree.
My wife absolutely LOVES this Vegan Garlic Alfredo, and to put it in young people's language.....my 30yr old daughter said, and I quote....
"This stuff is the s.h.i.t.!!"
SO I guess it's really good.....
But what's wild about this sauce - which is what really makes this dish by the way - is that there is no added fat of any kind.
No dairy
No oil
And no nuts ..... not even cashews.
I'll tell you the secret to this thick, rich, sauce in the instructions below...
So let's get to it...
Vegan Garlic Alfredo with Sun-Dried Tomatoes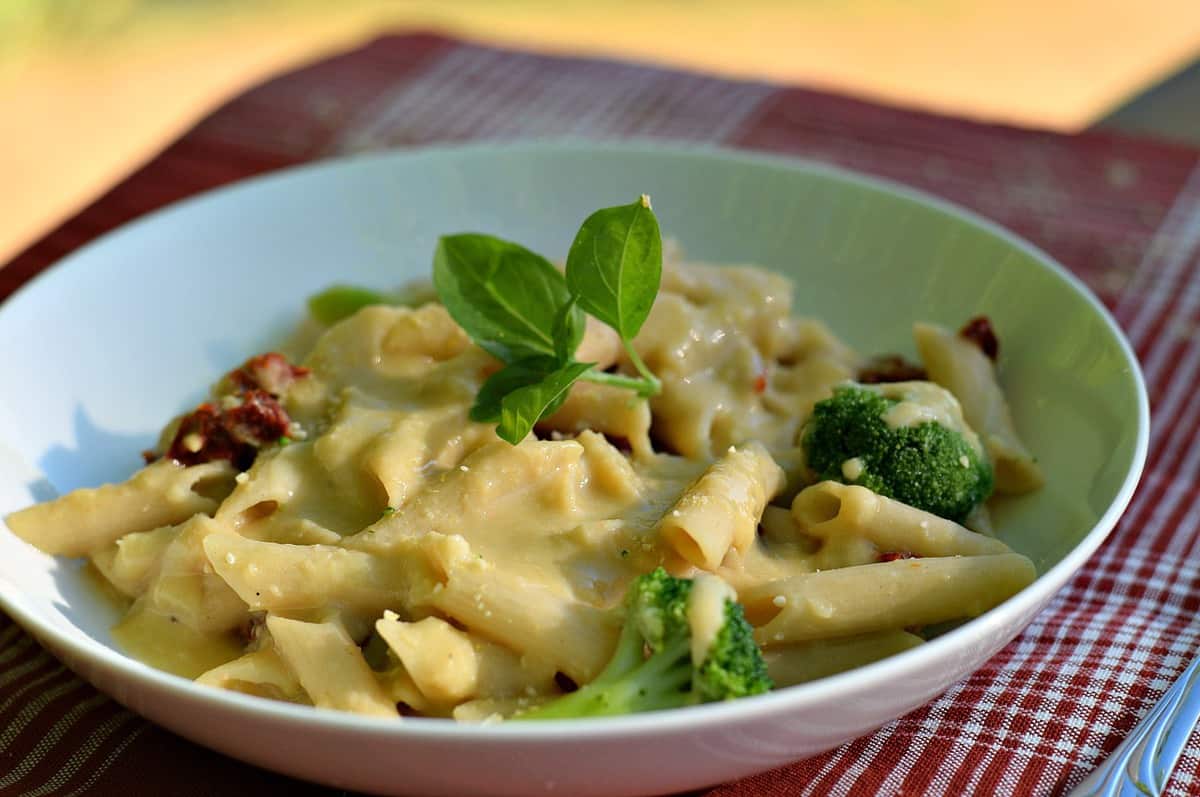 I was thinking pasta would be a simple, easy dinner that night, so I grabbed an 8oz box of Spelt Penne my wife had just picked up from the store and set it aside. I'd cook it once I figured out the sauce.
I knew I wanted a garlic sauce, so I took 6-8 large garlic cloves and minced them. I used 8 cloves - but I REALLY like garlic - so adjust according to your own individual taste. Use a tablespoon of veggie broth as needed to prevent sticking.
I also chopped up about ¼ of a medium white onion and added that to the pan with the garlic. Sauté the veggies until just softened.
Now the base for the sauce was going to be the tricky part - as most vegan bloggers would have already pre-soaked a bunch of cashews.
Cashews DO make a creamy sauce, but I didn't have any soaking, AND I know a lot of my readers are watching their fat intake....
So what else could I use besides cashews?
I looked in my pantry and instantly saw something that might work. I have used them before in making my Vegan Potato Salad and Vegan Pasta Salad Dressing.... so maybe, just maybe, this can of White Beans would make a good base for my Vegan Garlic Alfredo Sauce.
I opened a 15oz can of S&W White Beans (I'm pretty sure any small white bean would work... navy, great northern, etc) and dumped the whole can into my blender, juice and all and gave it a whirl.
Puree the beans until smooth.
Now add the sautéed garlic, onions, 1 cup of Unsweetened Almond Milk, 3 Tbs Flour, 1 Tbs Lemon Juice, and ¼ cup Nutritional Yeast and blend until very smooth.
Pour the Alfredo Sauce back into the pan and simmer over low heat until it just begins to thicken.
Finally, to add a little saltiness, and a little bit of Umami (savory taste)...... I whisked in 2 teaspoon of Yellow Miso.
And there ya go.
A very simple Vegan Garlic Alfredo Sauce - without any added fat.... and it tastes pretty gosh darn DELICIOUS if I do say so myself!
At this point, go ahead and prepare your pasta according to the package instructions. Just before the pasta is finished cooking, remove it from the heat, drain, and place it back in the pan with about ½ cup of Sun Dried Tomatoes (look for the dried ones, not packed in oil).
Stir in some cooked broccoli optional but good) and about 2 cups of the Vegan Garlic Alfredo Sauce. Mix thoroughly.
Garnish with Vegan Parmesan and any leftover Alfredo Sauce and serve.
You can thank me by giving me a like on Facebook or leaving a comment 🙂
Enjoy!

Print
Vegan Garlic Alfredo with Sun-Dried Tomatoes
Author:

Prep Time:

15 minutes

Cook Time:

15 minutes

Total Time:

30 minutes

Yield:

0

servings

1

x

Category:

Main

Cuisine:

Italian
---
Description
This rich, decadent, nut-free Vegan Garlic Alfredo will surprise you with its secret ingredient. Who knew Alfredo could be so creamy without any added fat?
---
8 oz

Penne Pasta ((I used Spelt))

½ cup

Sun Dried Tomatoes ((no oil))

1 cup

Steamed Broccoli ((optional))
Garlic Alfredo Sauce
6

-

8

cloves Garlic ((minced))

¼

White Onion ((chopped))

1

-

2

Tbs Veggie Broth ((for sautéing))

1

can White Beans ((

15oz

can - any small white bean))

1 cup

Unsweetened Almond Milk

3

Tbs Flour

1

Tbs Lemon Juice

¼ cup

Nutritional Yeast

2 tsp

Miso
---
Instructions
Mince and chop garlic and onion and saute in veg broth until softened.
Add beans and their liquid to blender and puree until smooth.
Add garlic, onions, almond milk, flour, lemon juice, and nutritional yeast to bean puree and blend until very smooth
Pour blended Alfredo Sauce back into the pan and simmer on low heat until thickened.
Remove sauce from heat and whisk in miso paste until smooth.
Prepare pasta according to package instructions. Drain and return to pan.
Stir in tomatoes, broccoli, and about 2 cups of Alfredo Sauce and stir to combine.
Serve and garnish with additional Alfredo Sauce and Vegan Parmesan.
---