I've made Vegan Sloppy Joes from a lot of different things, cauliflower, beans, even soy curls. But THIS time I'm using something entirely different, and it is SO easy it's ridiculous!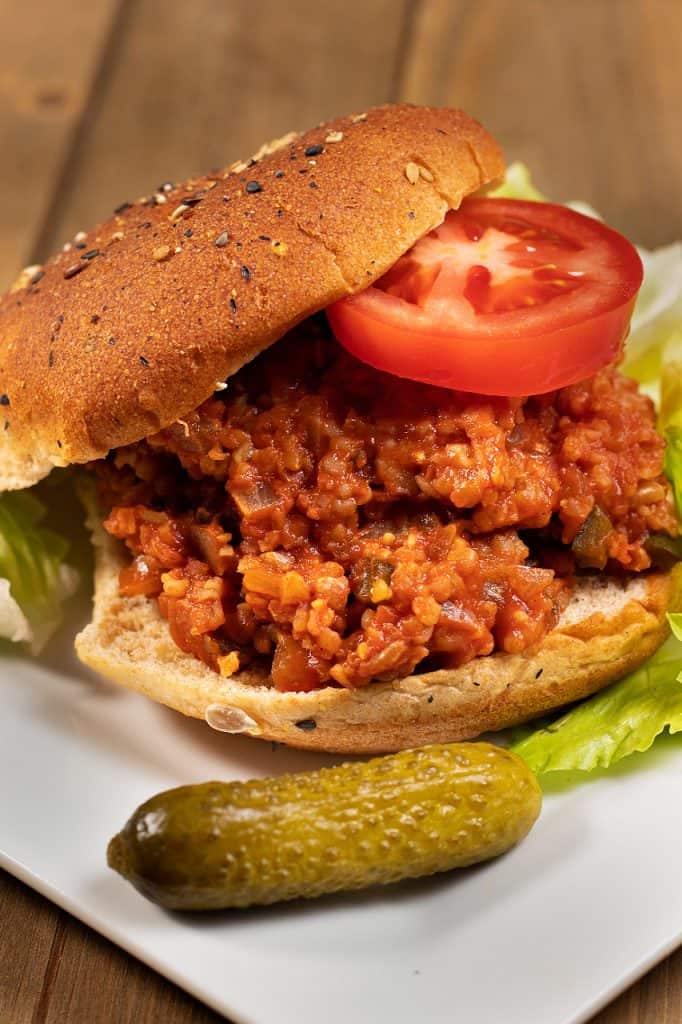 So what's the secret ingredient that makes these Vegan Sloppy Joes so quick and tasty?
Well, last week I used Bulgur Wheat to make a thick and meaty Cincinnati Chili, and I remember looking down at my pot thinking, "This would make some killer sloppy joes!". And, it does!
The history of bulgur (cracked wheat) goes back at least 4000 years, so it truly is an "ancient grain". It originated in the Middle East and is even mentioned in the Bible where it was called Arisah. It's simply whole wheat kernels that have been boiled, dried, and then cracked.
Nutritionally speaking, it's even healthier than brown rice - fewer calories, less fat, and more fiber. (And dare I say less worry about arsenic too)
Of course, since it's a wheat product, it DOES have gluten.
So..... for those of you with Celiac Disease, uh...sorry? But I DO have other Sloppy Joe Recipes - so don't please don't leave me.... not yet anyway.
And where exactly do you FIND this miracle grain?
If your grocery store has bulk bins, that would be where'd I start. Our Winco has it in bulk and I'm sure Whole Foods does too. And if your store has a large section of Bob's Red Mill products (as our Fred Meyer does), chances are you can find it there as well. If you're still struggling to find it - look in the aisle where they have the flour, quinoa, couscous, etc.
And if you STILL can't find it - here is my Amazon Affiliate link (and because I'm an affiliate, I DO make a few pennies if you buy any)
So with THAT out of the way - let me show you how simple this is to make.
Vegan Sloppy Joes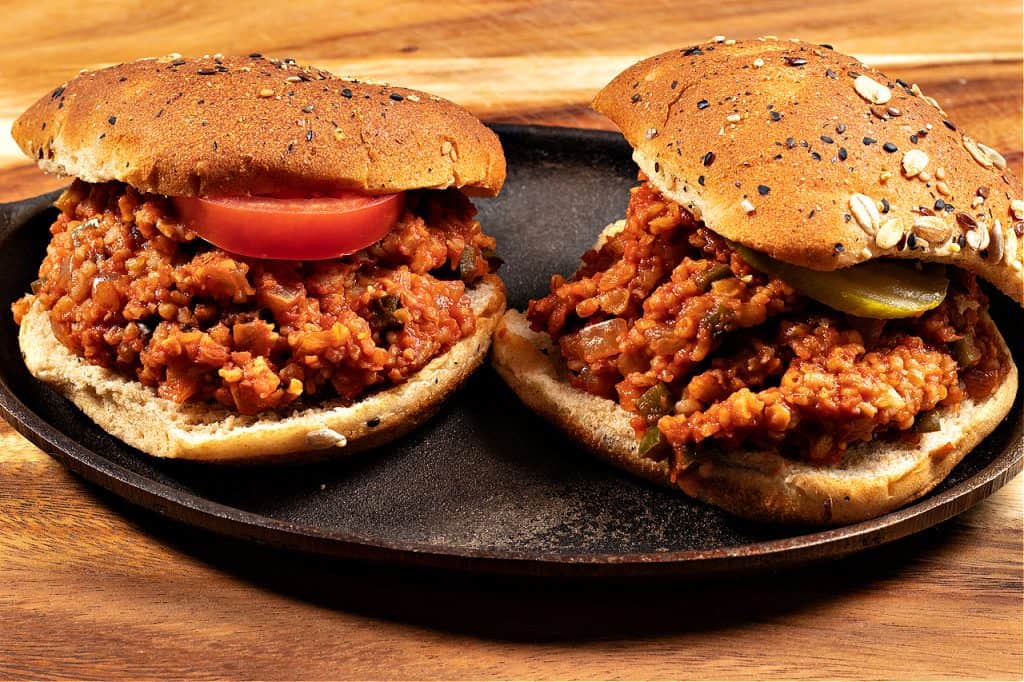 We're going to make these easy Vegan Sloppy Joes by sweating down some onions and peppers, adding a few spices, all our wet ingredients, and finally our bulgur. Then we just let it simmer until it thickens - about 30 minutes.
I told you this was easy.
I diced half an onion and added it to a saute pan along with half of a diced poblano. You can use bell peppers instead if you want. I was going to but my only red bell pepper was....fuzzy....and squishy....and kind of gross....
So poblano to the rescue and no, it wasn't hot at all.
As the veggies soften up, I tossed in some simple spices, chili powder (McCormick), cumin, black pepper, and paprika, gave that a stir to let those spices toast a bit, then stirred in some garlic.
For the wet ingredients, I added a 15 oz can of tomato sauce, some low-sodium veggie broth, a tablespoon of low sodium soy sauce, and maple syrup for sweetness. Then a little vegan Worcestershire sauce and good old-fashioned yellow mustard for a little tang.
Then we add ¾ cup of bulgur. Cover the pan, make sure it's on low heat (low and slooow), then let it simmer for 30 minutes. If it still looks too liquidy (is that even a word?) let it go a little longer without the lid, but the bulgur should absorb most of it.
And that, my friends, is all she wrote.
Add whatever condiments you like and of course use whatever kind of bread or bun you're able (or want ) to use. I chose Dave's Killer Buns but naturally, as in most bread products there IS a bit of oil, but at least with these, there are TONS of whole grains and seeds to make them slightly healthier than your normal everyday hamburger bun.
Of course, you don't HAVE to use bread at all, scoop some onto a baked potato, or better yet, a SWEET potato. I bet that would be amazing.
Anyway, that's it for this week, and as always I truly hope you enjoy these easy, TASTY, Vegan Sloppy Joes. Let me know what you think down in the comments below.
Have a good weekend and we'll see you next time.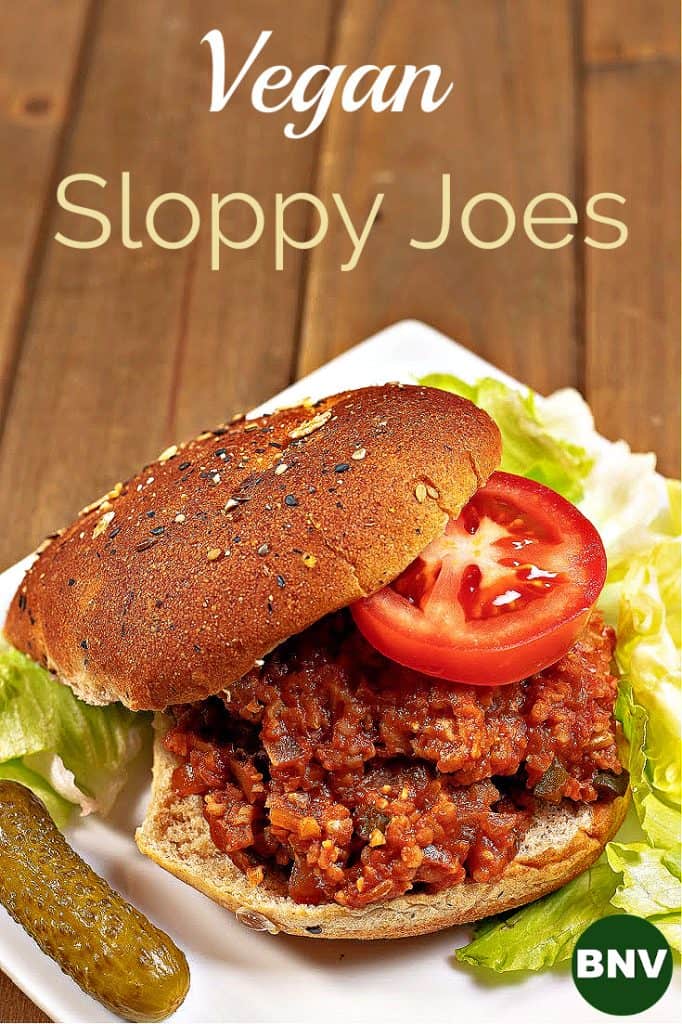 Print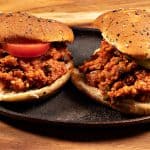 Vegan Sloppy Joes
Author:

Prep Time:

5 minutes

Cook Time:

30 minutes

Total Time:

35 minutes

Yield:

4

-6

1

x

Category:

Sandwich Central

Cuisine:

American
---
Description
I've made Vegan Sloppy Joes from a lot of different things, cauliflower, beans, even soy curls. But THIS time I'm using something entirely different, and it is SO easy it's ridiculous!
---
½

onion

½

poblano pepper

2 teaspoons

garlic

½ teaspoon

chili powder

½ teaspoon

ground cumin

½ teaspoon

paprika

¼ tsp

black pepper

15 oz

can tomato sauce

1 cup

low sodium vegetable broth

1 tablespoon

maple syrup

1 tablespoon

low sodium soy sauce

2 teaspoons

yellow mustard

1 teaspoon

vegan worcestershire sauce

¾ cup

red bulgur
your choice of sandwich bread or buns
---
Instructions
Dice the onion & pepper and add to a saute pan 
Add a tablespoon of water or broth to prevent sticking
When the veggies have softened, add the chili powder, cumin, pepper, and paprika
Mix well then stir in the garlic
After a minute or two, stir in all the wet ingredients and mix well
Finally, stir in the bulgur and cover
Let simmer over low heat for 30 min or until liquid has been absorbed
Serve on your favorite bread or bun
---
Keywords: Vegan Sloppy Joes