I've got quite a few different ways to make Sloppy Joes using mushrooms, black beans, and even cauliflower.  But THESE Sloppy Soy Curls are about the BEST ones I've tasted yet.
And the best part?  They're super quick to make!
One of my readers emailed me and suggested more fast and easy recipes for people who work all day and don't feel like slaving over a stove when they get home.
These Sloppy Soy Curls are just for you!
I was there myself yesterday as it was getting late, I was tired from working outside, and I knew everyone was hungry.
I opened the pantry and spied a bottle of Stubbs BBQ Sauce, and there on the counter was a bag of Soy Curls....
I thought.....could it actually be that easy?
Not only was it easy, it was delicious!  AND.....dinner was ready in less than 30 minutes.
And if you're questioning the Stubbs BBQ Sauce, yes - it DOES have pure cane sugar as an ingredient, but it's one of the few store-bought sauces I've found that does NOT have HFCS.  
Of course you could always make your own sauce, like I did in these homemade BBQ Soy Curls, but hey...you wanted quick and easy right?  
Sloppy Soy Curls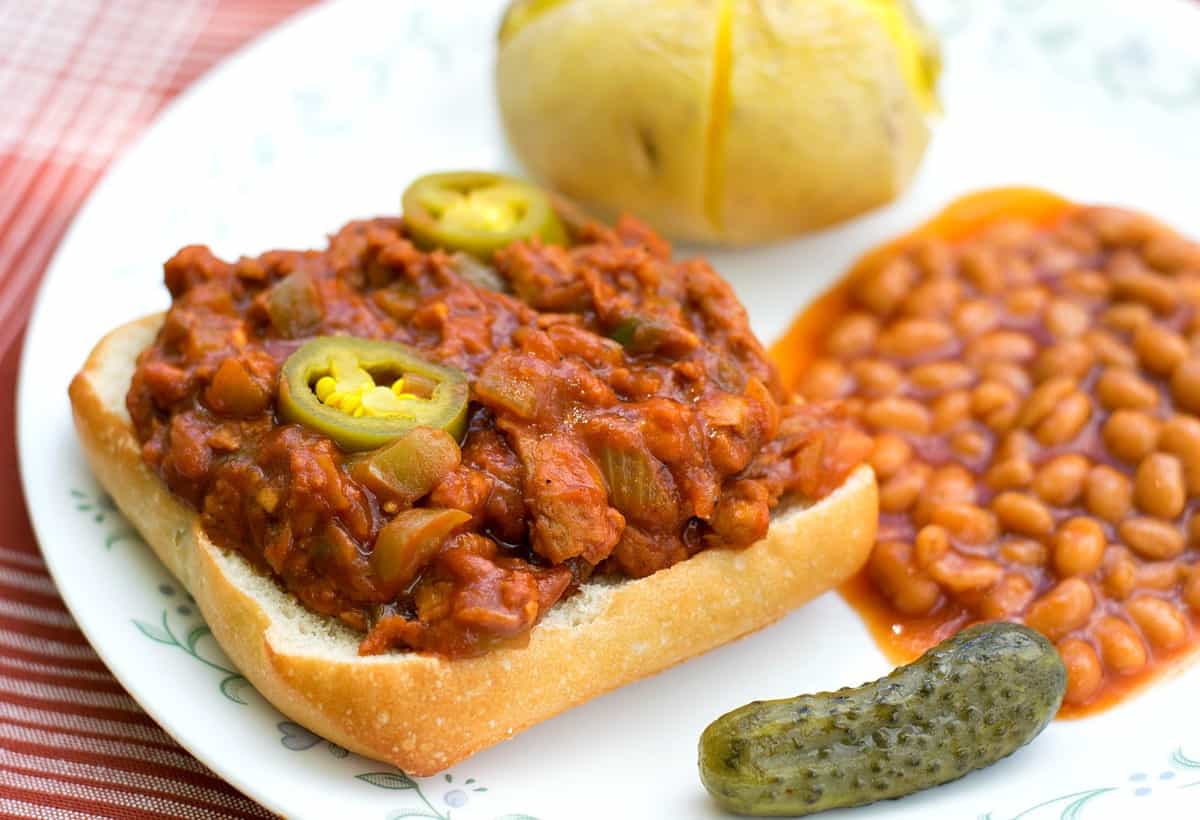 Start by rehydrating your Soy Curls.  Add 3 cups of dried Soy Curls to a large bowl and just enough hot water (about 2 cups) to moisten them.  You don't need to completely submerge them, but just enough to allow them to start rehydrating.  If you see some dry ones poking out, give them a good stir to redistribute.  Add 2 Tbs of Low Sodium Soy Sauce to flavor, and optionally a little garlic and onion powder, and set aside.
Meanwhile, add ½ finely chopped Onion and a finely chopped Green Bell Pepper to a sauté pan.  Add a splash of Low Sodium Veg Broth just to keep things from sticking, and sauté over med-low heat until the onions begin to soften.
Add a teaspoon or two of minced garlic, and another teaspoon (or more) of finely minced jalapeño, and give that a stir.
Drain any water that's left in your bowl of soy curls and toss the soy curls onto a cutting board.  Chop the soy curls, especially the big pieces, until they resemble the consistency of ground beef, then add them into the pan with the veggies.
Add an 8oz can of Tomato Sauce and give that a stir.
Now let's add the Stubb's Original BBQ Sauce.
What I like most about this particular sauce, is they use NO HFCS (High Fructose Corn Syrup) at all, where just about every other brand has that as its very first (and main) ingredient.
Here is what the ingredient list for Stubb's Original looks like...
Water, Tomato Paste, Cane Sugar, Distilled Vinegar, Molasses, Tapioca Dextrin, Salt, Brown Sugar, Spices, Corn Starch, Contains less than 0.5% of: Onion, Paprika, Garlic, Chile Powder, Natural Smoke Flavor, Guar Gum, Xanthan Gum, Corn Syrup, Tamarind.
Back to the Sloppy Soy Curls....
Add as much BBQ Sauce as you like (I used about ½ a bottle of Stubb's) , and I like to also add a splash of Red Wine Vinegar (maybe 1 tsp) and stir thoroughly.  It may look thin and watery due to the Tomato Sauce, but that's ok, it will thicken.
Simmer over medium-low heat until it reaches your desired consistency....like I said, it will thicken as it cooks down.
Fast, easy, and delicious.
Serve open-faced over your favorite roll, bun, or bread and top with whatever garnishes you like.  I like a few extra jalapeños myself, but a few slices of dill pickle would be good too.
These sandwiches would be great for that summertime picnic, served up alongside some BBQ Beans, Vegan Potato Salad, or my oil-free  Pasta Salad. 
I'll include the links to Butler Soy Curls and the Stubb's BBQ Sauce below.  Keep in mind these are affiliate links, meaning I receive a small commission for every purchase you make.
Thanks and enjoy the picnic!

Print
Sloppy Soy Curls
Author:

Prep Time:

10 minutes

Cook Time:

20 minutes

Total Time:

30 minutes

Yield:

8

1

x

Category:

Main

Cuisine:

American
---
Description
Trying to cut red meat out of your diet?  These Sloppy Soy Curls are a fast and delicious alternative to hamburger-based Sloppy Joes.
---
Soy Curls Marinade
3

cups

Butler Soy Curls (dry)

2

cups

Hot Water

2

Tbs Soy Sauce (low sodium)

½ tsp

Garlic Powder ((optional))

½ tsp

Onion Powder ((optional))

½ tsp

Mrs Dash Seasoning ((optional))
Sloppy Joe Mix
½

Onion (white)

1

Bell Pepper ((red or green))

¼

cup

Vegetable Broth (low sodium)

2 tsp

Garlic (minced)

1 tsp

Jalapeno (minced)

8

oz

Tomato Sauce

½

bottle Stubb's Original BBQ Sauce ((

18 oz

bottle))

1 tsp

Red Wine Vinegar
---
Instructions
Add dry Soy Curls, hot water, and soy sauce to a large bowl and set aside.  Stir occasionally.
Chop onion and bell pepper and saute in the vegetable broth until softened
Add garlic and jalapeño and cook for 1 minute
Drain soy curls, squeezing out any excess water, and chop finely.  Add to pan with veggies and stir.
Add Tomato Sauce, BBQ Sauce, and Vinegar and stir.
Simmer over med heat until reduced to desired consistency.
Keywords: sloppy soy curls