Happy September!  And you know what THAT means?  Well, besides Pumpkin Spice everything, that is....  It means Octoberfest! I swear I must be part German because I LOVE polka bands, good German brews, fresh sauerkraut, and of course - this lovely Vegan German Potato Salad I made last night to go along with my ever-growing collection of Mary's Mini Recipes.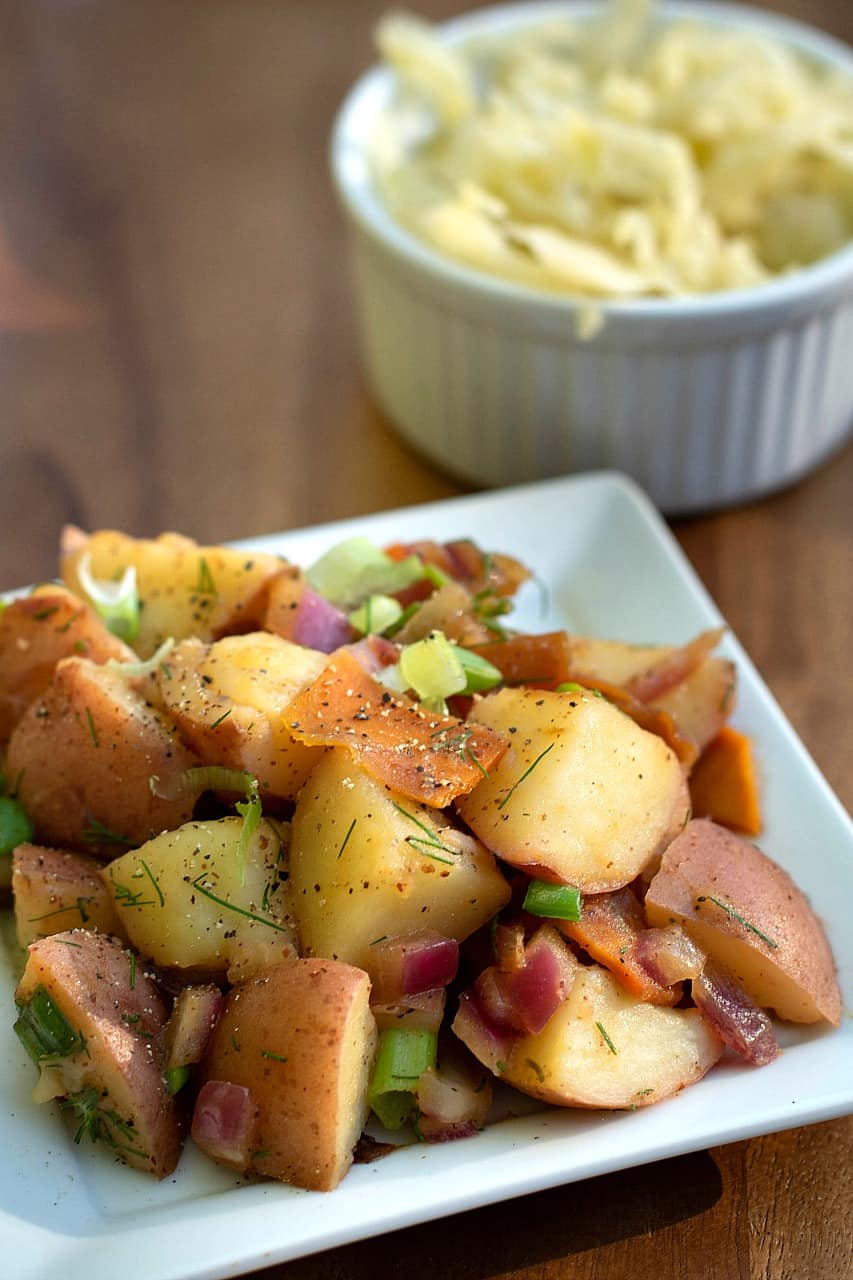 For those of you not aware, traditional American Potato Salad is made with our typical mayo-type dressing and is usually sweet and creamy.  
But GERMAN Potato Salad is usually served with a warm, VINEGAR based dressing, and typically includes bacon.  
Now in the past, I have made Mushroom Bacon, Eggplant Bacon, even Tofu Bacon, and it was all pretty good no matter which veggie you used.  But some people don't like Mushrooms, or Tofu, etc - so this time I decided to try something entirely new. 
CARROT Bacon.  I mean everyone like carrots right?  And to tell you the truth, when those long, thin strips of carrots are laying on the pan, covered in my smoky marinade, you're going to think it IS bacon.  And it works perfectly for this recipe. 
As I mentioned above, this recipe IS perfectly compliant if you are following the McDougall Program, the Maximum Weight Loss Program, or even his Mary's Mini Diet.  There IS a little Maple Syrup both in the dressing and the bacon, but if you really needed to you could leave that out entirely - up to you.
So with all that said - let's move on to actually MAKING some Vegan German Potato Salad.  
It's super easy, I promise.
Vegan German Potato Salad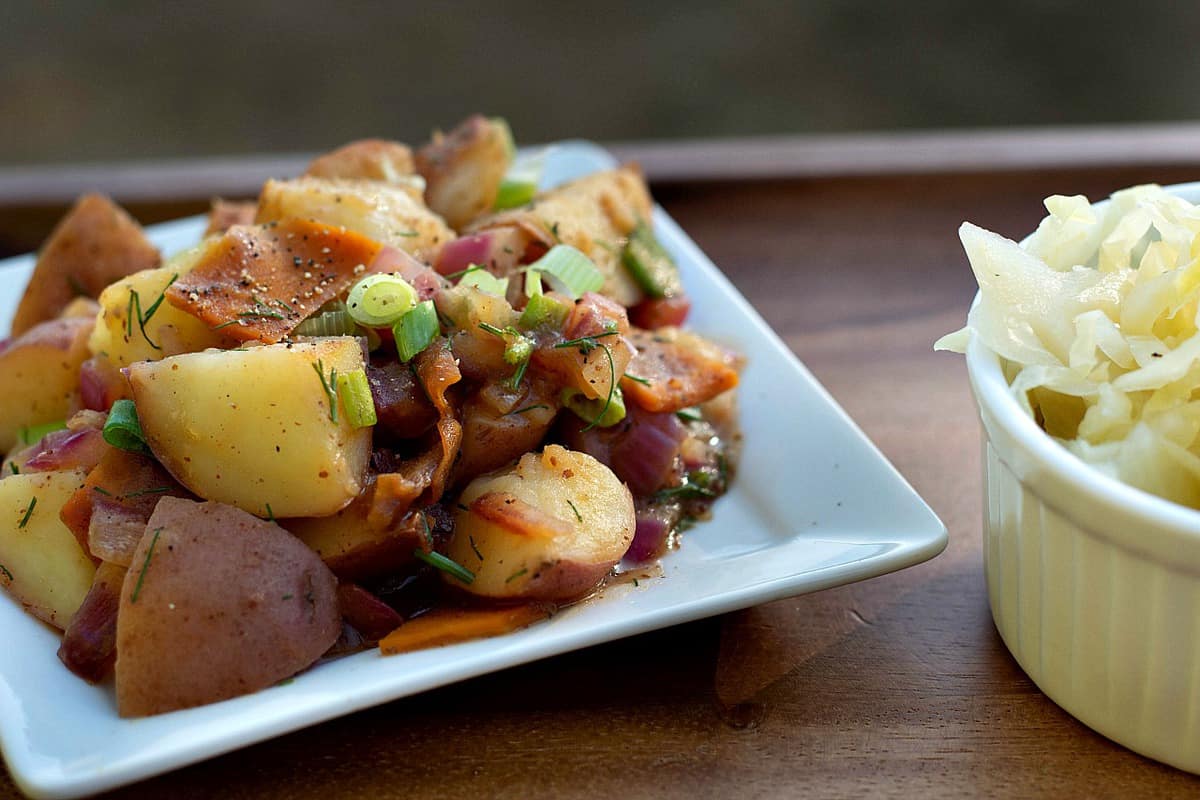 We'll start off by getting our carrot bacon marinating, so it can work its magic while we cook the potatoes. 
Clean and peel a large, straight carrot and then using either a potato peeler, or mandoline slicer, cut thin strips of carrot.  I used my mandoline and cut the length of the carrot so it would fit.  
Using the food guard, carefully guide the carrot down the mandoline into the blade, using even pressure as you cut.  You should end up with long, bacon-like strips of carrot, about ⅛" thick.    If you don't have a mandoline slicer or don't want to try it, you can also use a regular potato peeler to cut the strips. 
We're going to lay the slices in a container and then pour our marinade over them to soak.  The marinade ingredients are simply soy sauce, maple syrup, smoked paprika, liquid smoke, and a few seasonings.  The recipe is in the box below.   Now set those aside to marinate while we prep the rest of the potato salad.
Potatoes:  For the potatoes in this recipe, I used Baby Reds.  My local Fred Meyers has little 24oz bags of baby Golds, Reds, Fingerlings, etc.  You can also use regular Red Potatoes, just be sure and cut them into small, ¾" or so, uniform pieces.  You'll need about 3 cups. 
To cook the potatoes, again I'm giving you options.  
For the stovetop: cover the potatoes with enough water to cover, plus an additional 1-2".  Boil for 10 minutes or so until just fork tender. 
For your IP:  Add your steamer basket/trivet to your IP and 1 cup of water.  Add your chopped potatoes, attach the lid, and cook for 4 minutes using the "Quick Release" method to depressurize. 
Drain the potatoes and rinse with cold water to stop the cooking process and set aside.  
Back to the Bacon:  After your bacon has been marinating at LEAST 30 minutes or so, go ahead and lay the strips out onto a parchment lined cookie sheet and bake at 400 degrees F for 15 minutes, flipping them halfway through.  
While the bacon is cooking, dice ½ of a Red Onion and begin to soften in a saute pan using water, veg broth, or even a little leftover marinade so it doesn't stick.   Once your bacon is done, chop up into little pieces and add to the onion, stirring occasionally.
After a few minutes, gently fold in your drained potatoes and mix with the onions and carrots. 
Let that simmer on low heat while we quickly whisk together the dressing, which is a little Red Wine vinegar, a nice grainy, Stoneground Mustard, and a tablespoon of Maple Syrup to sweeten. 
Remove the pan from the heat, slowly stir in the dressing, and a tablespoon of freshly chopped Dill and a few chopped Green Onions to add a little greenery to our salad.  
Season with salt and pepper and serve warm.  
I think this Vegan German Potato Salad would go beautifully with my Vegan Beer Brats and some fresh sauerkraut.  Yum!  
Enjoy and be sure and leave those comments telling me how you liked it!  Until next week......
Keep on Cookin'!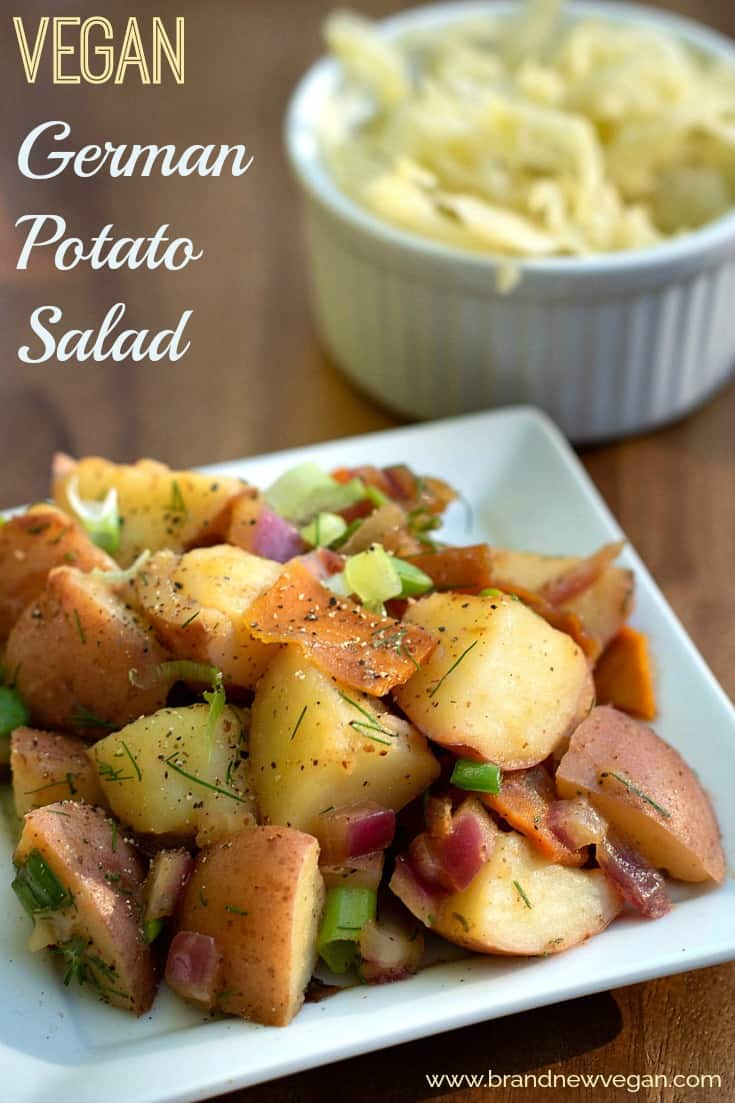 Print
Vegan German Potato Salad
---
Description
A Vegan German Potato Salad with smoky carrots instead of bacon, and a tangy vinegar based dressing.  Perfect for McDougall, MWL, or even a Mary's Mini.
---
24oz

Baby Red Potatoes, quartered (about

3 cups

)

½

large Red Onion, diced (about

1 cup

)
Carrot Bacon, at least 5-6 strips (recipe follows)

2

-

3

Green Onions, chopped

1

Tbs Fresh Dill, finely minced
Carrot Bacon & Marinade
1

large Carrot, thinly sliced into strips

¼ cup

Soy Sauce, low sodium

1

Tbs Maple Syrup

1

Tbs Molasses

2 tsp

 Liquid Smoke

½ tsp

 Smoked Paprika

¼ tsp

 Garlic Powder

⅛ tsp

 Black Pepper
Dressing
¼ cup

Red Wine Vinegar

1

Tbs Maple Syrup

2 tsp

 Stoneground Mustard

½ tsp

 Salt

¼ tsp

 Black Pepper
---
Instructions
Whisk marinade together, and cut the carrot into thin strips.  Cover the carrot slices with the marinade and set aside for at least 30 min to an hour to soak.
Wash and chop the potatoes into even sized pieces, about  ¾" to 1".
Stovetop:  Place chopped potatoes in pan and cover with 1-2" of water.  Boil until just fork tender. (about 10 minutes)
IP Instructions:  Place trivet in IP bottom and add potatoes and 1 cup water.  Cook on MANUAL for 4 minutes and then quickly release the pressure.
Drain and rinse potatoes with cold water.  Set aside.
Lay carrot slices onto a parchment-lined baking sheet and bake at 400 degrees F for 15 min.  Flipping halfway through.
Saute onion in either a few tbs of water, veg broth, or leftover marinade until softened.  Once carrots are done, chop and add to onions.  Stir and simmer on low heat for about 1 minute.
Fold in potatoes and stir gently to mix.
Remove from heat, whisk together the dressing, and add to potatoes along with green onions and dill.
Mix gently and serve warm.
Season with salt and pepper if needed.
---
Notes