Because YOU asked for it, I bring you a BRAND NEW Recipe, just in time for the big game that combines two of my favorite foods. Be careful though, these Hash Brown Pizza Cups ARE addicting!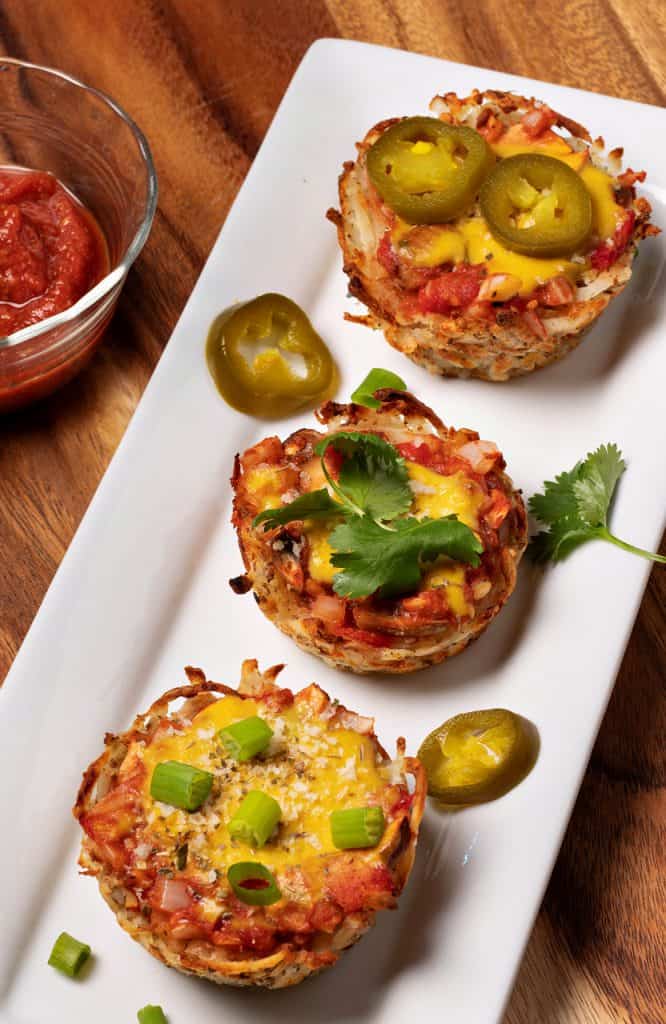 These might just be one of the HEALTHIEST Pizza Snacks I have ever created.
Not only are they virtually Fat-Free, they are also Gluten-Free and are extremely versatile in that you can add whatever veggies to the filling you might want.
I used a combination of onion, red bell pepper, and mushroom, but you can use whatever you have on hand. Don't like Bell Peppers? Add some jalapenos instead! Not a 'shroom fan? Add some of my cauliflower taco meat, or more vegetables.....get creative!
Of course the "crust" is made completely from hash browns. No extra flour or anything like that. I did add some seasoning and a "flax egg" to bind it all together, but that's it.
And I used non-stick muffin pans to create the shape. My pans hold 6 muffins each, or about ⅓ cup of my shredded potato mixture, so 12 of these pizza cups worked out to exactly a 20 oz bag of Simply Potatoes®.
Now speaking of Simply Potatoes®, someone yelled at me last week because I was using them in my Enchiladas - and they DO have preservatives. No worries! You can use whatever brand of hash brown you like - even frozen, just let them thaw first.
I did make a batch of my Pizza Sauce beforehand but it's very simple and requires no cooking at all. And I still had a little of my Cheese Sauce leftover so that's what you see on top. But the real 'work' of this recipe is forming the hash brown cups and baking them.
The rest is completely up to you as to what filling you use or what you use to top them.
Sound interesting? Then let's go make some Hash Brown Pizza Cups. They are SO easy to make and so incredibly tasty.
Hash Brown Pizza Cups
First thing is to decide if you want pizza sauce or not, because it IS optional. You could use tomato sauce instead, or ketchup (they ARE potato cups), or even pizza sauce from the store (but check those labels for oil).
"I" used my pizza sauce, and you'll only need about ¼ cup so you will have leftover sauce for homemade pizza later. Or you can do what I do and spread it on toast in the morning, or as a evening snack. And yes, it does freeze well too.
The nice thing about my pizza sauce recipe is you don't have to cook it. Just throw everything into a bowl and mix.
Next take your 20 oz bag of thawed hash browns and dump them into a large bowl. Add 1 teaspoon of Italian Seasoning and about ¼ teaspoon each salt and pepper. Now we need to add our binder and for that we'll need a flax egg.
A flax egg is simply 2 Tbs Ground Flaxseed Meal and 3 Tbs hot water whisked together. It will turn real gelatinous after a minute and then we mix that into our potatoes.
Start preheating your oven to 475° F, and let's get our muffin tins ready.
Here are the muffin tins I used, and this is an Amazon Affiliate Link so I do earn a small commission if you buy them. Any non-stick muffin tin will work. Mine pans are about 8" x 11.5" and have 6 cups each. Each muffin cup holds about 3 oz.
As I said, mine are non-stick so I did not use the paper muffin cup liners you can buy, but you decide what's best for you.
Then you simply add about ⅓ cup of the potato mixture to each cup and mold it to fit the cup bottom and sides. I actually pushed a small, glass ramekin down into the potatoes to form the cups, but you can use your fingers too.
Now we bake at 475° F for 15 minutes.
Carefully remove the pans after baking and set on a wire rack or cutting board while we add our filling.
In a bowl, finely dice ½ cup onion, ¼ cup red bell peppers, and 1 cup of mushrooms. Stir in ¼ cup of the pizza sauce we made earlier and mix well.
Spoon 1 or 2 teaspoon of the filling into each potato cup.
Place the potatoes back into the 475° oven for an additional 10 minutes.
For the topping I used a small pastry brush and painted some of my Amazing Vegan Cheese Sauce across the top of each one. I also added a dash of red chile flakes and a small pinch of Panko Bread Crumbs for a little texture. The panko is optional because then they're no longer gluten-free but I liked the added texture.
Switch your oven over to BROIL and broil the cups for a final 1-2 minutes.
Remove and let cool before serving. Garnish with your favorite toppings, green onion, jalapenos, parsley, or cilantro.
This recipe makes 12 pizza cups and uses an entire 20 oz bag of hash browns (7 servings), so I guess a suggested serving size would be like 2 pizza cups each? I don't know, I had 4 easily but .... they ARE good and fat-free so....
Anyway, that's the recipe for the week, hope you enjoy, and I hope you enjoy the game if that's something you're in to. And most importantly I hope you enjoy the game SAFELY.
It's still a wacky, crazy world out there so stay safe, stay warm, and stay HEALTHY. I'll see you next week.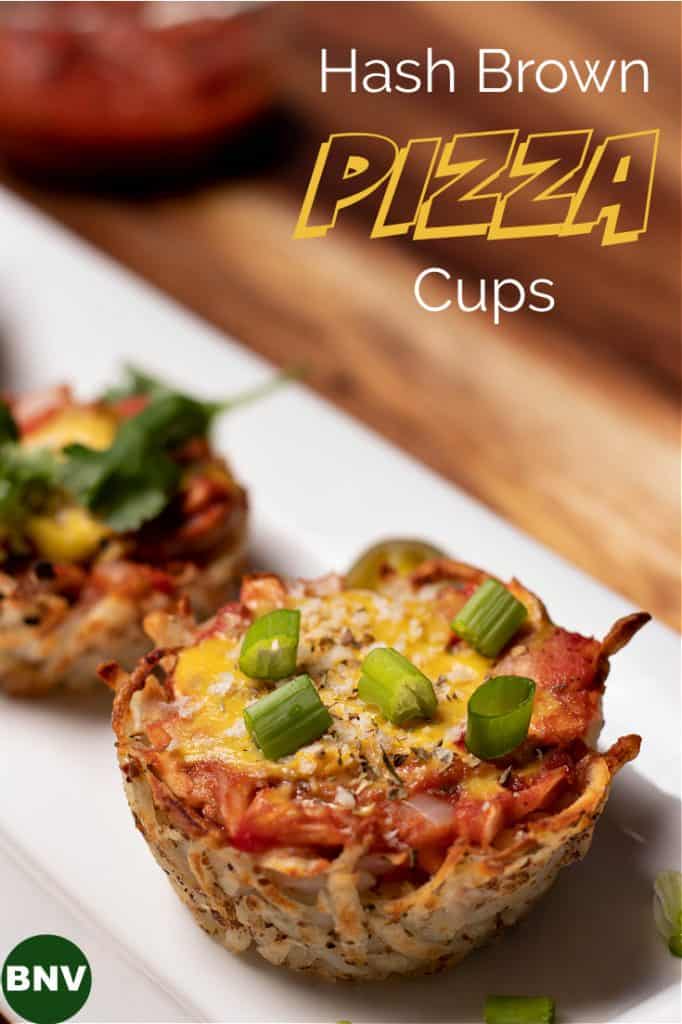 Print
Hash Brown Pizza Cups
Author:

Prep Time:

30 min

Cook Time:

30 min

Total Time:

1 hour

Yield:

3

-

6

servings

1

x

Category:

Appetizer, Snack

Method:

Oven or Air Fryer

Cuisine:

American

Diet:

Vegan
---
Description
Here's a BRAND NEW way to enjoy hash browns, just in time for the game. Be careful though, these Hash Brown Pizza Cups ARE addicting!
---
Potato Cups
20 oz

bag shredded hash browns

1 tsp

italian seasoning

¼ tsp

salt

¼ tsp

ground pepper
1 flax egg

2

Tbs ground flax meal

3

Tbs hot water
Filling
1 cup

mushrooms, finely diced

½ cup

onion, finely diced

¼ cup

red bell pepper, finely diced

¼ cup

pizza sauce 
Suggested Garnish
Jalapenos
Panko Bread Crumbs
Cilantro
Fresh Italian Parsley
Diced green onions
Salsa
Additional pizza sauce
Red pepper flakes
---
Instructions
Preheat oven to 475° F
Prepare Pizza Sauce according to the recipe, set aside
In a large bowl, combine potatoes, seasoning, and flax egg - mix well
Press ⅓ cup potato mixture into a muffin tin to form a cup
Bake the potato cups for 15 minutes
Meanwhile, finely dice the mushrooms, onion, and bell pepper
Add veggies to a small bowl and stir in ¼ cup of the pizza sauce
When potatoes are done, remove pan and carefully spoon 1-2 teaspoon of veggie mixture into each cup
Continue baking at 475° for an additional 10 minutes
One again remove pans and this time, set oven to broil
Garnish with cheese sauce, panko, green onions, whatever topping you want 
Brol 1-2 minutes
---
Keywords: Hash Brown Pizza Cups